Danny Gray Seats
About Danny Gray Seats
Since 1971, Danny Gray has been crafting quality motorcycle seats for leading manufacturers as well as top custom builders. Masterfully contoured to provide the perfect balance of comfort and command, Danny Gray seats are designed to enhance the value of any cruiser, American or metric.
Motorcycle seats are about much more than looks -- although with 11 different inlays, 11 distinct stitch patterns, and 11 contrasting stitch colors each Danny Gray seat is individually designed to reflect the personalities of both the rider above and the bike below. Seats are about much more than comfort -- with roomy pans, deep buckets, and custom cushioning Danny Gray seats soften compression and ease shock, eliminating hot spots. That, and seats are the perfect way to address ergonomic concerns -- a soft nose, hard rails, and slender leg passes translate to an easy reach at the handlebars and flat-footed confidence for riders of all shapes and sizes.
In addition to all these features, Danny Gray seats are handmade in the USA of the finest materials and with expert craftsmanship, utilizing top grain cowhide leather, proprietary fiberglass pans, and modern features such as Independent Suspension Technology and optional air-adjustability thanks to a partnership with AirHawk.
A Danny Gray seat isn't just an accessory; with a commitment to great design and production excellence, it's a handcrafted, high-performance component that's vital to your riding experience.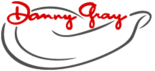 Quick Fact
Back in the '70s, Danny Gray was a custom upholsterer with a small shop in Central California. After making a seat for a local biker that made it onto the cover of a magazine, Danny got a call from an up-and-coming custom builder named Arlen Ness, who asked if he'd whip up some seats for him. When Danny hand-delivered some samples to Arlen's shop in the Bay Area, the future icon said, "I'll take all of these and any more you can make." It wasn't long before a builder from Boston named Dave Perewitz called with a similar request, and soon Danny Gray Enterprises was focusing exclusively on building seats for the motorcycle industry. Today, Danny Gray Motorcycle Seats is located in a 25,000 square foot, state-of-the-art facility in Santa Ana, California.