S&S Tuned Induction Air Cleaner Kit
Free Shipping
Fitment Guaranteed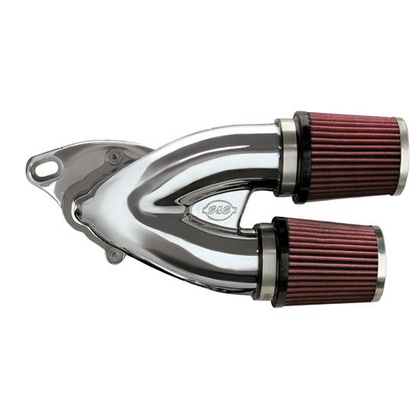 Product Description

S&S Tuned Induction Air Cleaner Kit
Offering over twice the filtering area of stock intake systems, the tuned runner increases horsepower and torque across the rpm range using air column inertia and carefully timed gas dynamic pressure waves. Chrome with red filters. Mounting hardware included.
Features and Benefits:
Bolt-on performance
Large increase in filtering area over stock air cleaner
Smooth intake tract of carefully selected tuned lengths increases performance
High flow washable and reusable cotton media provides performance, protection, and economy
Product Note: Only fits machines with stock CV carburetor or Delphi EFI.
---
| Spec | Details |
| --- | --- |
| Country of Origin | USA |
| Finish | Chrome |
Vehicle Fitment
Fitment is guaranteed or your money back plus free return shipping. Don't waste time installing a product that doesn't fit. We worked hard ensuring that this product is an exact fit on the vehicles listed below.

Harley Davidson
CVO FXR2 1999
CVO FXR3 1999
CVO FXR4 2000
FLD Dyna Switchback 2012-2013
FLH Electra Glide 1984-1985
FLHR Electra Glide Road King 1994
FLHR Road King 1995-2007
FLHRC Road King Classic 2007
FLHRCI Road King Classic 2001-2006
FLHRI Road King 2001-2006
FLHRS Road King Custom 2004-2007
FLHRSE3 CVO Road King 2007
FLHRSEI2 CVO Road King 2 2003
FLHRSEI CVO Road King 2002
FLHRSI Road King Custom 2004-2006
FLHS Electra Glide Sport 1984-1993
FLHT Electra Glide 1986-1987
FLHT Electra Glide Standard 1995-2007
FLHTC Electra Glide Classic 1984-2005, 2007
FLHTC Liberty Electra Glide Classic Liberty 1986
FLHTCI Electra Glide Classic 2001-2006
FLHTCSE2 CVO Electra Glide 2005
FLHTCSE CVO Electra Glide 2004
FLHTCU Ultra Classic Electra Glide 1989-2007
FLHTCUI Ultra Classic Electra Glide 2001-2006
FLHTCUSE2 CVO Ultra Classic Electra Glide 2007
FLHTCUSE CVO Ultra Classic Electra Glide 2006
FLHTI Electra Glide Standard 2003-2006
FLHX Electra Glide Special 1984-1985
FLHX Street Glide 2006-2007
FLHXI Street Glide 2006
FLS Softail Slim 2012-2015
FLST Heritage Softail 1986-1990, 2006
FLSTC Heritage Softail Classic 1988-2015
FLSTCI Heritage Softail Classic 2001-2006
FLSTF Softail Fat Boy 1990-2015
FLSTFB Softail Fat Boy Lo 2010-2015
FLSTFI Softail Fat Boy 2001-2006
FLSTFSE2 CVO Fat Boy 2006
FLSTFSE CVO Fat Boy 2005
FLSTI Heritage Softail 2006
FLSTN Heritage Softail Nostalgia 1993
FLSTN Heritage Softail Special 1994-1996
FLSTN Softail Deluxe 2005-2015
FLSTNI Softail Deluxe 2005-2006
FLSTS Heritage Springer Softail 1997-2003
FLSTSB Softail Cross Bones 2008-2011
FLSTSC Softail Springer Classic 2005-2007
FLSTSCI Softail Springer Classic 2005-2006
FLSTSE2 CVO Softail Convertible 2011
FLSTSE3 CVO Softail Convertible 2012
FLSTSE CVO Softail Convertible 2010
FLSTSI Heritage Springer Softail 2001-2003
FLTC Tour Glide Classic 1984-1991
FLTCU Ultra Classic Tour Glide 1989-1995
FLTR Road Glide 1998-2002, 2007
FLTRI Road Glide 2001-2006
FLTRSEI2 CVO Road Glide 2 2001
FXCW Softail Rocker 2008-2009
FXCWC Softail Rocker C 2008-2011
FXD Dyna Super Glide 1995-2005, 2007-2010
FXDB Dyna Daytona 1992
FXDB Dyna Street Bob 2007-2013
FXDB Dyna Sturgis 1991
FXDBI Dyna Street Bob 2006
FXDC Dyna Glide Custom 1992
FXDC Dyna Super Glide Custom 2005, 2007-2014
FXDCI Dyna Super Glide Custom 2005-2006
FXDF Dyna Fat Bob 2008-2013
FXDFSE2 CVO Dyna Fat Bob 2010
FXDFSE CVO Dyna Fat Bob 2009
FXDI35 35th Anniversary Dyna Super Glide 2006
FXDI Dyna Super Glide 2004-2006
FXDL Dyna Low Rider 1993-2005, 2007-2009, 2014-2016
FXDLI Dyna Low Rider 2004-2006
FXDS-CONV Dyna Convertible 1995-1998
FXDS-CONV Dyna Low Rider Convertible 1994
FXDS-CONV Dyna Super Glide Convertible 1999-2000
FXDSE2 CVO Dyna 2008
FXDSE CVO Dyna 2007
FXDWG2 CVO Dyna 2001
FXDWG3 CVO Dyna 2002
FXDWG Dyna Wide Glide 1993-2005, 2007-2008, 2010-2013
FXDWGI Dyna Wide Glide 2004-2006
FXDX Dyna Super Glide Sport 1999-2005
FXDXI Dyna Super Glide Sport 2004-2005
FXDXT Dyna Super Glide T-Sport 2001-2003
FXE Super Glide 1984
FXEF Super Glide Fat Bob 1985
FXLR Low Rider Custom 1987-1994
FXR Super Glide 1986-1994
FXRC Low Glide 1985
FXRC Low Rider Chrome 1987
FXRD Grand Touring Edition 1986
FXRDG Disc Glide 1984
FXRS Low Glide 1984-1992
FXRS-CONV Low Rider Convertible 1990-1993
FXRS-SP Low Rider Sport Edition 1987-1993
FXRT Sport Glide 1984-1992
FXS Softail Blackline 2011-2013
FXSB Low Rider 1984-1985
FXSBSE CVO Softail Breakout 2013
FXST Softail 1984-1990
FXST Softail Standard 1999-2007
FXSTB Softail Night Train 1999-2009
FXSTBI Softail Night Train 2001-2006
FXSTC Softail Custom 1986-1999, 2007-2010
FXSTD Softail Deuce 2000-2007
FXSTDI Softail Deuce 2001-2006
FXSTDSE2 CVO Softail Deuce 2004
FXSTDSE CVO Softail Deuce 2003
FXSTI Softail Standard 2001-2006
FXSTS Springer Softail 1988-2006
FXSTSB Softail Bad Boy 1995-1997
FXSTSI Springer Softail 2001-2006
FXSTSSE2 CVO Softail Springer 2008
FXSTSSE3 CVO Softail Springer 2009
FXSTSSE CVO Softail Springer 2007
FXWG Wide Glide 1984-1986
Customer Reviews
Be the first to . How many stars would you give this product?
Questions & Answers
Have a question? Please and customers who own this product.