S&S 509 Chain Drive Touring Cam Kit
Add to Cart to See Price
What is this? We've priced this item below what the manufacturer allows for public display, so you'll have to add it to your cart to view our final price.
Don't worry, if you decide not to buy this item, you can easily remove it from your cart.
Free Shipping
Fitment Guaranteed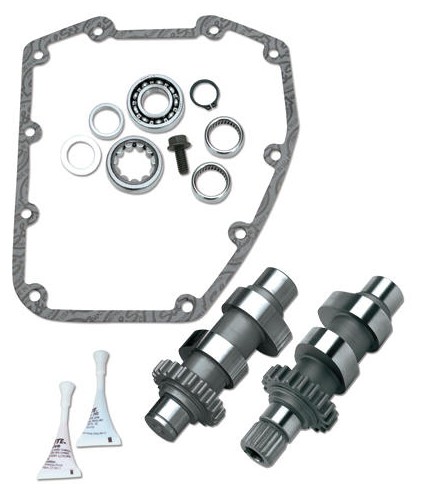 Product Description

S&S 509 Chain Drive Touring Cam Kit
The 509 Touring Cam is designed as a bolt-in, high torque cam. 180 psi cranking compression, no need for compression releases. For 88 CID engines with stock compression ratio. Idle-4500 rpm.
Can be used with stock valve springs.
It's no surprise that the S&S 551 cams for Harley-Davidson bikes have become a favorite with late model riders. The only problem is that, due to the .550" lift, the 551 cams can't be installed in 1999-2004 Twin Cam 88 engines without also installing a set of high lift valve springs. That means that the heads would have to come off just to install a cam. That's a lot of work and added expense!
Based on the success of the 551 cams, S&S has come up with 509 bolt-in torque cams that work with stock valve springs in 1999-2004 engines. Like the S&S 551 cams, the 509 cams are great for low and midrange torque, but the 509 cam's lower lift allows them to be bolted into stock 1999-2004 engines with stock valve springs. That saves a lot of time and money on the installation, which makes the S&S 509 a lot more attractive to owners of older Twin Cam 88 powered bikes. The 509 cam also works great 2005-2006 Twin Cam 88 engines.
---
| Spec | Details |
| --- | --- |
| Country of Origin | USA |
| Exhaust Duration | 237 degrees |
| Exhaust Lift | .140 in. |
| Exhaust Lobe Center | 107.5 degrees |
| Exhaust Timing (Close) | 11 degrees |
| Exhaust Timing (Open) | 46 degrees |
| Intake Duration | 216 degrees |
| Intake Lift | .174 in. |
| Intake Lobe Center | 90 degrees |
| Intake Timing (Close) | 18 degrees |
| Intake Timing (Open) | 18 degrees |
| Valve Lift | .509 in. |
Vehicle Fitment
Fitment is guaranteed or your money back plus free return shipping. Don't waste time installing a product that doesn't fit. We worked hard ensuring that this product is an exact fit on the vehicles listed below.

Harley Davidson
FLHR Road King 1999-2006
FLHRCI Road King Classic 1999-2006
FLHRI Road King 1999-2006
FLHRS Road King Custom 2004-2006
FLHRSEI2 CVO Road King 2 2003
FLHRSEI CVO Road King 2002
FLHRSI Road King Custom 2004-2006
FLHT Electra Glide Standard 1999-2006
FLHTC Electra Glide Classic 1999-2005
FLHTCI Electra Glide Classic 1999-2006
FLHTCSE2 CVO Electra Glide 2005
FLHTCSE CVO Electra Glide 2004
FLHTCU Ultra Classic Electra Glide 1999-2006
FLHTCUI Ultra Classic Electra Glide 1999-2006
FLHTCUSE CVO Ultra Classic Electra Glide 2006
FLHTI Electra Glide Standard 2003-2006
FLHX Street Glide 2006
FLHXI Street Glide 2006
FLST Heritage Softail 2006
FLSTC Heritage Softail Classic 1999-2006
FLSTCI Heritage Softail Classic 2001-2006
FLSTF Softail Fat Boy 1999-2006
FLSTFI Softail Fat Boy 2001-2006
FLSTFSE2 CVO Fat Boy 2006
FLSTFSE CVO Fat Boy 2005
FLSTI Heritage Softail 2006
FLSTN Softail Deluxe 2005-2006
FLSTNI Softail Deluxe 2005-2006
FLSTS Heritage Springer Softail 1999-2003
FLSTSC Softail Springer Classic 2005-2006
FLSTSCI Softail Springer Classic 2005-2006
FLSTSI Heritage Springer Softail 2001-2003
FLTR Road Glide 1999-2002
FLTRI Road Glide 1999-2006
FLTRSEI2 CVO Road Glide 2 2001
FLTRSEI CVO Road Glide 2000
FXD Dyna Super Glide 1999-2005
FXDC Dyna Super Glide Custom 2005
FXDCI Dyna Super Glide Custom 2005
FXDI Dyna Super Glide 2004-2005
FXDL Dyna Low Rider 1999-2005
FXDLI Dyna Low Rider 2004-2005
FXDS-CONV Dyna Super Glide Convertible 1999-2000
FXDWG2 CVO Dyna 2001
FXDWG3 CVO Dyna 2002
FXDWG Dyna Wide Glide 1999-2005
FXDWGI Dyna Wide Glide 2004-2005
FXDX Dyna Super Glide Sport 1999-2005
FXDXI Dyna Super Glide Sport 2004-2005
FXDXT Dyna Super Glide T-Sport 2001-2003
FXST Softail Standard 1999-2006
FXSTB Softail Night Train 1999-2006
FXSTBI Softail Night Train 2001-2006
FXSTC Softail Custom 1999
FXSTD Softail Deuce 2000-2006
FXSTDI Softail Deuce 2001-2006
FXSTDSE2 CVO Softail Deuce 2004
FXSTDSE CVO Softail Deuce 2003
FXSTI Softail Standard 2001-2006
FXSTS Springer Softail 1999-2006
FXSTSI Springer Softail 2001-2006
Customer Reviews
Be the first to . How many stars would you give this product?
Questions & Answers
Will the carb have to be re-jetted?

2002 flstc....hydrallic cam chain tensioners...python exhaust...rest is stock with 129,000 miles

By: bob f.

It really depends on your bike's current state of tune. If it's running well right now, then you'll probably only need to adjust the needle's position. Since the 509 kits aren't a significant departure from stock lift, fuel adjustments are almost always within the realm of your carburetor's current configuration.

By: Staff

2005 softail deluxe with a power commander, if I replace the cams, do I need to have it dyno'd again?

If you've already had your bike properly tuned for the exhaust and/or air intake configuration you have now, you probably won't have to make a trip to the dyno again. With the 509 cams at least, it's not so much that you're adding a lot of air to the combustion chamber - something which would require a dyno tune, but rather - you're changing when the air arrives. Things like fuel delivery duration and such, at least with these Softail cams - needn't be changed to account for this.

By: Staff

Will these cams work with the screamin eagle cam plate?

S&S chain drive cam kits are designed to work with any cam plate that fits the stock engine on the machine you select from our fit guide. So long as that's the case, you should have no problem fitting these cams in your machine.

By: Staff

Any other parts needed to install these in a stock 05 Electra glide ultra classic?

Other than the appropriate tools, you needn't purchase any additional parts in order to fit this kit to your machine. Since the lift is less than .585", you don't even need to get a set of aftermarket valve springs.

By: Staff

I have 1999 FLHPEI and I bought the fueling camplate and oil pump for hydrulic tensioner upgrade! Will the S&S 509 chain drive cams fit with my existing outer cam drive gears and chain?

Provided the Fueling cam plate you have on your bike is of the OE chain style, you should have no problem using the S&S chain drive cams.

By: Staff