S&S 570 Standard Chain Drive Camshaft Kit
Add to Cart to See Price
What is this? We've priced this item below what the manufacturer allows for public display, so you'll have to add it to your cart to view our final price.
Don't worry, if you decide not to buy this item, you can easily remove it from your cart.
Free Shipping
Fitment Guaranteed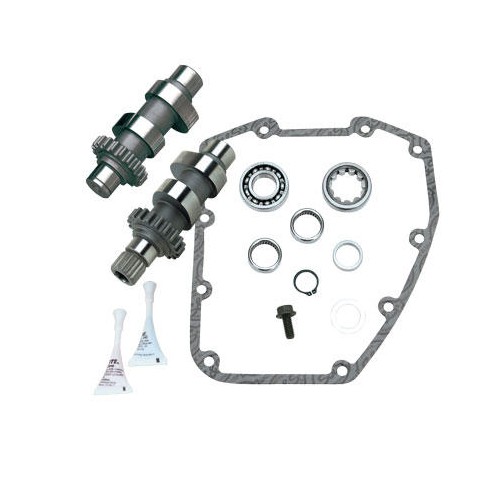 Product Description

S&S 570 Standard Chain Drive Camshaft Kit
570 cams are bolt-in cams. Cams that exceed the limits of the stock valve springs require the use of special high lift springs. Most S&S cams have higher lift than stock and are designed to take advantage of the extra flow of ported stock heads or S&S Super Stock heads. Due to the high lift of these cams, S&S adjustable pushrods are recommended. Not all grinds are available in the chain drive version. To get the best performance from a performance cam installation, a high flow intake and exhaust system is also recommended.
Designed for 88 to 96 CID engines with compression ratios between 9:1 and 10:1 this cam will provide a nice power increase across the entire power band. 3200-5700 rpm.
Quick installation and Easy Start Cams allow stock starter to start any engine.
Kit contains cams, gear cover gasket, cam bearings, and instructions.
---
| Spec | Details |
| --- | --- |
| Country of Origin | USA |
| Exhaust Duration | 255 degrees |
| Exhaust Lift | .179 in. |
| Exhaust Lobe Center | 107.5 degrees |
| Exhaust Timing (Close) | 20 degrees |
| Exhaust Timing (Open) | 55 degrees |
| Intake Duration | 240 degrees |
| Intake Lift | .187 in. |
| Intake Lobe Center | 100 degrees |
| Intake Timing (Close) | 40 degrees |
| Intake Timing (Open) | 20 degrees |
| Valve Lift | .570 in. |
Vehicle Fitment
Fitment is guaranteed or your money back plus free return shipping. Don't waste time installing a product that doesn't fit. We worked hard ensuring that this product is an exact fit on the vehicles listed below.

Harley Davidson
FLHR Road King 1999-2006
FLHRCI Road King Classic 1999-2006
FLHRI Road King 1999-2006
FLHRS Road King Custom 2004-2006
FLHRSEI2 CVO Road King 2 2003
FLHRSEI CVO Road King 2002
FLHRSI Road King Custom 2004-2006
FLHT Electra Glide Standard 1999-2006
FLHTC Electra Glide Classic 1999-2005
FLHTCI Electra Glide Classic 1999-2006
FLHTCSE2 CVO Electra Glide 2005
FLHTCSE CVO Electra Glide 2004
FLHTCU Ultra Classic Electra Glide 1999-2006
FLHTCUI Ultra Classic Electra Glide 1999-2006
FLHTCUSE CVO Ultra Classic Electra Glide 2006
FLHTI Electra Glide Standard 2003-2006
FLHX Street Glide 2006
FLHXI Street Glide 2006
FLST Heritage Softail 2006
FLSTC Heritage Softail Classic 1999-2006
FLSTCI Heritage Softail Classic 2001-2006
FLSTF Softail Fat Boy 1999-2006
FLSTFI Softail Fat Boy 2001-2006
FLSTFSE2 CVO Fat Boy 2006
FLSTFSE CVO Fat Boy 2005
FLSTI Heritage Softail 2006
FLSTN Softail Deluxe 2005-2006
FLSTNI Softail Deluxe 2005-2006
FLSTS Heritage Springer Softail 1999-2003
FLSTSC Softail Springer Classic 2005-2006
FLSTSCI Softail Springer Classic 2005-2006
FLSTSI Heritage Springer Softail 2001-2003
FLTR Road Glide 1999-2002
FLTRI Road Glide 1999-2006
FLTRSEI2 CVO Road Glide 2 2001
FLTRSEI CVO Road Glide 2000
FXD Dyna Super Glide 1999-2005
FXDC Dyna Super Glide Custom 2005
FXDCI Dyna Super Glide Custom 2005
FXDI Dyna Super Glide 2004-2005
FXDL Dyna Low Rider 1999-2005
FXDLI Dyna Low Rider 2004-2005
FXDS-CONV Dyna Super Glide Convertible 1999-2000
FXDWG2 CVO Dyna 2001
FXDWG3 CVO Dyna 2002
FXDWG Dyna Wide Glide 1999-2005
FXDWGI Dyna Wide Glide 2004-2005
FXDX Dyna Super Glide Sport 1999-2005
FXDXI Dyna Super Glide Sport 2004-2005
FXDXT Dyna Super Glide T-Sport 2001-2003
FXST Softail Standard 1999-2006
FXSTB Softail Night Train 1999-2006
FXSTBI Softail Night Train 2001-2006
FXSTC Softail Custom 1999
FXSTD Softail Deuce 2000-2006
FXSTDI Softail Deuce 2001-2006
FXSTDSE2 CVO Softail Deuce 2004
FXSTDSE CVO Softail Deuce 2003
FXSTI Softail Standard 2001-2006
FXSTS Springer Softail 1999-2006
FXSTSI Springer Softail 2001-2006
Customer Reviews
Be the first to . How many stars would you give this product?
Questions & Answers
Have a question? Please and customers who own this product.