S&S 583 Easy Start Chain Drive Kit
Free Shipping
Fitment Guaranteed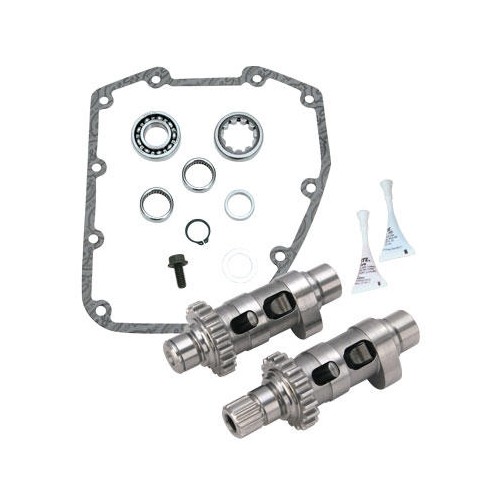 Product Description

S&S 583 Easy Start Chain Drive Kit
583 cams are bolt-in cams. Cams that exceed the limits of the stock valve springs require the use of special high lift springs. Most S&S cams have higher lift than stock and are designed to take advantage of the extra flow of ported stock heads or S&S Super Stock heads. Due to the high lift of these cams, S&S adjustable pushrods are recommended. Not all grinds are available in the chain drive version. To get the best performance from a performance cam installation, a high flow intake and exhaust system is also recommended.
Optimized for use in the Softail/Dyna lines, this cam makes horsepower and torque that you can feel all the way through the rpm range, making the most power right where you need it:1500-5000 rpm.
Quick installation and Easy Start Cams allow stock starter to start any engine.
Kit contains cams, gear cover gasket, cam bearings, and instructions.
---
| Spec | Details |
| --- | --- |
| Country of Origin | USA |
| Exhaust Duration | 262 degrees |
| Exhaust Lift | .206 in. |
| Exhaust Lobe Center | 107 degrees |
| Exhaust Timing (Close) | 24 degrees |
| Exhaust Timing (Open) | 58 degrees |
| Intake Duration | 203 degrees |
| Intake Lift | .113 in. |
| Intake Lobe Center | 96.5 degrees |
| Intake Timing (Close) | 18 degrees |
| Intake Timing (Open) | 5 degrees |
| Valve Lift | .583 in. |
Vehicle Fitment
Fitment is guaranteed or your money back plus free return shipping. Don't waste time installing a product that doesn't fit. We worked hard ensuring that this product is an exact fit on the vehicles listed below.

Harley Davidson
FLHR Road King 1999-2006
FLHRCI Road King Classic 1999-2006
FLHRI Road King 1999-2006
FLHRS Road King Custom 2004-2006
FLHRSEI2 CVO Road King 2 2003
FLHRSEI CVO Road King 2002
FLHRSI Road King Custom 2004-2006
FLHT Electra Glide Standard 1999-2006
FLHTC Electra Glide Classic 1999-2005
FLHTCI Electra Glide Classic 1999-2006
FLHTCSE2 CVO Electra Glide 2005
FLHTCSE CVO Electra Glide 2004
FLHTCU Ultra Classic Electra Glide 1999-2006
FLHTCUI Ultra Classic Electra Glide 1999-2006
FLHTCUSE CVO Ultra Classic Electra Glide 2006
FLHTI Electra Glide Standard 2003-2006
FLHX Street Glide 2006
FLHXI Street Glide 2006
FLST Heritage Softail 2006
FLSTC Heritage Softail Classic 1999-2006
FLSTCI Heritage Softail Classic 2001-2006
FLSTF Softail Fat Boy 1999-2006
FLSTFI Softail Fat Boy 2001-2006
FLSTFSE2 CVO Fat Boy 2006
FLSTFSE CVO Fat Boy 2005
FLSTI Heritage Softail 2006
FLSTN Softail Deluxe 2005-2006
FLSTNI Softail Deluxe 2005-2006
FLSTS Heritage Springer Softail 1999-2003
FLSTSC Softail Springer Classic 2005-2006
FLSTSCI Softail Springer Classic 2005-2006
FLSTSI Heritage Springer Softail 2001-2003
FLTR Road Glide 1999-2002
FLTRI Road Glide 1999-2006
FLTRSEI2 CVO Road Glide 2 2001
FLTRSEI CVO Road Glide 2000
FXD Dyna Super Glide 1999-2005
FXDC Dyna Super Glide Custom 2005
FXDCI Dyna Super Glide Custom 2005
FXDI Dyna Super Glide 2004-2005
FXDL Dyna Low Rider 1999-2005
FXDLI Dyna Low Rider 2004-2005
FXDS-CONV Dyna Super Glide Convertible 1999-2000
FXDWG2 CVO Dyna 2001
FXDWG3 CVO Dyna 2002
FXDWG Dyna Wide Glide 1999-2005
FXDWGI Dyna Wide Glide 2004-2005
FXDX Dyna Super Glide Sport 1999-2005
FXDXI Dyna Super Glide Sport 2004-2005
FXDXT Dyna Super Glide T-Sport 2001-2003
FXST Softail Standard 1999-2006
FXSTB Softail Night Train 1999-2006
FXSTBI Softail Night Train 2001-2006
FXSTC Softail Custom 1999
FXSTD Softail Deuce 2000-2006
FXSTDI Softail Deuce 2001-2006
FXSTDSE2 CVO Softail Deuce 2004
FXSTDSE CVO Softail Deuce 2003
FXSTI Softail Standard 2001-2006
FXSTS Springer Softail 1999-2006
FXSTSI Springer Softail 2001-2006
Customer Reviews
Be the first to . How many stars would you give this product?
Questions & Answers
Have a question? Please and customers who own this product.