S&S 583CE Easy Start Camshaft Kit
Add to Cart to See Price
What is this? We've priced this item below what the manufacturer allows for public display, so you'll have to add it to your cart to view our final price.
Don't worry, if you decide not to buy this item, you can easily remove it from your cart.
Free Shipping
Fitment Guaranteed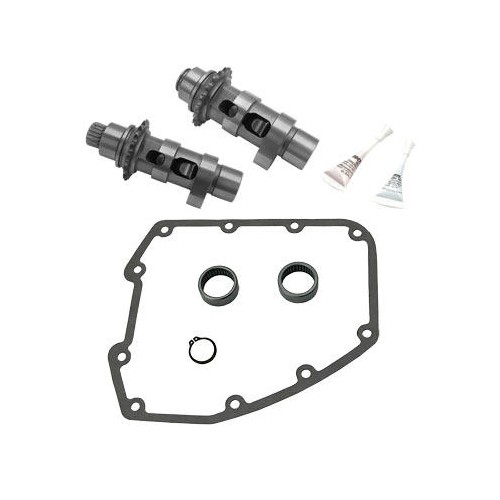 Product Description

S&S 583CE Easy Start Camshaft Kit
S&S .583 inch lift cam makes horsepower and torque that you can feel all the way through the rpm range, making the most power right where you need it: 1500-5000 rpm.
S&S Chain Drive Easy Start Cams are a great way to increase performance at an affordable price, are installed in a short period or time reusing many stock components, and Easy Start Cams allow stock starter to start any engine. Can be used with stock valve springs.
583CE Cam kit includes cams, gear cover gasket, cam bearings, and instructions.
---
| Spec | Details |
| --- | --- |
| Country of Origin | USA |
| Exhaust Duration | 262 degrees |
| Exhaust Lift | .206 in. |
| Exhaust Lobe Center | 107 degrees |
| Exhaust Timing (Close) | 24 degrees |
| Exhaust Timing (Open) | 58 degrees |
| Intake Duration | 203 degrees |
| Intake Lift | .113 in. |
| Intake Lobe Center | 96.5 degrees |
| Intake Timing (Close) | 18 degrees |
| Intake Timing (Open) | 5 degrees |
| Valve Lift | .583 in. |
Vehicle Fitment
Fitment is guaranteed or your money back plus free return shipping. Don't waste time installing a product that doesn't fit. We worked hard ensuring that this product is an exact fit on the vehicles listed below.

Harley Davidson
FLD Dyna Switchback 2012-2013
FLHR Road King 2007-2013
FLHRC Road King Classic 2007-2013
FLHRS Road King Custom 2007
FLHRSE3 CVO Road King 2007
FLHRSE4 CVO Road King 2008
FLHRSE5 CVO Road King 2013
FLHT Electra Glide Standard 2007-2009
FLHTC Electra Glide Classic 2007-2013
FLHTCU Ultra Classic Electra Glide 2007-2013
FLHTCUSE2 CVO Ultra Classic Electra Glide 2007
FLHTCUSE3 CVO Ultra Classic Electra Glide 2008
FLHTCUSE4 CVO Ultra Classic Electra Glide 2009
FLHTCUSE5/BLK CVO Ultra Classic 2010
FLHTCUSE6 CVO Ultra Classic Electra Glide 2011
FLHTCUSE7 CVO Ultra Classic Electra Glide 2012
FLHTCUSE8 CVO Ultra Classic Electra Glide 2013
FLHTK Electra Glide Ultra Limited 2010-2013
FLHX Street Glide 2007-2013
FLHXSE2 CVO Street Glide 2011
FLHXSE3 CVO Street Glide 2012
FLHXSE CVO Street Glide 2010
FLS Softail Slim 2012-2014
FLSTC Heritage Softail Classic 2007-2013
FLSTF Softail Fat Boy 2007-2013
FLSTFB Softail Fat Boy Lo 2010-2013
FLSTN Softail Deluxe 2007-2013
FLSTSB Softail Cross Bones 2008-2011
FLSTSC Softail Springer Classic 2007
FLSTSE2 CVO Softail Convertible 2011
FLSTSE3 CVO Softail Convertible 2012
FLSTSE CVO Softail Convertible 2010
FLTR Road Glide 2007-2009
FLTRSE3 CVO Road Glide 2009
FLTRU Road Glide Ultra 2011-2013
FLTRUSE CVO Road Glide Ultra 2011
FLTRX Road Glide Custom 2010-2013
FLTRXSE2 CVO Road Glide Custom 2013
FLTRXSE CVO Road Glide Custom 2012
FXCW Softail Rocker 2008-2009
FXCWC Softail Rocker C 2008-2011
FXD Dyna Super Glide 2007-2010
FXDB Dyna Street Bob 2007-2013
FXDBI Dyna Street Bob 2006
FXDC Dyna Super Glide Custom 2007-2013
FXDCI Dyna Super Glide Custom 2006
FXDF Dyna Fat Bob 2008-2013
FXDFSE2 CVO Dyna Fat Bob 2010
FXDFSE CVO Dyna Fat Bob 2009
FXDI35 35th Anniversary Dyna Super Glide 2006
FXDI Dyna Super Glide 2006
FXDL Dyna Low Rider 2007-2009
FXDLI Dyna Low Rider 2006
FXDSE2 CVO Dyna 2008
FXDSE CVO Dyna 2007
FXDWG Dyna Wide Glide 2007-2008, 2010-2013
FXDWGI Dyna Wide Glide 2006
FXS Softail Blackline 2011-2013
FXSBSE CVO Softail Breakout 2013
FXST Softail Standard 2007
FXSTB Softail Night Train 2007-2009
FXSTC Softail Custom 2007-2010
FXSTD Softail Deuce 2007
FXSTSSE2 CVO Softail Springer 2008
FXSTSSE3 CVO Softail Springer 2009
FXSTSSE CVO Softail Springer 2007
Customer Reviews
Be the first to . How many stars would you give this product?
Questions & Answers
Have a question? Please and customers who own this product.