Progressive Mono-Tube Cartridge Kit
$
$

–

$
$

224.95

–

$

359.95
Free Shipping
Fitment Guaranteed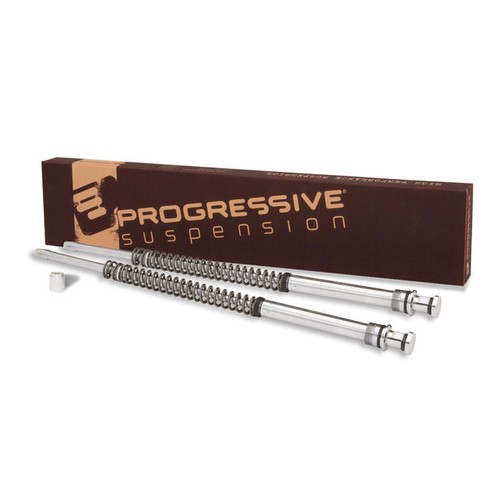 Product Description

Progressive Mono-Tube Cartridge Kit
Progressive's front fork cartridge kit converts dual damper rod, and damper rod/cartridge forks to true high-performance monotube cartridge forks! This kit contains a pair of high-performance, gas charged Mono-tube fork cartridges complete with a set of Progressive's famous fork springs and is a direct internal component replacement. No modification of any kind are required to install these in your forks. Just remove the old internals, plug in the Progressive cartridge kit and you're ready to go.
Complete fork internal replacement kit
Improved resistance to front brake dive
Improved front end stability and cornering
Improved bottoming control
Comes with all required hardware and installation instructions
Limited lifetime manufacturer's warranty
Vehicle Fitment
Fitment is guaranteed or your money back plus free return shipping. Don't waste time installing a product that doesn't fit. We worked hard ensuring that this product is an exact fit on the vehicles listed below.

Harley Davidson
FLH Electra Glide 1984-1985
FLHR Electra Glide Road King 1994
FLHR Road King 1995-2013
FLHRC Road King Classic 2007-2013
FLHRCI Road King Classic 1998-2006
FLHRI Road King 1996-2006
FLHRS Road King Custom 2004-2007
FLHRSE3 CVO Road King 2007
FLHRSE4 CVO Road King 2008
FLHRSE5 CVO Road King 2013
FLHRSEI2 CVO Road King 2 2003
FLHRSEI CVO Road King 2002
FLHRSI Road King Custom 2004-2006
FLHS Electra Glide Sport 1984-1993
FLHT Electra Glide 1986-1987
FLHT Electra Glide Standard 1995-2009
FLHTC Electra Glide Classic 1984-2005, 2007-2013
FLHTC Liberty Electra Glide Classic Liberty 1986
FLHTCI Electra Glide Classic 1996-2006
FLHTCSE2 CVO Electra Glide 2005
FLHTCSE CVO Electra Glide 2004
FLHTCU Ultra Classic Electra Glide 1989-2013
FLHTCUI Ultra Classic Electra Glide 1995-2006
FLHTCUSE2 CVO Ultra Classic Electra Glide 2007
FLHTCUSE3 CVO Ultra Classic Electra Glide 2008
FLHTCUSE4 CVO Ultra Classic Electra Glide 2009
FLHTCUSE5/BLK CVO Ultra Classic 2010
FLHTCUSE6 CVO Ultra Classic Electra Glide 2011
FLHTCUSE7 CVO Ultra Classic Electra Glide 2012
FLHTCUSE8 CVO Ultra Classic Electra Glide 2013
FLHTCUSE CVO Ultra Classic Electra Glide 2006
FLHTI Electra Glide Standard 2003-2006
FLHTK Electra Glide Ultra Limited 2010-2013
FLHX Electra Glide Special 1984-1985
FLHX Street Glide 2006-2013
FLHXI Street Glide 2006
FLHXSE2 CVO Street Glide 2011
FLHXSE3 CVO Street Glide 2012
FLHXSE CVO Street Glide 2010
FLS Softail Slim 2013-2017
FLSS Softail Slim S 2016-2017
FLST Heritage Softail 2006
FLSTC Heritage Softail Classic 2000-2017
FLSTCI Heritage Softail Classic 2001-2006
FLSTF Softail Fat Boy 2000-2017
FLSTFB Softail Fat Boy Lo 2010-2016
FLSTFBS Softail Fat Boy S 2017
FLSTFI Softail Fat Boy 2001-2006
FLSTFSE2 CVO Fat Boy 2006
FLSTFSE CVO Fat Boy 2005
FLSTI Heritage Softail 2006
FLSTN Softail Deluxe 2005-2017
FLSTNI Softail Deluxe 2005-2006
FLSTNSE CVO Softail Deluxe 2014-2015
FLSTSE2 CVO Softail Convertible 2011
FLSTSE CVO Softail Convertible 2010
FLTC Tour Glide Classic 1984-1991
FLTCU Ultra Classic Tour Glide 1989-1995
FLTCUI Ultra Classic Tour Glide 1996
FLTR Road Glide 1998-2002, 2007-2009
FLTRI Road Glide 1998-2006
FLTRSE3 CVO Road Glide 2009
FLTRSEI2 CVO Road Glide 2 2001
FLTRSEI CVO Road Glide 2000
FLTRU Road Glide Ultra 2011-2013
FLTRUSE CVO Road Glide Ultra 2011
FLTRX Road Glide Custom 2010-2013
FLTRXSE2 CVO Road Glide Custom 2013
FLTRXSE CVO Road Glide Custom 2012
FXS Softail Blackline 2011-2013
FXST Softail Standard 2000-2007
FXSTB Softail Night Train 2000-2009
FXSTBI Softail Night Train 2001-2006
FXSTC Softail Custom 2007-2010
FXSTD Softail Deuce 2000-2007
FXSTDI Softail Deuce 2001-2006
FXSTDSE2 CVO Softail Deuce 2004
FXSTDSE CVO Softail Deuce 2003
FXSTI Softail Standard 2001-2006

Honda
GL1800 Gold Wing 2002-2010, 2012-2015
GL1800 Gold Wing SE 2003-2004
GL1800A Gold Wing 2001-2010, 2012-2015

Kawasaki
Customer Reviews
Be the first to . How many stars would you give this product?
Questions & Answers
Do I need new fork seals when installing this cartridge kit?

Provided your fork seals are in good shape, there's no need to replace them when installing the cartridge kit.

By: Staff

Do i need to remove the tire and take the forks off to install this?

Yes, at the very least, you will have to remove the front wheel from your machine in order to install this Progressive fork cartridge kit. The reason being is that you'll have to loosen the bolt on the bottom of each fork that secures each OEM Harley fork cartridge in place. Plus, with all of the fork oil that will come out once each bolt is pulled, you're looking at a small mess, too. Unless you have something that can reach all the way to the bottom of the forks to suck out that oil, it's best to pull the forks off of the bike and drain them by dumping out all of that fork oil into a pan.

By: Staff

even with a cartridge do i need to replace the fork oil

To do the work correctly, you will need to replace the fork oil in your machine and make sure it's at the appropriate level. Progressive is rather specific in the fork oil weight for a given application and, if the bike has ever had its forks serviced, it's impossible to say what viscosity is currently in there. If you need help in finding the correct fork oil to go with this kit, just let us know exactly what machine it is that you're riding and we'll be happy to find the correct weight and amount to fit your needs.

By: Staff