Cobra Power Pro 2-into-1 Exhaust System
Free Shipping
Fitment Guaranteed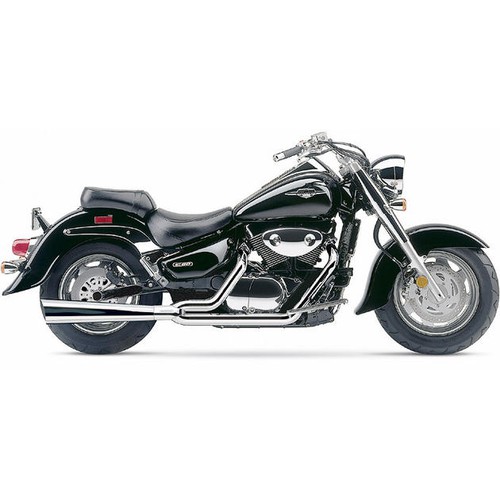 Product Description

Cobra Power Pro 2-into-1 Exhaust System
Power. Everyone wants it, but at the same time, you usually have to give up something to get it. Not the case with Cobra's Power Pro 2:1 system. That's because inside all of this beautifully sculpted metal lies the raw, animal-like performance you're looking for.
There's just something about the way a 2:1 looks, and their Power Pro definitely doesn't disappoint. From it's crafted collector heat shield that skillfully cleans up the lines, covers the welds and resists bluing, to its rich, triple-layer chrome heat shields, you don't know really whether to lust after it or fear it.
Then there's the power. Raw, pure and unadulterated. Matched up with a great double-insulated megaphone with special baffles, this thing pushes and shouts down the road like no other. So get out there and start turning heads for all the right reasons.
Includes proprietary cooling system that produces a non-bluing finish
Powerport headpipe improves overall horsepower
Mounts and assembles with ease
Includes double insulated Megaphone style muffler
Easy to understand instructions and all required mounting hardware included with each kit
Made in the USA
---
| Spec | Details |
| --- | --- |
| Configuration | 2 into 1 |
| Country of Origin | USA |
| Finish | Chrome |
| Heat Shield Included | Yes |
| Material | Steel |
| Warranty | Manufacturer''s Limited Lifetime Warranty |
Vehicle Fitment
Fitment is guaranteed or your money back plus free return shipping. Don't waste time installing a product that doesn't fit. We worked hard ensuring that this product is an exact fit on the vehicles listed below.

Suzuki
VL1500 Boulevard C90 2005-2009
VL1500T Boulevard C90T 2005-2009

Yamaha
XVS1100 V-Star 1100 Custom 2000-2009
XVS1100 V-Star 1100 Midnight Custom 2005-2009
XVS1100A V-Star 1100 Classic 2000-2009
XVS1100AT V-Star 1100 Silverado 2003-2009
Customer Reviews
Be the first to . How many stars would you give this product?
Questions & Answers
THIS SYSTEM DOES AWAY WITH CATALITIC CONVERTER,IS THAT CORRECT ?

Yes, this full exhaust system does eliminate that catalytic converter. As a general rule, a full exhaust system replaces everything on the stock exhaust, including the catalytic converter.

By: Staff

Is this muffler louder then stock muffler?

Yes, Cobra's Power Pro 2-into-1 exhaust is significantly louder than the stock exhaust. The internal baffling is designed to flow more exhaust gases than stock in order to allow the engine to perform at its maximum potential. The Cobra megaphone muffler will get a lot of attention wherever you go!

By: Staff

Will it be necessary to make any modifications to the engine mapping?

If you wish to get the best possible power output and throttle response, we highly recommend the installation of an aftermarket fuel tuner to go along with any exhaust we sell. Whenever you change the way air moves in, through or out of an engine - you will want to adjust fueling to compensate for these changes. In this way, you can be assured the maximum benefit from this, or any other exhaust we sell.

For Cobra exhausts, we recommend the Cobra Fi2000R fuel controller. It's simple to set up for your specific needs and can easily be adjusted as you change your bike's configuration without the need of a trip to the dyno.

By: Staff

does this system replace the cast iron elbow on the rear cylinder?

In the case of Cobra's Power Pro 2-into-1 Exhaust System for the Yamaha V-Star 1100 and the Suzuki Boulevard C90, the kit replaces the entire exhaust system. That includes the case iron elbow on the rear cylinder head.

By: Staff

Is it really necessary to do any jetting on my bike? It is a 2009 carb set up.

Without the jet kit, you may find the bike just doesn't run right: it stumbles with small throttle changes, or misses as cruising speed - things like that can get really annoying pretty quick. For these reasons, re-jetting your bike is highly recommended any time you install a Cobra aftermarket complete exhaust system. After all, you're probably buying the exhaust to get more power out of your bike, so just add a Cobra jet kit to your order and you'll get everything you need for the biggest power gains and the best possible throttle response.

Each Cobra jet kit is developed to work with Cobra exhausts. And, the included jet kit instructions do an excellent job of explaining how to get the carb dialed in for your bike's specific fueling needs.

By: Staff