Cobra Slip-On Drag Pipes Exhaust
$
$

–

$
$

291.48

–

$

319.52
Free Shipping
Fitment Guaranteed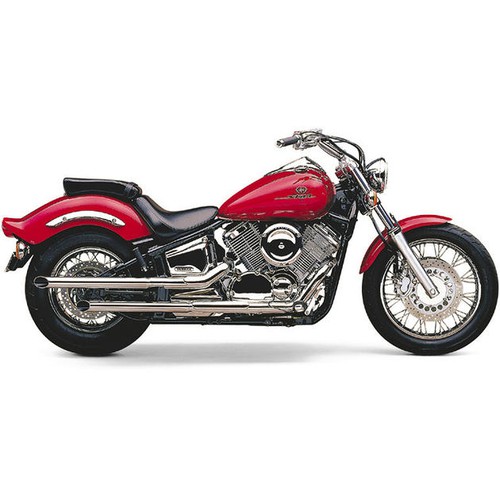 Product Description

Cobra Slip-On Drag Pipes Exhaust
Drag pipes have always been a favorite because of their overall simplicity and clean lines. But unless you're going full throttle all the time, they're not the most functional. That's where Cobra's drag exhaust comes in. It gives you that same straight pipe look, but also includes their removable power cores for better tuning, sound and overall performance.
And there's no need to worry if you decide to do a little dragging and get these pipes really hot. That's because they also feature Cobra's signature triple-layer chrome heat shields that always shine.
Fitted with removable baffles as standard
Easy to understand instructions and all required mounting hardware included with each kit
Made in the USA
---
| Spec | Details |
| --- | --- |
| Baffles Included | Yes, Removable |
| Configuration | 2 into 2 |
| Country of Origin | USA |
| Exhaust Diameter | 2 in. |
| Heat Shield Included | Varies (make selection above) |
| Material | Steel |
| Muffler Sleeve | Chrome |
| Quantity | Pair |
Vehicle Fitment
Fitment is guaranteed or your money back plus free return shipping. Don't waste time installing a product that doesn't fit. We worked hard ensuring that this product is an exact fit on the vehicles listed below.

Suzuki
VZ800 Marauder 800 1999-2004

Yamaha
XVS1100 V-Star 1100 Custom 2000-2009
XVS1100 V-Star 1100 Midnight Custom 2005-2009
XVS1100A V-Star 1100 Classic 2000-2009
XVS1100AT V-Star 1100 Silverado 2003-2009
XVS1100L V-Star 1100 1999
Customer Reviews
Be the first to . How many stars would you give this product?
Questions & Answers
Is this the full exhaust? Header pipes and mufflers or just the mufflers?

I have a 2001 Suzuki murauder vz800 and need header pipes

By: Kenny rowe

No, this is a slip-on exhaust only. It does not include the headers, it only consists of mufflers. If you want the full Drag Pipes style full exhaust system from Cobra. Simply search our store for "Cobra Drag Pipes Exhaust System."

By: Staff

Will they fit right up to my factory exhaust, and will it give my bike the rumble noise I want.

Yes, all Cobra slip-on drag pipes are designed to bolt straight up to the OEM exhaust system. Though you may need to re-use some of your bike's hardware to complete the installation, any additional hardware or mounting brackets are included in the box, so there's no need to purchase any additional exhaust parts. Furthermore, the included instructions do an excellent job of explaining the entire installation process to make everything a straight forward affair. Typically, even an inexperienced mechanic can do the installation in less than an hour.

As for the sound, these are certainly louder than stock, but as far as the rumble noise you want, your best bet would be to go for a full exhaust system since much of the sound that's available is bottled up in the stock headers themselves. If you like the looks of the slip-on Drag Pipes exhaust, then check out the Cobra Drag Pipes Full Exhaust System. With that kit, you'll be sure to get the most rumble out of your engine as possible.

By: Staff

i have a 03 vstar 1100 classic using the slip on mufflers will i need to rejet my carbs if so what would you recommend jet wise?

Yes, we always recommend re-jetting your bike whenever you install a new exhaust system, or change the intake setup (different air filter or a complete intake kit). The OEM mufflers on the V-Star 1100 are rather restrictive, so there'll be a big change in how exhaust gases leave the engine. And that certainly calls for modifying fueling to compensate for the change.

We recommend Cobra Carburetor Jet Kits to go with any Cobra exhaust. What's particularly nice about these jet kits is that they include everything you need to perfectly match jetting to the new exhaust. After all, they were developed by Cobra. The instructions that come with each jet kit do an excellent job of explaining how to get your bike tuned for your particular needs. We've found in the vast majority of cases, the recommended starting point is very near dead-on the final setup. It usually takes no more than a ride or two to get things perfectly set up.

By: Staff

What is the difference between these and the 3 1/2" slash cut slip-on. Would these be louder?

Compared to Cobra's Classic Deluxe Slashcut Exhaust System, which has 3-1/2" mufflers, yes - the Drag Pipes would indeed be louder. This is a consequence of the narrower mufflers that come with the drag pipes. Furthermore, if you really wanted to turn up the volume, you could easily remove the baffles that come fitted as standard within the Drag Pipes.

By: Staff

I have a 2004 v star 1100 silverado, will these fit ?

Yes, Cobra does make slip-on mufflers to fit the Yamaha 1100 Silverado V-Star. Just choose the XVS1100AT V-Star 1100 Silverado Yamaha exhaust from our fit guide and you'll get everything you need to fit a Yamaha Silverado exhaust to your bike.

By: Staff