Cobra Fi2000 PowrPro Tuner Fuel Controller
Free Shipping
Fitment Guaranteed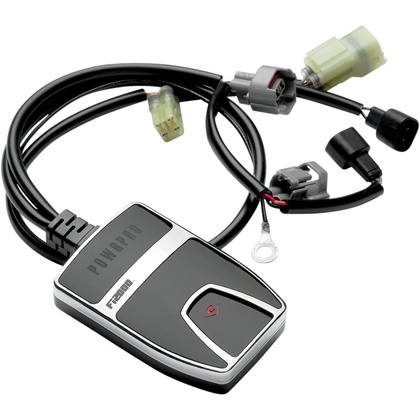 Product Description

Cobra Fi2000 PowrPro Tuner Fuel Controller
New patented technology unlike any other auto tune system on the market
Tunes to exactly what air/fuel mixture creates the maximum power 80 times per second. It does not tune to some arbitrary AFR someone has picked
Creates that adjustment to maximum power on every squirt of the injector
It's like having the best custom map writing, dyno operator tuning your fuel every time you crank the throttle
Tunes every gear, every roll on, every environmental change, every engine modification, lugging the engine, winding it out to redline, it reacts, verifies and adjusts
No dyno needed
No external adjustments needed
Does not require wide band oxygen sensors
No additional components required
Provides perfect fuel settings in any condition, with any exhaust system with any engine modifications
Easy to understand instructions included with each kit
Made in the USA
Product Note: Only fits US models.
---
| Spec | Details |
| --- | --- |
| CARB Approved | No |
| Country of Origin | USA |
Vehicle Fitment
Fitment is guaranteed or your money back plus free return shipping. Don't waste time installing a product that doesn't fit. We worked hard ensuring that this product is an exact fit on the vehicles listed below.

Harley Davidson
FLSTSE2 CVO Softail Convertible 2011
FLSTSE3 CVO Softail Convertible 2012
FLSTSE CVO Softail Convertible 2010
VRSCAW V-Rod 2008-2010
VRSCD V-Rod Night Rod 2008
VRSCDX V-Rod Night Rod Special 2008-2010
VRSCF V-Rod Muscle 2009-2010
Customer Reviews
Be the first to . How many stars would you give this product?
Questions & Answers
Will this plug in to my 2006 Screaming Eagle Ultra Classic without having to take to a dealer? Do you just plug it in and it'll start working?

That's correct, there's no need to visit your dealer to have them change anything. The Fi2000 PowrPro fuel controller is easy to install by following the included step-by-step installation instructions. The fuel tuner will do all the hard work for you by reading the engine's performance up to 80 times per second to optimize fuel delivery at all throttle openings under acceleration. In doing this, it adjust fueling automatically for better throttle response, increased engine output and ultimately, a better riding experience!

By: Staff

I store my Yamaha Stryker in a warehouse. When I do that, I like to remove the battery and take it home to put on tender. What happens when I replace the battery and hook processor back up to negative terminal? Should I be good to go what I start it after that?

That's a good question. A hard reset after battery removal/installation will not hurt the Cobra fuel adjustment system. What happens is that it'll reset all the factory Yamaha parameters for the fuel injection until it your Stryker reaches full operating temperature. At that point, the Cobra PowrPro will automatically adjust for these change and will run like normal. That is to say, once the map is learned after initial warm-up, you'll be back to normal running conditions with the PowrPro.

By: Staff

Will this work on 01 ultra classic

No, this will not fit the 2001 Harley-Davidson FLHTCUI Ultra Classic Electra Glide. The good news is that we have the Cobra Fi2000 PowrPro Black available to fit that bike. It has all the same features as the standard Fi2000 PowrPro, but with a lot of additional functionality to make your bike really rip!

By: Staff

Will this fit to a 2004 Road King fuel injected

Cobra has since replaced the Fi2000 PowrPro to fit the 2004 FLHRI Road King with the PowrPro Black Fuel Controller. The PowrPro Black offers all of the same features as the older Fi2000, but with the added functionality of a smartphone interface. With that interface, you'll be able to fine-tune fuel delivery on your bike for the best possible throttle response an engine performance, regardless of riding conditions.

By: Staff

Will this work on my 2010 road glide custom

Cobra is phasing out the Fi2000 PowrPro tuner for the 2010 FLTR and we're completely sold out of the unit that would fit your particular machine. Still, good things are available from Cobra to fit your bike. The unit has replaced it with an updated version simply referred to as the Road Glide Cobra PowrPro Black. With the new tuner device, you get everything the original Fi2000 PowrPro offered, plus the ability to fine-tune fueling with the use of you iOS or Android-based smartphone.

Our customers have reported that the PowrPro Black works very well for just about every configuration: from completely stock engines to various combinations of exhausts (slip-ons and full systems) and intake kits. In addition, the user interface is simple to use and easy to configure for your bike's particular needs.

By: Staff

Will this fit my 2016 Harley Tri Glide?

Unfortunately, Cobra doesn't produce an Fi2000 to fit any Tri-Glide model, including the 2016 model year machine. We do, however, have a Vance & Hines Fuelpak FP3 Autotuner. With that unit, all you need is a Bluetooth-enabled iOS or Android device in order to get the most out of your bike's engine. Just install it, configure it and you'll be ready to ride with the best possible throttle response and the strongest power output possible.

By: Staff

Will this fit a 2014 M109R BOSS?

Cobra no longer produces an Fi2000 PowrPro to fit any Suzuki M109R model. In fact, the product line is slowly being phased-out. It has since been replaced by the M109R PowrPro Black. The new device, which was released in the summer of 2016, employs all of the same features as the Suzuki Fi2000, but now includes the ability to fine-tune fuel delivery via the free iOS / Android smartphone app. If, upon installation, you find the M109R Suzuki PowrPro Black to be suitable for your needs, you can let it be. However, if you're feeling adventurous, you can use the the aforementioned Fi2000 smartphone app to make all the required adjustments to get the best possible throttle response and engine performance out of the device.

By: Staff

Will this fit a 2006Yamaha Roadliner XV19SVGY?

Yes, this Fi2000 PowrPro from Cobra will indeed fit our 2006 Yamaha RoadlinerXV19SVGY. Simply choose The 2006 XV1900S Roadliner S from our fit guide and we'll get the correct unit on its way to you!

By: Staff

I asked about the 2006 roadliner thanks for getting back too me. I got a few more for you. #1 will i need too make any changes to add this too my bike or add anything too it when i get this #2 is this the one i can fine tune it with a app with a smart phone?

You won't need to make any changes to your bike other than plugging it into the OEM wire harness. Installation is rather simple, too. In most cases, it takes no longer than 30 minutes. If you were to add an aftermarket Yamaha Roadliner intake kit or change the exhaust system on your bike, the Fi2000 would automatically adjust fueling to for the best possible engine performance.

With regard to your second question, no - this is not a device that can be adjusted via a smart phone app. I believe you're looking for the Cobra Fi2000 PowrPro Black Fuel Controller. That is the device that allows you to make all the tuning adjustments via your smart phone. And, just like the Fi2000, if configured properly by the smartphone app, it'll automatically adjust fuel delivery to suit almost any intake or exhaust changes you make to the bike.

By: Staff

When Installing this on my 2006 Suzuki Boulevard C50. I have cobra pipes installed but stock intake. Will it reprogram when I put on a better intake?

There's nothing to program upon the installation of this unit on your machine. You only need to plug it in and ride/ This is due to the fact that the Suzuki C50 Fi2000 makes calculations 80 times a second in order to deliver the best possible throttle response. It reads data from your bike's ECU while at the same time comparing against throttle input and acceleration. If you were to change the C50 Boulevard exhaust or add an intake kit later on, the unit would automatically adjust fueling to suit. It's actually a pretty clever device!

By: Staff

Will this fit a 2015 Yamaha Stryker

Unfortunately, Cobra no longer produces this particular PowrPro to fit the Yamaha Stryker. You do have other options, however, in the form of the Cobra Fi2000R Fuel Controller or the Cobra Fi2000 PowrPro Black Fuel Controller. The former option is best if all you have on your bike is a slip-on muffler. If you have an air cleaner and a full exhaust system, then the PowrPro Black, which is what replaced the original PowrPro, is the way to go.

It should be said, however, that the PowrPro Black isn't as intuitive to use and may require quite a bit of tweaking in order to get it to work for your particular configuration. And of course, the standard Fi2000R is more than up to the task for dealing with a full exhaust and/or intake kit. What makes the Fi2000R so easy to use, is that it has three pots for adjustment, which makes getting it right for fueling rather easy. If you're comfortable with spending a lot of time to get things just right (and you've got a full exhaust system on your machine), then you could go with the PowrPro Black.

By: Staff

Will this fit my 2005 suzuki c50?

Cobra no longer produces an Fi2000 PowrPro to fit the 2005 Suzuki C50. We recommend that you install the Fi2000R tuner on that bike. It comes pre-configured to work with an aftermarket exhaust system and is easily tuned to deliver the perfect throttle response and engine power. The included installation instructions do an excellent job of explaining how to get the most out of the unit based upon your bike's tuning needs.

By: Staff

will this fit my 2012 v star 950 tourer ?

Unfortunately, Cobra doesn't produce a PowrPro fuel tuner to fit the 2012 Yamaha V-Star 950 Tourer. For that particular bike, we recommend a closed-loop Cobra Fi2000R Fuel Tuner. It's easy to install, and very simple to configure for your bike's particular fueling requirements. The only caveat with the closed-loop system is that you must be retain use of the OEM oxygen sensor in order for it to function properly. If you're using an exhaust without the O2 sensor, the choose the open-loop Cobra Fi2000R Fuel Tuner instead. The open-loop version doesn't need to be hooked up to an O2 sensor of any kind. The closed-loop version is always recommended since it relies on that sensor to deliver the best fuel mapping possible with the sensor's input.

By: Staff

Which cobra system will work on my 95 electra glide ultra classic? Will the fi2000r work on my bike?

Cobra no longer produces a PowrPro fuel tuner for the '95 FLHTCUI, but they still make the standard Fi2000R fuel controller that will fit without issue. The difference between the two devices is that the PowrPro automatically adjust fuel tuning, you just bolt it onto the bike and ride. The Fi2000R requires that you adjust the three control knobs on the device, much like that of a carburetor (low, mid and high ranges) in order to deliver fuel properly. The device ships with a fuel delivery setup that's ideal for a full exhaust system. In the instance your bike doesn't run as well as you think it should after installing the tuner, the included instructions do an excellent job of explaining what adjustments to make in order to get the most out of the bike. It's a rather simple device to install and adjust and we've have many, many customers who have been happy with the device.

By: Staff