Vance & Hines Softail Dual Exhaust System
$
$

–

$
$

673.74

–

$

682.14
Free Shipping
Fitment Guaranteed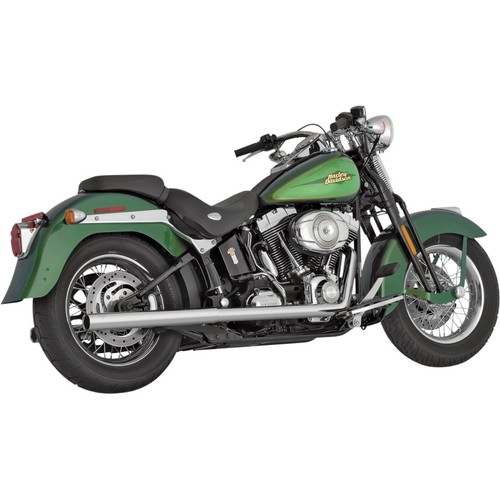 Product Description

Vance & Hines Softail Dual Exhaust System
Enhance the nostalgic look of a Springer Softail Classic or any other Softail model with Softail Duals true dual head pipes and matched straight-cut slip-ons.
Classic true dual design
Full coverage heat shields
Available in chrome finish
Optional quiet baffle available (sold separately)
Optional fishtail and slash-cut tips available (sold separately)
---
| Spec | Details |
| --- | --- |
| Baffles Included | Yes, Removable |
| Configuration | 2 into 2 |
| Country of Origin | USA |
| Finish | Chrome |
Vehicle Fitment
Fitment is guaranteed or your money back plus free return shipping. Don't waste time installing a product that doesn't fit. We worked hard ensuring that this product is an exact fit on the vehicles listed below.

Harley Davidson
FLS Softail Slim 2012-2016
FLSS Softail Slim S 2016
FLST Heritage Softail 2006
FLSTC Heritage Softail Classic 1997-2016
FLSTCI Heritage Softail Classic 2001-2006
FLSTF Softail Fat Boy 1997-2016
FLSTFB Softail Fat Boy Lo 2010-2016
FLSTFBS Softail Fat Boy S 2016
FLSTFI Softail Fat Boy 2001-2006
FLSTI Heritage Softail 2006
FLSTN Softail Deluxe 2005-2016
FLSTNI Softail Deluxe 2005-2006
FLSTS Heritage Springer Softail 1997-2003
FLSTSB Softail Cross Bones 2008-2011
FLSTSC Softail Springer Classic 2005-2007
FLSTSCI Softail Springer Classic 2005-2006
FLSTSI Heritage Springer Softail 2001-2003
FXS Softail Blackline 2012-2013
FXST Softail Standard 1999-2007
FXSTB Softail Night Train 1999-2009
FXSTBI Softail Night Train 2001-2006
FXSTC Softail Custom 1997-1999, 2007-2010
FXSTD Softail Deuce 2000-2007
FXSTDI Softail Deuce 2001-2006
FXSTI Softail Standard 2001-2006
FXSTS Springer Softail 1997-2006
FXSTSB Softail Bad Boy 1997
FXSTSI Springer Softail 2001-2006
Customer Reviews
Be the first to . How many stars would you give this product?
Questions & Answers
Is this available with fish tails?

Provided you're looking to fit this exhaust onto a 1997 thru 2016 model year Softail, then yes, you can add fish tail end caps to this exhaust system, but the exhaust system is not sold as a complete kit with those end caps installed. The fishtail end caps must be purchased separately. You can find the optional Softail Dual Fishtail end caps on our website here. By purchasing those two kits together, you'll get a dual-exhaust full system with fishtails to fit 1997 thru 2016 model year Softails.

By: Staff

Are the pipes one piece starting at the engine block. And do they come with sensors? Thanks

I have a 2016 heritage softail and I am looking for a big buffer sound.

By: Guest

The pipes are actually made up of two pieces for the right side, and three pieces of tubing for the left side. It's also covered in the same amount of Vance & Hines heat shielding. There are no exhaust oxygen sensors included with the kit, you are to re-use the Harley O2 sensors when installing these Vance & Hines Heritage Softail dual exhaust pipes.

With regard to sound, oh yes - they have a great boom to them! You can even turn it up by removing the included louvered baffles!

By: Staff

Do I have to change or modify my oil tank to install the duel exhaust for a 2012 FLSTC

Vance & Hines exhausts for the 2012 FLSTC will certainly work with the stock oil tank. You won't need to change or modify the FLSTC oil tank in order to install this, or any other Heritage Softail Vance & Hines exhaust that we sell.

By: Staff

Is all hardware necessary for installation included? Is any work required for the sensors? Which, if any, baffle is included? Can I order the optional Fish Tail end caps? Is this a job for a do it yourselfer?

For your hardware question, so long as your bike is currently equipped with the stock exhaust system, everything you need is included in the box. You needn't purchase any additional parts. That said, if you want to get the biggest possible power gain out of the exhaust, we highly recommend you purchase a Vance & Hines FP3 Fuelpak. With that tool, you'll be able to flash the ECU on your bike to match the fuel delivery requirements of this exhaust. For installing the oxygen sensors, you simply unscrew the stock ones already on your bike and then put them in the exhaust.

Each muffler is fitted with a Vance & Hines' standard baffles. They're secured in place with one screw each, so removal and installation of those is rather straight forward. As for the fish tail end caps, you can find them on our website on the Vance & Hines Softail Duals Fishtail II Muffler End Caps page.

Installing the exhaust isn't really a major job. If you're comfortable with changing the oil in your bike, then this won't be much of a challenge. Usually, it can be completely within one evening in the garage. Just be sure to take your time and read through the included instructions carefully before you begin.

To help with your research, you can download a copy of the included instructions here.

By: Staff