Cobra Fi2000 PowrPro Tuner Closed-Loop Fuel Controller
Free Shipping
Fitment Guaranteed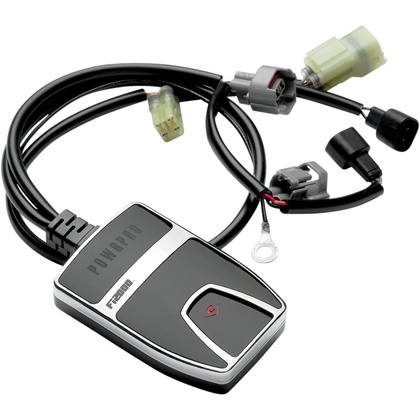 Product Description

Cobra Fi2000 PowrPro Tuner Closed-Loop Fuel Controller
Cobra's Fi2000 PowerPro Tuner/EFI Controller features patented technology unlike any other auto tune system on the market
Tunes to exactly what air/fuel mixture creates the maximum power 80 times per second. It does not tune to some arbitrary AFR someone has picked
Creates that adjustment to maximum power on every squirt of the injector
It is like having the best custom map writing, dyno operator tuning your fuel every time you crank the throttle
Tunes every gear, every roll on, every environmental change, every engine modification, lugging the engine, winding it out to redline, it reacts, verifies and adjusts
No dyno needed
No external adjustments needed
Does not require wide band oxygen sensors
No additional components required
Provides perfect fuel settings in any condition, with any exhaust system with any engine modifications
Easy to understand instructions included with each kit
Made in the USA
Product Note: Only fits US models. Closed-loop design works with all exhaust systems equipped with oxygen sensor.
---
| Spec | Details |
| --- | --- |
| CARB Approved | No |
| Country of Origin | USA |
Vehicle Fitment
Fitment is guaranteed or your money back plus free return shipping. Don't waste time installing a product that doesn't fit. We worked hard ensuring that this product is an exact fit on the vehicles listed below.

Harley Davidson
FLD Dyna Switchback 2012-2016
FLS Softail Slim 2012-2014
FLSTC Heritage Softail Classic 2008-2014
FLSTF Softail Fat Boy 2008-2014
FLSTFB Softail Fat Boy Lo 2010-2014
FLSTN Softail Deluxe 2008-2014
FLSTSB Softail Cross Bones 2008-2011
FXCW Softail Rocker 2008-2009
FXCWC Softail Rocker C 2008-2011
FXD Dyna Super Glide 2008-2010
FXDB Dyna Street Bob 2008-2016
FXDC Dyna Super Glide Custom 2008-2014
FXDF Dyna Fat Bob 2008-2016
FXDL Dyna Low Rider 2008-2009
FXDWG Dyna Wide Glide 2008, 2010-2016
FXS Softail Blackline 2011-2013
FXSB Softail Breakout 2013-2015
FXSTB Softail Night Train 2008-2009
FXSTC Softail Custom 2008-2010
Customer Reviews
Be the first to . How many stars would you give this product?
Questions & Answers
Does this unit uses the stock O2 sensors? Are there any manual adjustments? Is it possible to get a PDF of the installation instructions?

Depending on what machine it's being installed onto, the PowrPro may use the stock O2 sensors. This particular Cobra fuel tuner does not have any manual adjustments. The Fi2000 PowrPro tuner does all the hard work automatically. When your bike accelerates, it reads the engine's performance up to 80 times per second to optimize fuel delivery at all throttle openings, under every kind of load and under all existing environmental conditions to deliver maximum acceleration. No matter which components you change in the future, whether it's a new exhaust system, or a freer-flowing air filter, PowrPro continues to analyze and tune your engine for peak performance.

With regard to the instructions, just let us know exactly what machine you have and we'll be able to forward you a copy of the included instructions.

By: Staff

I have a 2007 Softail Deluxe FLSTN. Does the Cobra Power Pro use the factory O2 sensors?

Yes, the closed-loop fuel controllers are specifically designed to work on machines that are equipped with the OEM oxygen sensors. With this kit, it's a straight forward plug and play installation for your machine. If you're comfortable working on your bike, you'll spend twenty minutes getting it all together. It's a very easy installation.

By: Staff

Does it mount permanently?

No, Cobra's Fi2000 tuners are not mounted permanent. They plug into the OEM wiring harness on all motorcycles and, on some versions - may use a T-tap for hooking into the bike's harness. The "brain" of the PowrPro is attached to the bike using the included Velcro patches. All of these items can easily be removed to return the bike back to stock form.

By: Staff

Will this stop my exhaust from backfiring

I put on s&so air intake and vance & hines exhaust and now my bike is backfiring under a load with this help to stop that

By: David

If, by under load, you mean that when you grab a handful of throttle it's backfiring, the yes, an Fi2000 will certainly help. It sounds as though your bike is running particularly lean, which isn't surprising considering you've added an exhaust and an intake kit.

By: Staff

Will this work on a 2015 fatboy lo

Unfortunately, no - this unit will not fit the 2015 Fat Boy Lo. For that particular machine, we highly recommend a Vance & Hines FP3 FuelPak. With that device, all you need is an iOS or Android-enabled smartphone and you'll be able to configure your bike for just about any exhaust and/or intake combination out there. Installation is quick and easy and, once that's done - you only need to use your phone to make the required adjustments when you change the exhaust or intake.

By: Staff

I bought a Yamaha stratoliner 1900 and it has the fI 2000 your selling point says it will not work on a metric bike mine runs like a scolded dog is it hurting my bike?

If you're referring to the note below the main description in regard to "Only fits US models ..." what's meant by that is these fuel controllers only fit bikes that are sold in the USA. That language is in there since European, Canadian or pretty much any gray-market import bikes, often have different ECU configurations than the same bike that's sold in the US. Since Cobra only tests their fuel controllers on US-market bikes, we can only be sure they fit on bikes that were originally sold in the USA by a franchised US dealer.

If your Stratoliner is running really well with this fuel controller installed on it, then you've got nothing to worry about. Good power output and engine reliability are intrinsically linked. That is to say, if your bike is running poorly, something isn't right. And, if it's running really well, makes good power and responds consistently to your throttle inputs, all is right in the world!

By: Staff

I use an older model cobra fi2000r processor on an "open loop" no no oxy sensor

Can I just plug and play with my old cobra sensor

I have no oxy sensor oops, I don't even have the connection to hook it back up accidentally all removed can I plug n play the new one?

By: Jwebb

I wouldn't recommend using the closed-loop tuner if your bike doesn't have oxygen sensors. It would work the same as the open loop if there are no sensors to be plugged in.

By: Staff

will this work on an 08 fatboy

If you were to choose the 2008 FLSTF Softail Fat Boy from our fit guide, and so long as you have the OEM oxygen sensor, yes - this kit would indeed fit your bike without issue.

By: Staff