Cobra Passenger Floorboards
$
$

–

$
$

239.98

–

$

259.58
Free Shipping
Fitment Guaranteed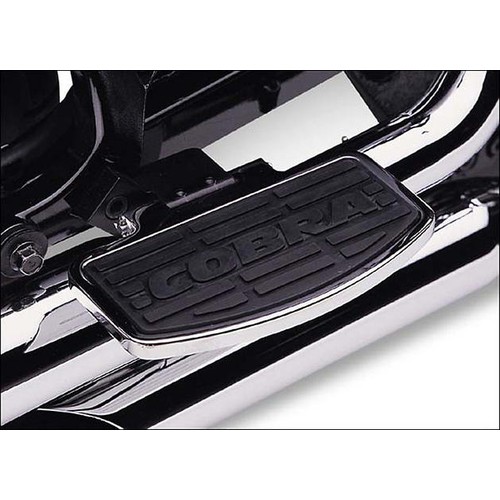 Product Description

Cobra Passenger Floorboards
Make your passengers smile with Cobra's Billet Rear Floorboards. CNC machined from aircraft aluminum with rubber inserts and folding mounts.
A more forward foot position
Bright chrome finish
Rubber foot insert matches Cobra front floorboards for added style
Easy to understand instructions and all required mounting hardware included with each kit
Made in the USA
---
| Spec | Details |
| --- | --- |
| Color | Varies (make selection above) |
| Country of Origin | USA |
| Finish | Varies (make selection above) |
| Material | Aluminum |
| Position | Passenger |
| Quantity | Pair |
Vehicle Fitment
Fitment is guaranteed or your money back plus free return shipping. Don't waste time installing a product that doesn't fit. We worked hard ensuring that this product is an exact fit on the vehicles listed below.

Honda
GL1500C Valkyrie 1997-2003
GL1500CD Valkyrie Deluxe 2001-2003
GL1500CF Valkyrie Interstate 1999-2001
GL1500CT Valkyrie Tourer 1998-2000
VT750C2 Shadow 750 Spirit 2007-2009, 2012-2014
VT750C2B Shadow 750 Phantom 2010-2016
VT750C Shadow 750 Aero 2004-2009, 2011-2016
VT750CA Shadow 750 Aero ABS 2008-2016
VT1100C2 Shadow 1100 A.C.E. 1995-1999
VT1100C2 Shadow 1100 Sabre 2000-2007
VT1100C Shadow 1100 Spirit 1999-2007
VT1100CS Shadow 1100 A.C.E. 1998
VT1100D2 Shadow 1100 A.C.E. 1999
VTX1300C 2004-2009
VTX1300R 2005-2009
VTX1300S 2003-2007
VTX1800C 2002-2007
VTX1800F 2005-2008
VTX1800N 2004-2008
VTX1800R 2002-2007
VTX1800S 2002-2006

Kawasaki
VN900B Vulcan 900 Classic 2006-2017
VN900C Vulcan 900 Custom 2007-2017
VN900D Vulcan 900 Classic LT 2006-2017
VN1500D Vulcan 1500 Classic 1996-1997
VN1500E Vulcan 1500 Classic 1998-2004
VN1500N Vulcan 1500 Classic Fi 2000-2008
VN1600A Vulcan 1600 Classic 2003-2008
VN1600D Vulcan 1600 Nomad 2005-2008
VN1600G Vulcan 1600 Nomad 2006
VN1700E Vulcan 1700 Classic 2009-2013
VN2000D Vulcan 2000 Limited 2005-2006
VN2000E Vulcan 2000 Classic 2006-2007
VN2000F Vulcan 2000 Classic LT 2006-2007
VN2000H Vulcan 2000 Classic 2008-2009
VN2000J Vulcan 2000 Classic LT 2008-2010

Suzuki
VL800 Boulevard C50 2005-2009, 2011-2013
VL800 Volusia 800 2001-2004
VL1500 Boulevard C90 2005-2009
VL1500 Intruder 1500 1998-2004
VLR1800 Boulevard C109R 2008-2009
VLR1800T Boulevard C109RT 2008-2009
VZ800 Boulevard M50 2005-2009
VZR1800 Boulevard M109R 2006-2009, 2011-2014

Yamaha
XV1600A Road Star 1600 1999-2003
XV1600AL Road Star 1600 Limited Edition 2003
XV1600AS Road Star 1600 MM 1999-2000
XV1600AS Road Star 1600 Midnight Star 2001-2003
XV1600AT Road Star 1600 Silverado 1999-2003
XV1700A Road Star 1700 2004-2009
XV1700AM Road Star 1700 Midnight 2004-2007
XV1700AS Road Star 1700 S 2008-2014
XV1700AT Road Star 1700 Silverado 2004-2010
XV1700ATM Road Star 1700 Midnight Silverado 2004-2007
XV1700ATS Road Star 1700 Silverado S 2008-2014
XV1900 Roadliner 2006-2007
XV1900CT Stratoliner 2006-2007, 2009
XV1900CT Stratoliner Deluxe 2010-2012, 2014
XV1900CTM Stratoliner Midnight 2006-2008
XV1900CTS Stratoliner S 2006-2010, 2012-2014
XV1900M Roadliner Midnight 2006-2009
XV1900S Roadliner S 2006-2010, 2012-2014
XVS1100 V-Star 1100 Custom 2000-2009
XVS1100A V-Star 1100 Classic 2000-2009
XVS1300A V-Star 1300 2007-2009, 2011-2014
Customer Reviews
Back Floorboards
By Anon. on July 20, 2017
Perfect, the wife loves them
Questions & Answers
Will these fit a1995 Honda shadow ace vt 1100

Yes, these Cobra passenger floorboards will indeed fit your 1995 Honda Shadow VT1100C2 Shadow A.C.E.

By: Staff

Will these fit a Honda spirit 1100 vt

Yes, Cobra Passenger Floorboards are available to fit the 1999 through 2007 model year Honda VT1100C Shadow 1100 Spirit.

By: Staff

do these come with mounts to fit the specific bike

Yes, everything you need to install these passenger floorboards on your machine is included. You will find model-specific mounts along with easy-to-follow installation instructions in the box. There's no need to purchase additional hardware to fit them to any bike you find in our fit guide.

By: Staff

Will these interfere with OEM saddle bags on a VTX 1800R?

Cobra's floorboards for the VT1800R will not interfere with the Honda catalog saddlebags. In fact, these passenger floorboards were carefully designed to position most of the extra foot space forward of the OEM passenger footpegs. You should have no problem installing these 'boards on your Honda.

By: Staff

Will this fit the Kawasaki Vulcan 900 classic? Do i need to modified or do anything for the board to fit?

Cobra passenger floorboards for the Kawasaki Vulcan 900 will bolt straight onto the OEM passenger peg mounts. Everything you need for a perfect fit is included in the box - there's no need to order additional parts.

By: Staff

Will these fit a 2008 Suzuki Boulevard C109RT?

Yes, the C109R passenger floorboards your'e asking about will certainly fit the 2008 Suzuki C109RT variant. Simply choose the 2008 C109RT from our fit guide and we'll get the correct floorboards to fit your machine on their way to you.

By: Staff

Does the mounting hardware push the floor boards ahead some? I'm concerned they will interfere with my saddle bags. I have a 2008 Yamaha V-Star Classic.

For the 2009 V-Star 1100 Classic floorboards, the actual mount is centered below the board. The board runs approximately four inches backwards from that point and the same amount going forward from the center of the peg mount.

By: Staff