Vance & Hines Big Radius 2-into-2 Exhaust System
$
$

–

$
$

624.99

–

$

799.99
Add to Cart to See Price
What is this? We've priced this item below what the manufacturer allows for public display, so you'll have to add it to your cart to view our final price.
Don't worry, if you decide not to buy this item, you can easily remove it from your cart.
Free Shipping
Fitment Guaranteed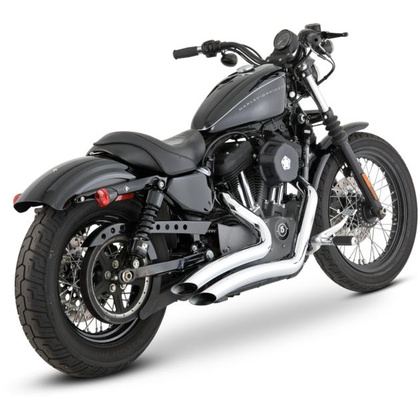 Product Description

Vance & Hines Big Radius 2-into-2 Exhaust System
Big Radius set the standard for a custom look with quality and perfection in style and performance. Not only do you get a quality exhaust system, you get beautifully curved full-coverage heat shields, artistically scalloped end-tips and blue proof show quality chrome. We didn't stop at style and quality, Big Radius produces extra horsepower and torque delivered with a signature hot-rod sound that leaves you begging for more. Big Radius is perfection in style, performance, quality and sound.
Custom style with quality production
Radius curved louvered baffles
Made in the USA
---
| Spec | Details |
| --- | --- |
| Color | Varies (make selection above) |
| Configuration | 2 into 2 |
| Country of Origin | USA |
| Finish | Varies (make selection above) |
Vehicle Fitment
Fitment is guaranteed or your money back plus free return shipping. Don't waste time installing a product that doesn't fit. We worked hard ensuring that this product is an exact fit on the vehicles listed below.

Harley Davidson
FLHR Road King 1999-2009
FLHRC Road King Classic 2007-2009
FLHRCI Road King Classic 1999-2006
FLHRI Road King 1999-2006
FLHRS Road King Custom 2004-2007
FLHRSI Road King Custom 2004-2006
FLHT Electra Glide Standard 1999-2009
FLHTC Electra Glide Classic 1999-2005, 2007-2009
FLHTCI Electra Glide Classic 1999-2006
FLHTCU Ultra Classic Electra Glide 1999-2009
FLHTCUI Ultra Classic Electra Glide 1999-2006
FLHTI Electra Glide Standard 2003-2006
FLHX Street Glide 2006-2009
FLHXI Street Glide 2006
FLST Heritage Softail 1986-1990, 2006
FLSTC Heritage Softail Classic 1988-2011
FLSTCI Heritage Softail Classic 2001-2006
FLSTF Softail Fat Boy 1990-2011
FLSTFB Softail Fat Boy Lo 2010-2011
FLSTFI Softail Fat Boy 2001-2006
FLSTI Heritage Softail 2006
FLSTN Heritage Softail Nostalgia 1993
FLSTN Heritage Softail Special 1994-1996
FLSTN Softail Deluxe 2005-2011
FLSTNI Softail Deluxe 2005-2006
FLSTS Heritage Springer Softail 1997-2003
FLSTSB Softail Cross Bones 2008-2011
FLSTSC Softail Springer Classic 2005-2007
FLSTSCI Softail Springer Classic 2005-2006
FLSTSI Heritage Springer Softail 2001-2003
FLTR Road Glide 1999-2002, 2007-2009
FLTRI Road Glide 1999-2006
FXCW Softail Rocker 2008-2009
FXCWC Softail Rocker C 2008-2011
FXD Dyna Super Glide 1995-2005, 2007-2010
FXDB Dyna Daytona 1992
FXDB Dyna Street Bob 2007-2011
FXDB Dyna Sturgis 1991
FXDBI Dyna Street Bob 2006
FXDC Dyna Glide Custom 1992
FXDCI Dyna Super Glide Custom 2005-2006
FXDF Dyna Fat Bob 2008-2011
FXDI35 35th Anniversary Dyna Super Glide 2006
FXDI Dyna Super Glide 2004-2006
FXDL Dyna Low Rider 1993-2005, 2007-2009
FXDLI Dyna Low Rider 2004-2006
FXDS-CONV Dyna Low Rider Convertible 1994
FXDS-CONV Dyna Super Glide Convertible 1999-2000
FXDWG Dyna Wide Glide 1993-2005, 2007-2008, 2010-2011
FXDWGI Dyna Wide Glide 2004-2006
FXDX Dyna Super Glide Sport 1999-2005
FXDXI Dyna Super Glide Sport 2004-2005
FXDXT Dyna Super Glide T-Sport 2001-2003
FXST Softail 1986-1990
FXST Softail Standard 1999-2007
FXSTB Softail Night Train 1999-2009
FXSTBI Softail Night Train 2001-2006
FXSTC Softail Custom 1986-1999, 2007-2010
FXSTD Softail Deuce 2000-2007
FXSTDI Softail Deuce 2001-2006
FXSTI Softail Standard 2001-2006
FXSTS Springer Softail 1988-2006
FXSTSB Softail Bad Boy 1995-1997
FXSTSI Springer Softail 2001-2006
XL50 50th Anniversary Sportster 2007
XL883 Sportster 883 2004-2008
XL883C Sportster 883 Custom 2004-2009
XL883L Sportster 883 Low 2005-2010
XL883L Sportster SuperLow 2011-2013
XL883N Sportster Iron 883 2009-2013
XL883R Sportster 883R 2004-2007
XL1200C Sportster 1200 Custom 2004-2013
XL1200L Sportster 1200 Low 2006-2011
XL1200N Sportster 1200 Nightster 2007-2012
XL1200R Sportster 1200 Roadster 2004-2008
XL1200V Sportster Seventy-Two 2012-2013
XL1200X Sportster Forty-Eight 2010-2013
Customer Reviews
Be the first to . How many stars would you give this product?
Questions & Answers
Vance and Hines big radius exhaust, i would like to know the pipe size? 1 3/4 or 2 1/2

Vance & Hines Big Radius exhausts for Harley-Davidson motorcycles have a 1-3/4" header diameter.

By: Staff

Do these pipes have the oxygen sensor ports for the 2011 street glide ??

Yes, the Vance & Hines Big Radius exhaust for the 20114 Harley Street Glide does come with oxygen sensor ports. Simply remove those oxygen sensors from the stock exhaust and re-install them on the new Vance & Hines exhaust system.

By: Staff

Does this kit come with mounting hardware?

Yes, all required mounting hardware is included with the Vance & Hines Big Radius exhaust. Mind you, some of the OEM exhaust hardware may need to be re-used in order to complete the installation. So long as you have the stock exhaust on your bike, you should have no problem putting this on as there are no special fabrications required to make it fit properly. Everything you need is included in the box.

By: Staff

I currently have the super radius system installed on my 2014 fxdl, if I switch to the big radius what modifications will I need? You picture the big radius exhaust with what appears to be forward foot controls installed is this necessary? I only have the mounting parts for the super radius is it interchangeable with the big radius? My main reason for the change is to replace the passenger foot peg that was removed to accommodate the super radius, you picture the big radius system with the passenger peg, I want to verify this and what if any other adjustments need to made.

So long as the Super Radius exhaust uses the stock header circlips and flanges, you won't need to make any modifications to your machine as it's currently configured in order to install the Big Radius exhaust. You'll just need to re-use those parts and also, the nuts that secure the headers to the cylinder headers when installing the Vance & Hines Big Radius exhaust. The exhaust itself is compatible on machines equipped with either, forward or mid-controls and everything you need is included in the box.

By: Staff

Will these fit an 07 sportster 1200 custom?

Yes, the Vance & Hines 2-into-2 exhaust indeed will fit the 2007 Sportster 1200 Custom! Simply select your make, model (XL1200C Sportster 1200 Custom) and year from our drop down fit guide that's to the right of the main image on our website and we'll get the correct exhaust on its way to you, fast.

By: Staff

Do u need to re tune the engen will there be Anny loss of tork

Any time you add an exhaust to your bike you should certainly tune it if you expect to get the most possible power out of the new Harley exhaust system. Otherwise, depending on the state of tune of your machine, yes - it may turn out that you lose power and torque at various power settings over the bike's rev range.

To mitigate these problems, we recommend a Vance & Hines FP3 tuner if your bike is fuel-injected. If your bike has a carburetor, check out the Dynojet Carburetor Jet Kit. Both of these tools will allow you to get the best possible engine power and throttle response, all in one kit. Both items come with easy-to-follow instructions that clearly explain how to get the most power out of your bike.

By: Staff

I have a 2012 fat boy lo , do you have these in chrome?

Yes, we do have a chrome Big Radius full exhaust system for the 2012 FLSTFB. Just choose your bike from the fit guide and select a chrome finish to get the Softail exhaust that you want.

By: Staff

Installing on 2007 FLHTCH, Does this exhaust system have sensor ports? and removeable baffles?

For the 2007 FLHTCH, this exhaust does indeed have a provision for installing the OEM oxygen sensors. As for the baffles, they are indeed removable. Each baffle is secured in place with a single screw.

By: Staff