S&S Tapered Slip-On Exhaust
Free Shipping
Fitment Guaranteed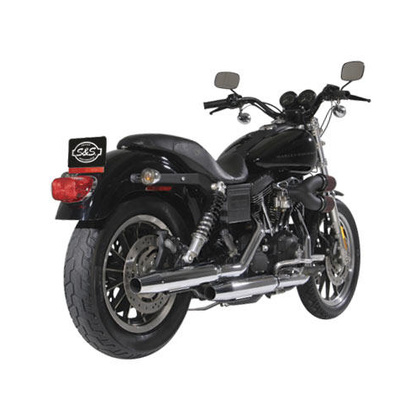 Product Description

S&S Tapered Slip-On Exhaust
Tapered style dual mufflers. All steel construction with a show chrome finish. Fits on stock header pipes.
One of the most popular and cost effective performance upgrades you can make to a Harley-Davidson motorcycle is to replace the stock exhaust with a set of low restriction, high performance mufflers. The stock exhaust pipes and S&S performance mufflers make a great high performance exhaust system with a low price tag. S&S Slip on mufflers are great for stock displacement engines, and they provide exceptional low end and midrange torque when used with big inch engines. Performance exhaust will enhance the effectiveness of other performance upgrades like carbs, air cleaners, cams, and increased displacement.
Carburetor or fuel injection adjustments are generally not required, but are recommended for best performance.
---
| Spec | Details |
| --- | --- |
| Country of Origin | USA |
| Finish | Chrome |
| Muffler Sleeve | Steel |
Vehicle Fitment
Fitment is guaranteed or your money back plus free return shipping. Don't waste time installing a product that doesn't fit. We worked hard ensuring that this product is an exact fit on the vehicles listed below.

Harley Davidson
FXD Dyna Super Glide 1995-2005, 2007-2010
FXDB Dyna Street Bob 2007-2013
FXDBI Dyna Street Bob 2006
FXDC Dyna Super Glide Custom 2005, 2007-2013
FXDCI Dyna Super Glide Custom 2005-2006
FXDI35 35th Anniversary Dyna Super Glide 2006
FXDI Dyna Super Glide 2004-2006
FXDL Dyna Low Rider 1995-2005, 2007-2009
FXDLI Dyna Low Rider 2004-2006
FXDS-CONV Dyna Convertible 1995-1998
FXDS-CONV Dyna Super Glide Convertible 1999-2000
FXDWG Dyna Wide Glide 1995-2005, 2007-2008
FXDWGI Dyna Wide Glide 2004-2006
FXDX Dyna Super Glide Sport 1999-2005
FXDXI Dyna Super Glide Sport 2004-2005
FXDXT Dyna Super Glide T-Sport 2001-2003
Customer Reviews
Be the first to . How many stars would you give this product?
Questions & Answers
I have a 07 1200 c sportster and I'm looking for something to bump the sound up with out changing the efi

In most cases, the addition of a slip-on exhaust is well within the OEM EFI's ability to handle. It's just when you go from a full exhaust system that you certainly want to modify fuel delivery with an aftermarket fuel tuner. Of course, the only way to find out for sure whether or not you need to make any fuel map changes is to put the mufflers on your bike and see what happens. Most likely, you'll notice what you want - louder pipes and the bike does what you want when you open the throttle. If this is the case, then it's not to worry.

On occasion, however, you may find that the throttle response isn't as precise as it used to be or the engine seems to miss at a steady power setting. If that's the case, then you'll certainly want to make changes to fuel mapping. We have a Cobra Fi2000R Closed-Loop Fuel Controller that'll easily make the changes needed without having to make a trip to the dyno. The included instructions for the fuel tuner do an excellent job of explaining how to configure the device (there are only three dials to adjust, much like a carburetor) for your bike's specific needs. You can have it installed in about ten minutes and then, after a short ride around town, fine-tune it for your needs. In this way, you'll be sure to get a properly-running bike with the best possible throttle response, engine performance and sound output.

By: Staff