S&S Stealth Air Cleaner Kit
$
$

–

$
$

135.31

–

$

142.80
Add to Cart to See Price
What is this? We've priced this item below what the manufacturer allows for public display, so you'll have to add it to your cart to view our final price.
Don't worry, if you decide not to buy this item, you can easily remove it from your cart.
Free Shipping
Fitment Guaranteed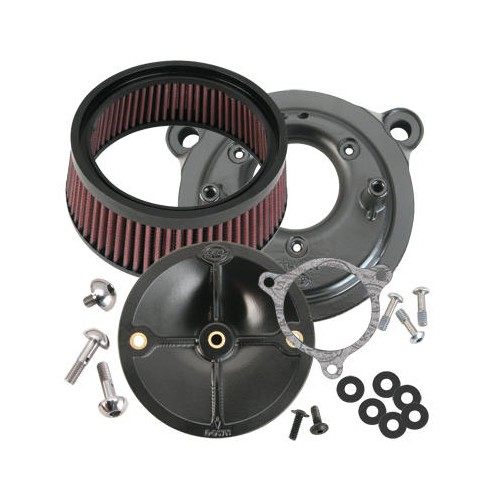 Product Description

S&S Stealth Air Cleaner Kit
S&S high performance intake system. This S&S Stealth air cleaner kit makes a powerful statement about style and performance. The air cleaner alone will increase 2-4 horsepower over stock. Comes with Stealth air cleaner and mounting hardware.
Features and Benefits:
Can be used with stock or several S&S designed covers
Air directional stinger cone in the filter
Product Note: Fitment depends on vehicle selection.
---
| Spec | Details |
| --- | --- |
| Color | Black |
| Country of Origin | USA |
| Engine Type | Varies (make selection above) |
Vehicle Fitment
Fitment is guaranteed or your money back plus free return shipping. Don't waste time installing a product that doesn't fit. We worked hard ensuring that this product is an exact fit on the vehicles listed below.

Harley Davidson
CVO FXR2 1999
CVO FXR3 1999
FLD Dyna Switchback 2012-2013
FLHR Electra Glide Road King 1994
FLHR Road King 1995-2013
FLHRC Road King Classic 2007-2013
FLHRCI Road King Classic 1999-2006
FLHRI Road King 1996-2006
FLHRS Road King Custom 2004-2007
FLHRSE3 CVO Road King 2007
FLHRSE4 CVO Road King 2008
FLHRSE5 CVO Road King 2013
FLHRSEI2 CVO Road King 2 2003
FLHRSEI CVO Road King 2002
FLHRSI Road King Custom 2004-2006
FLHS Electra Glide Sport 1993
FLHT Electra Glide Standard 1995-2009
FLHTC Electra Glide Classic 1993-2005, 2007-2013
FLHTCI Electra Glide Classic 1996-2006
FLHTCSE2 CVO Electra Glide 2005
FLHTCSE CVO Electra Glide 2004
FLHTCU Ultra Classic Electra Glide 1993-2013
FLHTCUI Ultra Classic Electra Glide 1999-2006
FLHTCUSE2 CVO Ultra Classic Electra Glide 2007
FLHTCUSE3 CVO Ultra Classic Electra Glide 2008
FLHTCUSE4 CVO Ultra Classic Electra Glide 2009
FLHTCUSE5/BLK CVO Ultra Classic 2010
FLHTCUSE6 CVO Ultra Classic Electra Glide 2011
FLHTCUSE7 CVO Ultra Classic Electra Glide 2012
FLHTCUSE8 CVO Ultra Classic Electra Glide 2013
FLHTCUSE CVO Ultra Classic Electra Glide 2006
FLHTI Electra Glide Standard 2003-2006
FLHTK Electra Glide Ultra Limited 2010-2013
FLHX Street Glide 2006-2013
FLHXI Street Glide 2006
FLHXSE2 CVO Street Glide 2011
FLHXSE3 CVO Street Glide 2012
FLHXSE CVO Street Glide 2010
FLS Softail Slim 2012-2014
FLST Heritage Softail 2006
FLSTC Heritage Softail Classic 1993-2013
FLSTCI Heritage Softail Classic 2001-2006
FLSTF Softail Fat Boy 1993-2013
FLSTFB Softail Fat Boy Lo 2010-2013
FLSTFI Softail Fat Boy 2001-2006
FLSTFSE2 CVO Fat Boy 2006
FLSTFSE CVO Fat Boy 2005
FLSTI Heritage Softail 2006
FLSTN Heritage Softail Nostalgia 1993
FLSTN Heritage Softail Special 1994-1996
FLSTN Softail Deluxe 2005-2013
FLSTNI Softail Deluxe 2005-2006
FLSTS Heritage Springer Softail 1997-2003
FLSTSB Softail Cross Bones 2008-2011
FLSTSC Softail Springer Classic 2005-2007
FLSTSCI Softail Springer Classic 2005-2006
FLSTSE2 CVO Softail Convertible 2011
FLSTSE3 CVO Softail Convertible 2012
FLSTSE CVO Softail Convertible 2010
FLSTSI Heritage Springer Softail 2001-2003
FLTCU Ultra Classic Tour Glide 1993-1995
FLTR Road Glide 1998-2002, 2007-2009
FLTRI Road Glide 1999-2006
FLTRSE3 CVO Road Glide 2009
FLTRSEI2 CVO Road Glide 2 2001
FLTRSEI CVO Road Glide 2000
FLTRU Road Glide Ultra 2011-2013
FLTRUSE CVO Road Glide Ultra 2011
FLTRX Road Glide Custom 2010-2013
FLTRXSE2 CVO Road Glide Custom 2013
FLTRXSE CVO Road Glide Custom 2012
FXCW Softail Rocker 2008-2009
FXCWC Softail Rocker C 2008-2011
FXD Dyna Super Glide 1995-2005, 2007-2010
FXDB Dyna Street Bob 2007-2013
FXDBI Dyna Street Bob 2006
FXDC Dyna Super Glide Custom 2005, 2007-2013
FXDCI Dyna Super Glide Custom 2005-2006
FXDF Dyna Fat Bob 2008-2013
FXDFSE2 CVO Dyna Fat Bob 2010
FXDFSE CVO Dyna Fat Bob 2009
FXDI35 35th Anniversary Dyna Super Glide 2006
FXDI Dyna Super Glide 2004-2006
FXDL Dyna Low Rider 1993-2005, 2007-2009
FXDLI Dyna Low Rider 2004-2006
FXDS-CONV Dyna Convertible 1995-1998
FXDS-CONV Dyna Low Rider Convertible 1994
FXDS-CONV Dyna Super Glide Convertible 1999-2000
FXDSE2 CVO Dyna 2008
FXDSE CVO Dyna 2007
FXDWG2 CVO Dyna 2001
FXDWG3 CVO Dyna 2002
FXDWG Dyna Wide Glide 1993-2005, 2007-2008, 2010-2013
FXDWGI Dyna Wide Glide 2004-2006
FXDX Dyna Super Glide Sport 1999-2005
FXDXI Dyna Super Glide Sport 2004-2005
FXDXT Dyna Super Glide T-Sport 2001-2003
FXLR Low Rider Custom 1993-1994
FXR Super Glide 1993-1994
FXRS-CONV Low Rider Convertible 1993
FXRS-SP Low Rider Sport Edition 1993
FXS Softail Blackline 2011-2013
FXSBSE CVO Softail Breakout 2013
FXST Softail Standard 1999-2007
FXSTB Softail Night Train 1999-2009
FXSTBI Softail Night Train 2001-2006
FXSTC Softail Custom 1993-1999, 2007-2010
FXSTD Softail Deuce 2000-2007
FXSTDI Softail Deuce 2001-2006
FXSTDSE2 CVO Softail Deuce 2004
FXSTDSE CVO Softail Deuce 2003
FXSTI Softail Standard 2001-2006
FXSTS Springer Softail 1993-2006
FXSTSB Softail Bad Boy 1995-1997
FXSTSI Springer Softail 2001-2006
FXSTSSE2 CVO Softail Springer 2008
FXSTSSE3 CVO Softail Springer 2009
FXSTSSE CVO Softail Springer 2007
XL50 50th Anniversary Sportster 2007
XL883 Sportster 883 2004-2008
XL883C Sportster 883 Custom 1999-2009
XL883L Sportster 883 Low 2005-2010
XL883L Sportster SuperLow 2011-2013
XL883N Sportster Iron 883 2009-2013
XL883R Sportster 883R 2002-2007
XL1200C Sportster 1200 Custom 1996-2013
XL1200L Sportster 1200 Low 2006-2011
XL1200N Sportster 1200 Nightster 2007-2012
XL1200R Sportster 1200 Roadster 2004-2008
XL1200S Sportster 1200 Sport 1996-2003
XL1200V Sportster Seventy-Two 2012
XL1200X Sportster Forty-Eight 2010-2012
XLH883 Sportster 883 1991-2003
XLH883DLX Sportster 883 Deluxe 1991-1995
XLH883HUG Sportster 883 Hugger 1991-2003
XLH1200 Sportster 1200 1991-2003
Customer Reviews
Be the first to . How many stars would you give this product?
Questions & Answers
how to clean filter

To clean the S&S Stealth Air Cleaner filter, we recommend using a K&N Air Filter ReCharger Kit. With that, you'll have everything you need to fully service the S&S air filter.

By: Staff

Can you put the stock Harley cover over it?

Yes, you absolutely can. S&S' Stealth Air Cleaners are designed to work well with the OEM air cleaner cover, or a variety of S&S air cleaner covers.

By: Staff

Does fitment matter if my 2005 XL883L is carbed and not EFI?

So long as your have the original carburetor on your machine, you won't have any problems fitting the Stealth air cleaner to your bike. It's designed to bolt right onto the OEM XL883L carburetor with ease.

By: Staff

I currently have a s&s carb with a teardrop cleaner and the cover just my calf and I cannot ride will with kit replace the teardrop?

Yes, this air cleaner will replace the teardrop cover on your bike's current air intake setup. Depending on your size, however, it may not fix the proper entirely. Your best bet would be to remove the teardrop portion of the air cleaner that's on your bike right now, but leave the filter element in place. That'll give you a pretty good idea as to whether or not this aftermarket air cleaner intake from S&S will help with your comfort needs.

By: Staff