Barnett Kevlar Extra Plate Clutch Kit
$
$

–

$
$

127.89

–

$

141.14
Free Shipping
Fitment Guaranteed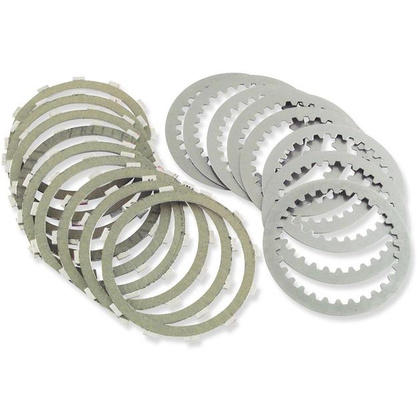 Product Description

Barnett Kevlar Extra Plate Clutch Kit
Since 1948, Barnett clutch plates and springs have been made from the finest materials available. Through research and development, we are constantly striving to offer the best possible friction material for your motorcycle or ATV. Barnett tempered steel drive plates go through a vibratory deburring process and then are quality checked for flatness to provide optimum performance.
Kevlar plates have higher density compound for increased durability
Barnett tempered steel drive plates go through a vibratory deburring process and then are quality checked for flatness to provide optimum performance.
Extra Plate clutch kits add more surface area to your clutch pack for high performance applications
---
| Spec | Details |
| --- | --- |
| Country of Origin | USA |
| Friction Material | Kevlar |
Vehicle Fitment
Fitment is guaranteed or your money back plus free return shipping. Don't waste time installing a product that doesn't fit. We worked hard ensuring that this product is an exact fit on the vehicles listed below.

Harley Davidson
FLHR Electra Glide Road King 1994
FLHR Road King 1995-2013
FLHRC Road King Classic 2007-2013
FLHRCI Road King Classic 1998-2006
FLHRI Road King 1996-2006
FLHRS Road King Custom 2004-2007
FLHRSI Road King Custom 2004-2006
FLHS Electra Glide Sport 1990-1993
FLHT Electra Glide Standard 1995-2009
FLHTC Electra Glide Classic 1990-2005, 2007-2012
FLHTCI Electra Glide Classic 1996-2006
FLHTCU Ultra Classic Electra Glide 1990-2012
FLHTCUI Ultra Classic Electra Glide 1995-2006
FLHTCUTG Tri Glide Ultra Classic 2009-2012
FLHTI Electra Glide Standard 2003-2006
FLHTK Electra Glide Ultra Limited 2010-2012
FLHX Street Glide 2006-2012
FLHXI Street Glide 2006
FLHXXX Street Glide Trike 2010-2011
FLST Heritage Softail 1990, 2006
FLSTC Heritage Softail Classic 1990-2012
FLSTCI Heritage Softail Classic 2001-2006
FLSTF Softail Fat Boy 1990-2012
FLSTFB Softail Fat Boy Lo 2010-2012
FLSTFI Softail Fat Boy 2001-2006
FLSTI Heritage Softail 2006
FLSTN Heritage Softail Nostalgia 1993
FLSTN Heritage Softail Special 1994-1996
FLSTN Softail Deluxe 2005-2012
FLSTNI Softail Deluxe 2005-2006
FLSTS Heritage Springer Softail 1997-2003
FLSTSB Softail Cross Bones 2008-2011
FLSTSC Softail Springer Classic 2005-2007
FLSTSCI Softail Springer Classic 2005-2006
FLSTSI Heritage Springer Softail 2001-2003
FLTC Tour Glide Classic 1990-1991
FLTR Road Glide 1998-2004, 2007-2009
FLTRI Road Glide 1998-2006
FLTRU Road Glide Ultra 2011-2012
FLTRX Road Glide Custom 2010-2012
FXD Dyna Super Glide 1995-2005, 2007-2010
FXDB Dyna Daytona 1992
FXDB Dyna Street Bob 2007-2012
FXDB Dyna Sturgis 1991
FXDBI Dyna Street Bob 2006
FXDC Dyna Glide Custom 1992
FXDC Dyna Super Glide Custom 2005, 2007-2012
FXDCI Dyna Super Glide Custom 2005-2006
FXDF Dyna Fat Bob 2008-2012
FXDI35 35th Anniversary Dyna Super Glide 2006
FXDI Dyna Super Glide 2004-2006
FXDL Dyna Low Rider 1993-2005, 2007-2009
FXDLI Dyna Low Rider 2004-2006
FXDS-CONV Dyna Convertible 1995-1998
FXDS-CONV Dyna Low Rider Convertible 1994
FXDS-CONV Dyna Super Glide Convertible 1999-2000
FXDWG Dyna Wide Glide 1993-2005, 2007-2008, 2010-2012
FXDWGI Dyna Wide Glide 2004-2006
FXDX Dyna Super Glide Sport 1999-2005
FXDXI Dyna Super Glide Sport 2004-2005
FXDXT Dyna Super Glide T-Sport 2001-2003
FXR Super Glide 1990-1994
FXST Softail 1990
FXST Softail Standard 1999-2007
FXSTB Softail Night Train 1999-2009
FXSTBI Softail Night Train 2001-2006
FXSTC Softail Custom 1990-1999, 2007-2010
FXSTD Softail Deuce 2000-2007
FXSTDI Softail Deuce 2001-2006
FXSTI Softail Standard 2001-2006
FXSTS Springer Softail 1990-2006
FXSTSB Softail Bad Boy 1995-1997
FXSTSI Springer Softail 2001-2006
XL883 Sportster 883 2004-2009
XLH883 Sportster 883 1986-1990
XLH883DLX Sportster 883 Deluxe 1986-1990
XLH883HUG Sportster 883 Hugger 1987-1990
XLH1100 Sportster 1100 1986-1987
XLH1200 Sportster 1200 1988-2003
Customer Reviews
Be the first to . How many stars would you give this product?
Questions & Answers
Is this a direct replacement or do i need other parts or modifications

Barnett's Kevlar Extra Plate Clutch Kit for Harley-Davidson motorcycles fits straight into the OEM clutch. There's no need to make any modifications or purchase extra Harley clutch parts. Since Barnett's Harley Kevlar clutch plates are thinner than the OEM Harley clutch components, they were able to add an extra friction plate to the kit. In doing so, the extra friction surface adds a great deal of reliability, especially on high-performance Harley clutch kits.

By: Staff

95 Harley Davidson Softail Classic Heritage

Does this come with instructions on how to install without the double spring plate

By: Mark

There are indeed instructions included in the box that clearly explain how to install the friction and steel clutch plates on your machine. Those instructions also specifically note that you are to remove the double spring plate in order to install the new FLSTC clutch pack.

By: Staff

Can this clutch be run dry I run a 1 5/8" primary belt.

Generally speaking yes, Barnett's clutch kits can be run wet or dry. Though, if you're going to run them dry, it doesn't hurt to soak the friction plates in a motorcycle-specific oil so they'll run a little quieter.

By: Staff