UFO Restyled Complete Plastics Kit
Free Shipping
Fitment Guaranteed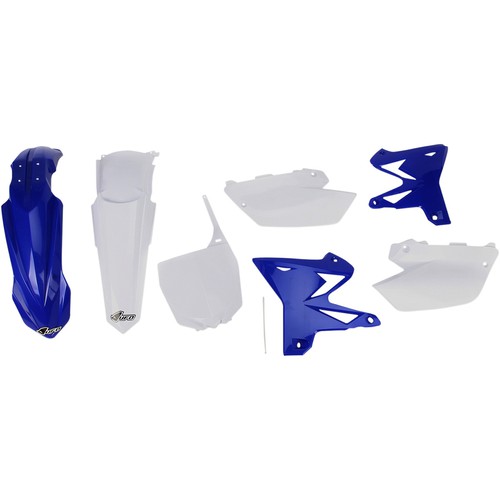 Product Description

UFO Restyled Complete Plastics Kit
Update plastics kit only for 2002 to 2014 model year Yamaha YZ two-stroke motorcycles.
Replace all stock plastics at once
Restyled Kits include reshaped front and rear fender, radiator cover, side panels and front number plate
Easy bolt-on installation
Made in Italy
Product Note: Only fits 2002-2014 model year Yamaha YZ125 and YZ250 2-stroke models.
---
| Spec | Details |
| --- | --- |
| Color | 13 Original |
| Country of Origin | Italy |
| Material | Plastic |
Vehicle Fitment
Fitment is guaranteed or your money back plus free return shipping. Don't waste time installing a product that doesn't fit. We worked hard ensuring that this product is an exact fit on the vehicles listed below.

Yamaha
Customer Reviews
Be the first to . How many stars would you give this product?
Questions & Answers
Would these plastics fit a 2005 yz250f?

Unfortunately, UFO only produces the Restyled Kits for Yamaha YZ125 and YZ250 two-stroke models. They will not fit any four-stroke Yamahas.

By: Staff

Would these fit a 2005 YZ 125?

Yes, these restyled plastics will fit the 2005 YZ125!

By: Staff

Does this kit come with a white rear fender?

Yes, as you can see in the photo on our website - the rear fender that's included with the kit is indeed white. The 2013 model year Yamaha YZ125 and YZ250 both shipped with a white rear fender and this kit is designed specifically to match those colors perfectly.

By: Staff

What year plastics will they look like?

In terms of colors, these plastics match the 2014 model year Yamahas closest, but they're not designed to look like any particular year. They're just a re-styled design that makes your two-stroke Yamaha a little more angular and perhaps, futuristic.

By: Staff

Will the plastics fit a 2000 ys125?

No they will not the 2000 Yamaha YZ125. UFO doesn't produce a restyled plastics kit to fit the YZ125 before the 2002 model year.

We do have a UFO Complete Plastics Kit to fit that bike - all you'd need to do is add a UFO Front Number Plate and UFO Fork Guards to completely restore the plastics of that particular bike.

By: Staff

Will this plastics have no problem on a 2002 yz125 oversized ims 3.2 gas tank

Without knowing exactly what type of gas tank you have on there - Acerbis, IMS, &etc., it's hard to say whether or not this plastics kit will fit without issue. That said, if the OEM plastics fit your bike with that tank on it, then you will probably have no troubles fitting this, or any other plastics kit that we sell for the 2002 Yamaha YZ125.

By: Staff

I understand the fitment for the years... but would they be close to fitting a 2000 or 2001 yz250? I'd imagine the bolt pattern is very similar

These plastics will not fit the earlier model year bikes. It's more than just a matter of where the bolts are positioned, the plastics themselves are shaped differently too. This makes it impossible to fit them to earlier bikes.

By: Staff

if i was to order these for 2004 yz250 what year graphics kit would i need to order?

The restyled plastics from UFO have their own particular shape, and consequently - there's only one set of graphics available from our suppliers that'll fit them perfectly. You can see them on our website in the form of the UFO Plastics Restyled Graphics Kit. Just be sure to choose the 2004 YZ250 2-Stroke in order to get those graphics to fit your bike.

By: Staff

Do these plastics fit a 2001 yz125

No they will not the 2001 Yamaha YZ125. UFO doesn't produce a restyled plastics kit to fit the YZ125 before the 2002 model year.

We do have a set of UFO Plastics to fit that bike - all you'd need to do is add a UFO Front Number Plate and UFO Fork Guards to completely restore the plastics of that particular bike.

By: Staff

how hard would it be to fit a 2001 yz250

This will not fit any YZ models made before 2002. Due to the shape of the plastics, there's no way to make them fit. UFO doesn't produce a restyled plastics kit to fit the YZ125 before the 2002 model year.

By: Staff

Can I get blue rear fender instead of white 2005 yz250

UFO's Restyled plastics are only available in the color scheme you see on our website with the white rear fender. The good news is that you can acquire a UFO Restyled Rear Fender separately to fit the 2005 YZ250 2-stroke.

By: Staff