Arlen Ness 10-Gauge Inverted Big Sucker Air Cleaner Kit
Free Shipping
Fitment Guaranteed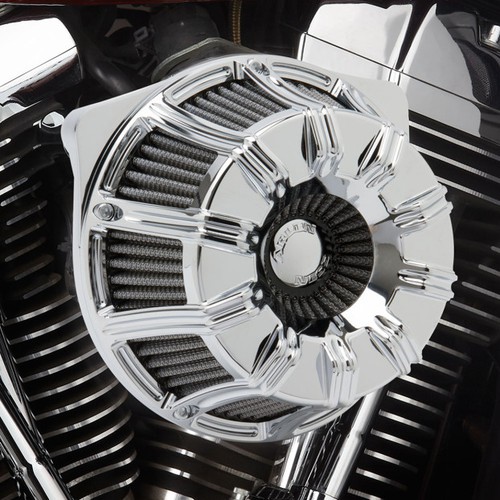 Product Description

Arlen Ness 10-Gauge Inverted Big Sucker Air Cleaner Kit
For over a decade, Arlen Ness has led the air cleaner market with the patented Big Sucker. Inverted series air cleaners combine the patented Big Sucker technology and an inverted filter top that maximizes airflow by pulling in air from the face of the air cleaner, as well as the traditional method of pulling air from the sides. Each kit is machined entirely from forged billet aluminum to provide the best performance and style possible.
Forged billet aluminum backing plate:
Constructed from forged billet aluminum
Features the patented Big Sucker hidden breather technology. Each hidden breather is O-ringed at the heads and exits at the mouth of the injector/carb to provide efficient engine breathing and a virtually closed loop system. This eliminates the need for any external hoses or hardware
Radius air inlet provides maximum performance by providing unobstructed airflow
Aluminum breather hardware includes specially designed breather bolts and covers for clean mounting
Hand made filter element:
Each Inverted Series filter is handmade in the USA
Features synthetic material that never needs oil, just wash and reuse for long lasting performance
Synthetic filters are water resistant eliminating the need for a rain sock
Each filter features an inverted pleated top with pleated sides to maximize airflow by pulling in from every angle
Synthetic material is black with a stainless steel jacket
Forged billet aluminum air filter housings:
Machined from a single piece of forged billet aluminum for clean style, reduced weight, and improved ergonomics
Features built in velocity stack that not only gives a unique look, but also increase performance by forcing air into the filters inverted pleated top
10-Gauge styling
---
| Spec | Details |
| --- | --- |
| Color | Varies (make selection above) |
| Country of Origin | USA |
| Filter Type | Stainless Steel |
| Finish | Varies (make selection above) |
| Material | Aluminum |
Vehicle Fitment
Fitment is guaranteed or your money back plus free return shipping. Don't waste time installing a product that doesn't fit. We worked hard ensuring that this product is an exact fit on the vehicles listed below.

Harley Davidson
FLD Dyna Switchback 2012-2016
FLHR Road King 2000-2016
FLHRC Road King Classic 2007-2013
FLHRCI Road King Classic 2002-2006
FLHRI Road King 2002-2006
FLHRS Road King Custom 2004-2007
FLHRSI Road King Custom 2004-2006
FLHT Electra Glide Standard 2000-2009
FLHTC Electra Glide Classic 2000-2005, 2007-2013
FLHTCI Electra Glide Classic 2002-2006
FLHTCU Ultra Classic Electra Glide 2000-2016
FLHTCUI Ultra Classic Electra Glide 2002-2006
FLHTI Electra Glide Standard 2003-2006
FLHTK Electra Glide Ultra Limited 2010-2016
FLHX Street Glide 2006-2016
FLHXI Street Glide 2006
FLHXS Street Glide Special 2014-2016
FLS Softail Slim 2012-2014, 2016
FLSS Softail Slim S 2016
FLST Heritage Softail 2006
FLSTC Heritage Softail Classic 2000-2014, 2016
FLSTCI Heritage Softail Classic 2001-2006
FLSTF Softail Fat Boy 2000-2014, 2016
FLSTFB Softail Fat Boy Lo 2010-2014, 2016
FLSTFBS Softail Fat Boy S 2016
FLSTFI Softail Fat Boy 2001-2006
FLSTI Heritage Softail 2006
FLSTN Softail Deluxe 2005-2014, 2016
FLSTNI Softail Deluxe 2005-2006
FLSTS Heritage Springer Softail 2000-2003
FLSTSB Softail Cross Bones 2008-2011
FLSTSC Softail Springer Classic 2005-2007
FLSTSCI Softail Springer Classic 2005-2006
FLSTSI Heritage Springer Softail 2001-2003
FLTR Road Glide 2000-2004, 2007-2009
FLTRI Road Glide 2002-2006
FLTRU Road Glide Ultra 2011-2013
FLTRX Road Glide Custom 2010-2013
FXCW Softail Rocker 2008-2009
FXCWC Softail Rocker C 2008-2011
FXD Dyna Super Glide 2000-2005, 2007-2010
FXDB Dyna Street Bob 2007-2016
FXDBI Dyna Street Bob 2006
FXDC Dyna Super Glide Custom 2005, 2007-2014
FXDCI Dyna Super Glide Custom 2005-2006
FXDF Dyna Fat Bob 2008-2016
FXDI35 35th Anniversary Dyna Super Glide 2006
FXDI Dyna Super Glide 2004-2006
FXDL Dyna Low Rider 2000-2005, 2007-2009
FXDLI Dyna Low Rider 2004-2006
FXDS-CONV Dyna Super Glide Convertible 2000
FXDWG Dyna Wide Glide 2000-2005, 2007-2008, 2010-2016
FXDWGI Dyna Wide Glide 2004-2006
FXDX Dyna Super Glide Sport 2000-2005
FXDXI Dyna Super Glide Sport 2004-2005
FXDXT Dyna Super Glide T-Sport 2001-2003
FXS Softail Blackline 2011-2013
FXSB Softail Breakout 2013-2016
FXST Softail Standard 2000-2007
FXSTB Softail Night Train 2000-2009
FXSTBI Softail Night Train 2001-2006
FXSTC Softail Custom 2007-2010
FXSTD Softail Deuce 2000-2007
FXSTDI Softail Deuce 2001-2006
FXSTI Softail Standard 2001-2006
FXSTS Springer Softail 2000-2006
FXSTSI Springer Softail 2001-2006
XL50 50th Anniversary Sportster 2007
XL883 Sportster 883 2004-2008
XL883C Sportster 883 Custom 1999-2009
XL883L Sportster 883 Low 2005-2010
XL883L Sportster SuperLow 2011-2016
XL883N Sportster Iron 883 2009-2016
XL883R Sportster 883R 2002-2007
XL1200C Sportster 1200 Custom 1996-2016
XL1200L Sportster 1200 Low 2006-2011
XL1200N Sportster 1200 Nightster 2007-2012
XL1200R Sportster 1200 Roadster 2004-2008
XL1200S Sportster 1200 Sport 1996-2003
XL1200V Sportster Seventy-Two 2012-2016
XL1200X Sportster Forty-Eight 2010-2016
XLH883 Sportster 883 1988-2003
XLH883DLX Sportster 883 Deluxe 1988-1995
XLH883HUG Sportster 883 Hugger 1988-2003
XLH1200 Sportster 1200 1988-2003
Customer Reviews
Be the first to . How many stars would you give this product?
Questions & Answers
Horse power

Does the breather give anymor horse power

By: Guest

There are certainly horsepower gains to be had when comparing this intake kit to the stock item. But, the key to unleashing that extra power requires a tuning adjustment in the form of either, a Dynojet Carburetor Jet Kit or a Vance & Hines FP3 fuel controller.

Arlen Ness claims that a properly tuned Arlen Ness Harley-Davidson Big Sucker intake kit will yield up to a 21% power increase!

By: Staff

How does an owner maintain or otherwise replace what I understand is the proprietary filter element? If it is to be replaced, what does it cost?

We offer awide variety of Arlen Ness Big Sucker replacement air filter elements in our store. Most of the time, that's not really required unless the filter element becomes physically damaged or it's excessively soiled. For the most part, you can clean it and re-use it by refreshing it with an Arlen Ness Big Sucker Filter Tune-Up Kit for Standard Filters. That particular cleaner restores your filter's effectiveness through cleaning and then oiling it.

By: Staff