Vance & Hines Big Shots Dual Exhaust System
Add to Cart to See Price
What is this? We've priced this item below what the manufacturer allows for public display, so you'll have to add it to your cart to view our final price.
Don't worry, if you decide not to buy this item, you can easily remove it from your cart.
Free Shipping
Fitment Guaranteed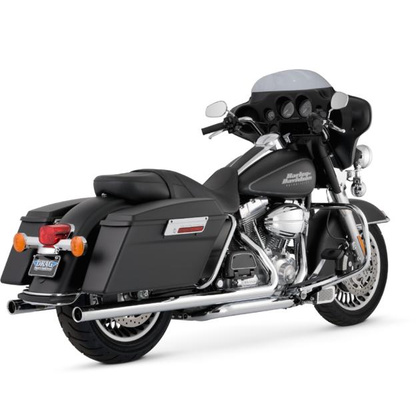 Product Description

Vance & Hines Big Shots Dual Exhaust System
Big Shot Duals are the ultimate complete system for late model Harley-Davidson Touring Models. Featuring massive non-bluing 2-1/2" diameter full coverage heat shields with 220 degrees of coverage. The head pipes glide down each side of the bike to produce a classic look that actually functions as a true 2-into-2 system.
Departing from the crossover design of the factory header, the Vance & Hines Big Shot Duals exhaust system yields a clean and uncluttered appearance, showcasing the big twin cylinders and simplifying maintenance. Finishing off the system are straight-cut billet tips, which can be changed out to our optional slash-cut or fishtail tips. Removable baffles, mounting hardware and easy-to-understand instructions are included for a hassle-free perfect fit every time.
Classic true dual design
Full coverage heat shields
Made in the USA
---
| Spec | Details |
| --- | --- |
| Baffles Included | Yes, Removable |
| Configuration | 2 into 2 |
| Country of Origin | USA |
| Finish | Chrome |
| Muffler End Cap | Varies (make selection above) |
Vehicle Fitment
Fitment is guaranteed or your money back plus free return shipping. Don't waste time installing a product that doesn't fit. We worked hard ensuring that this product is an exact fit on the vehicles listed below.

Harley Davidson
FLHR Road King 1995-2013
FLHRC Road King Classic 2007-2013
FLHRCI Road King Classic 1998-2006
FLHRI Road King 1996-2006
FLHRS Road King Custom 2004-2007
FLHRSI Road King Custom 2004-2006
FLHT Electra Glide Standard 1995-2009
FLHTC Electra Glide Classic 1995-2005, 2007-2013
FLHTCI Electra Glide Classic 1996-2006
FLHTCU Ultra Classic Electra Glide 1995-2013
FLHTCUI Ultra Classic Electra Glide 1995-2006
FLHTI Electra Glide Standard 2003-2006
FLHTK Electra Glide Ultra Limited 2010-2013
FLHX Street Glide 2006-2013
FLHXI Street Glide 2006
FLTCU Ultra Classic Tour Glide 1995
FLTCUI Ultra Classic Tour Glide 1996
FLTR Road Glide 1998-2002, 2007-2009
FLTRI Road Glide 1998-2006
FLTRU Road Glide Ultra 2011-2013
FLTRX Road Glide Custom 2010-2013
Customer Reviews
Be the first to . How many stars would you give this product?
Questions & Answers
Can I use the pipes with out bags?

You could remove your saddlebags and install this exhaust, but you'd need to leave the saddlebag mounting bars and associated hardware on the bike. For 1995-2013 touring models, each kit uses the saddlebag mounting bars as a hard point for attaching the mufflers.

By: Staff

Will these fit 2006 flh police road king?

Will these fit a 2006 flh police bike?

By: Guest

Yes, these Big Shots will indeed fit your machine. Since the 2006 FLHR and 2006 FLHPI, just choose the 2006 FLHR Road King from our fit guide and we'll get the correct exhaust to fit your bike on its way to you.

By: Staff

Why won't these fit an 07 flhr road king ?

This exhaust will certainly fit the 2007 FLHR Road King. Just choose your make, year and model from the drop down menu that's immediately to the right of the main image and we'll get the correct Vance & Hines FLHR exhaust on its way to you, fast!

By: Staff

Will this fit on 2014 street glide?

Vance & Hines does not produce a set of Big Shots Duals to fit the 2014 Street Glide. If you're after the looks of that particular exhaust system, check out Cobra's Speedster Dual Exhaust system for the 2014 Street Glide. From the headers all the way to the end caps of the mufflers, the outside diameter is a constant 2-1/2 inches.

By: Staff

Do the big shots come with 02 sensor ports?

If your machine was equipped from the factory with oxygen sensor ports, then yes - the exhaust that you order will indeed come with O2 ports. Those ports are designed to fit the OEM Harley O2 exhaust sensors.

By: Staff

I am interested in buying the big shots for my 2012 hd street glide with a 103. I also want to get fuel pac 3 for my bike. All I see is the fuel pac 3 for 2014 thru 2016. Do you have the fuel pac for my bike?

Yes, we do have the 2012 Street Glide FP3 Vance & Hines Fuelpak available on our website. Simply choose your make, year and model from our fit guide and we'll get the correct parts on their way to you as quickly as possible. If you ever don't see a part to fit your bike, just give us a call and we'll get you sorted out right away!

By: Staff

Fuel Pac 3

I have a 2012 Harley Street Glide 103 and am interested in the Big Shots I also would like the Fuel Pac 3 but it appears that the Fuel Pac 3 doesn't fit my bike. Is there a fuel pac made for my bike?

By: Mike

Yes, we do have the Fuelpak 3 available to fit the 2012 Street Glide from Harley-Davidson. Simply visit our Vance & Hines FP3 product page and select your machine from our fit guide.

By: Staff

Are turndown tips available for the bigshots

Regrettably, Vance & Hines doesn't produce interchangeable tips for the Big Shot Duals. One thing you may wish to consider in order to get a full exhaust system with turn down tips would be to combine the Vance & Hines Turndown Dual Slip-On Exhaust and a set of Vance & Hines Dresser Duals Header Pipes. Plus, with those headers, should you decide at some point in the future to go with a different set of mufflers, the headers will work with anything that would otherwise bolt up to the stock exhaust system.

By: Staff

does vance hines big shots do away with the crossover pipe on my 2007 road king

The Big Shots Dual Road King exhaust system completely does away with the stock exhaust system, including the crossover pipe. The exhaust functions as a true dual, two-into-two design as there's no link pipe between the two FLHR headers.

By: Staff

Are these pipes real trueduals

Vance & Hines Big Shots Duals have the look of a true dual exhaust, but include a hidden-from-view crossover pipe that helps to produce the performance gains usually associated with a two-into-one Vance & Hines exhaust system. Typically, everything else remaining the same - 2:1 exhausts make more power than 2:2 exhaust systems ... but we all know 2:2 pipes look awesome. So, Vance & Hines engineered a pipe that looks like a dual exhaust, and gases do exit both mufflers, but with performance closer to that of a true dual exhaust.

By: Staff