Dynojet Power Commander V Autotune Kit
$
$

–

$
$

418.14

–

$

429.78
Free Shipping
Fitment Guaranteed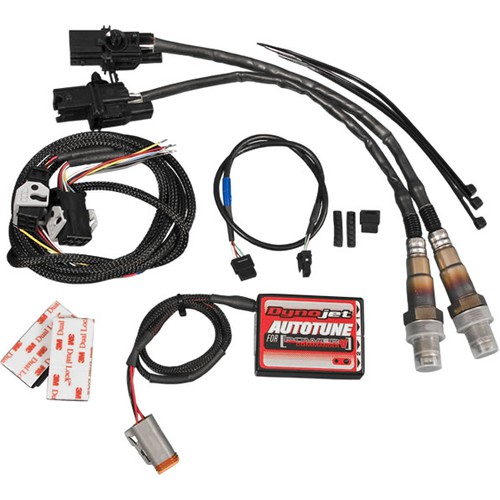 Product Description

Dynojet Power Commander V Autotune Kit
Uses virtually the same technology found in Dynojet's patented Tuning Link dynamometer tuning software (for automated fuel mapping), along with a pair of Bosch Wide Band O2 sensors.
Once connected to your machine's Power Commander V, the Auto Tune kit monitors the fuel mixture via the included Wide Band O2 sensor in the exhaust. It then sends this information to the Power Commander V and automatically corrects fueling while you ride. Each map has preset air/fuel ratio values included - simply plug in the unit and let it do the work.
Connects to your PC-V-equipped machine via a single cable and requires only a ground and 12V connection to be made to install. After that, plug the oxygen sensors into the exhaust and, if your exhaust doesn't have those, a pair of steel weld-in 18mm O2 sensor bungs are included.
Fully adjustable for advanced users that would like to change the air/fuel ratios from the baseline. Each throttle opening/RPM combination is individually adjustable, so that you can have both fuel economy, during cruise, while maintaining peak output at larger throttle openings. For most models of bikes it's also possible to adjust the air/fuel ratios in each gear. This gives you total control of the fueling in every gear and throttle/RPM area for absolute maximum performance.
The Auto Tune kit can be configured to run and correct at all times or by using the map switch port on the PCV. You can set it up so that you can switch back and forth between the tuning modes and the base map settings. You can also configure the Auto Tune kit to wait until the bike is at a certain operating temperature before beginning to make adjustments.
Dual O2 sensor version is made specifically for Harley Davidson motorcycles. Come with two O2 sensors, control module with 2 sensor inputs, CAN connection cable, CAN termination plug, and two custom length oxygen sensor cables. They also includes a built-in power connector that plugs directly into the bike's stock wiring harness for easy connection.
Product Note: Only fits machines equipped with Dynojet Power Commander V (sold separately).
---
| Spec | Details |
| --- | --- |
| CARB Approved | No |
| Country of Origin | USA |
| Thread | 18 mm x 1.5 |
Vehicle Fitment
Fitment is guaranteed or your money back plus free return shipping. Don't waste time installing a product that doesn't fit. We worked hard ensuring that this product is an exact fit on the vehicles listed below.

Harley Davidson
FLD Dyna Switchback 2012-2014
FLHR Road King 2007-2014
FLHRC Road King Classic 2007-2013
FLHRS Road King Custom 2007
FLHT Electra Glide Standard 2007-2009
FLHTC Electra Glide Classic 2007-2013
FLHTCU Ultra Classic Electra Glide 2007-2014
FLHTCUTG Tri Glide Ultra Classic 2009-2013
FLHTK Electra Glide Ultra Limited 2010-2014
FLHX Street Glide 2007-2014
FLHXS Street Glide Special 2014
FLHXXX Street Glide Trike 2010-2011
FLS Softail Slim 2012-2014
FLSTC Heritage Softail Classic 2007-2014
FLSTF Softail Fat Boy 2007-2014
FLSTFB Softail Fat Boy Lo 2010-2014
FLSTN Softail Deluxe 2007-2014
FLSTSB Softail Cross Bones 2008-2010
FLSTSC Softail Springer Classic 2007
FLTR Road Glide 2007-2009
FLTRX Road Glide Custom 2010-2013
FXCW Softail Rocker 2008-2009
FXCWC Softail Rocker C 2008-2011
FXD Dyna Super Glide 2007-2010
FXDB Dyna Street Bob 2007-2014
FXDBI Dyna Street Bob 2006
FXDC Dyna Super Glide Custom 2007-2014
FXDCI Dyna Super Glide Custom 2006
FXDF Dyna Fat Bob 2008-2013
FXDI Dyna Super Glide 2006
FXDL Dyna Low Rider 2007-2009, 2014
FXDLI Dyna Low Rider 2006
FXDWG Dyna Wide Glide 2007-2008, 2010-2014
FXDWGI Dyna Wide Glide 2006
FXS Softail Blackline 2011-2013
FXSB Softail Breakout 2013
FXST Softail Standard 2007
FXSTB Softail Night Train 2007-2009
FXSTC Softail Custom 2007-2010
FXSTD Softail Deuce 2007
VRSCAW V-Rod 2007-2010
VRSCD V-Rod Night Rod 2007-2008
VRSCDX ANN V-Rod 10th Anniversary Edition 2012
VRSCDX V-Rod Night Rod Special 2007-2013
VRSCF V-Rod Muscle 2009-2013
VRSCR V-Rod Street Rod 2007
VRSCX V-Rod 2007
XL50 50th Anniversary Sportster 2007
XL883 Sportster 883 2007-2008
XL883C Sportster 883 Custom 2007-2009
XL883L Sportster 883 Low 2007-2010
XL883L Sportster SuperLow 2011-2014
XL883N Sportster Iron 883 2009-2014
XL883R Sportster 883R 2007
XL1200C Sportster 1200 Custom 2007-2014
XL1200L Sportster 1200 Low 2007-2011
XL1200R Sportster 1200 Roadster 2007-2008
XL1200T Sportster SuperLow 2014
XL1200V Sportster Seventy-Two 2012-2014
XL1200X Sportster Forty-Eight 2010-2014
XR1200 2009-2010
XR1200X 2011-2012
Customer Reviews
Be the first to . How many stars would you give this product?
Questions & Answers
with this kit that's all that's needed for the auto tune to work or is it a piggy back to the power commander v?

This particular unit, and all of the other Autotune kits from Dynojet are designed to piggyback on a Power Commander V unit. The PC-V is sold separately and it's not included in the kit.

By: Staff

Will this tune automatically or do I have to preset?

2009 FX DEL with power commander five S&S aircleaner Vance and Hines big radius with big city thunder monster baffles air fuel ratio way do I want to know if this will automatically correct that or do I need to preload a map and know what I want my air fuel ratio to be to begin with

By: Chris coburn

While it's not required, to get the most out of the auto tune function, you should indeed have a baseline map for your bike. If you've had it mapped on a dyno, then you're all set. Otherwise, it'll still function the same, but it'll take longer to reach the target air fuel ratio you set in the programming software.

By: Staff

I have a power commander v with a downloaded map and am using a lot of fuel will this automatically tune the bike to the right aft or do I have to know what

2009 fxdl s&is air breather Vance and Hines big radius big city thunder monster baffles

By: Chris c

Yes, this auto tune kit is exactly what you need to get the most out of your Power Commander V. You can program it to hit a target AFR by enabling the feature in the PCV and then hit the road. Once you've done that, the device will continuously adjust fuel delivery in order to deliver the AFR you want.

By: Staff