S&S 585C Chain Drive Camshaft Kit
Add to Cart to See Price
What is this? We've priced this item below what the manufacturer allows for public display, so you'll have to add it to your cart to view our final price.
Don't worry, if you decide not to buy this item, you can easily remove it from your cart.
Free Shipping
Fitment Guaranteed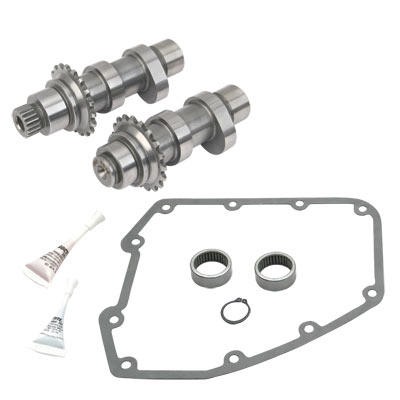 Product Description

S&S 585C Chain Drive Camshaft Kit
Kit includes cams, gear cover gasket, cam bearings, and instructions. The 585 cam is designed as a bolt in cam for 88" to 95" engines with compression ratios between 10:1 and 10.5:1 and 107" engines with compression ratios between 9.7:1 and 10.5:1.
Experience has shown that the chain drive with hydraulic chain tensioners works well for all but the most demanding high performance applications. That's why S&S offers their most popular grinds in a chain drive version. The most obvious advantage to a chain drive cam set over their popular gear drive cams is the expense. When you replace the stock cams with an S&S chain drive cam set, all you are replacing are the cams. You re-use the stock cam drive components so you save money on parts. Saving money has always been a good idea, but never more so than it is today.
Product Note: Requires high lift valve springs S&S #106-5909.
---
| Spec | Details |
| --- | --- |
| Country of Origin | USA |
| Exhaust Duration | 260 degrees |
| Exhaust Lift | .179 in. |
| Exhaust Lobe Center | 110 degrees |
| Exhaust Timing (Close) | 20 degrees |
| Exhaust Timing (Open) | 60 degrees |
| Intake Duration | 245 degrees |
| Intake Lift | .186 in. |
| Intake Lobe Center | 102.5 degrees |
| Intake Timing (Close) | 45 degrees |
| Intake Timing (Open) | 20 degrees |
| Valve Lift | .585 in. |
Vehicle Fitment
Fitment is guaranteed or your money back plus free return shipping. Don't waste time installing a product that doesn't fit. We worked hard ensuring that this product is an exact fit on the vehicles listed below.

Harley Davidson
FLD Dyna Switchback 2012-2016
FLHR Road King 2007-2016
FLHRC Road King Classic 2007-2013
FLHRS Road King Custom 2007
FLHT Electra Glide Standard 2007-2009
FLHTC Electra Glide Classic 2007-2013
FLHTCU Ultra Classic Electra Glide 2007-2016
FLHTCUL Electra Glide Ultra Classic Low 2015-2016
FLHTCUTG Tri Glide Ultra Classic 2009-2016
FLHTK Electra Glide Ultra Limited 2010-2016
FLHTKL Electra Glide Ultra Limited Low 2015-2016
FLHX Street Glide 2007-2016
FLHXS Street Glide Special 2014-2016
FLHXXX Street Glide Trike 2010-2011
FLRT Freewheeler 2015-2016
FLS Softail Slim 2012-2017
FLSS Softail Slim S 2016-2017
FLSTC Heritage Softail Classic 2007-2017
FLSTF Softail Fat Boy 2007-2017
FLSTFB Softail Fat Boy Lo 2010-2016
FLSTFBS Softail Fat Boy S 2016
FLSTN Softail Deluxe 2007-2017
FLSTSB Softail Cross Bones 2008-2011
FLSTSC Softail Springer Classic 2007
FLTR Road Glide 2007-2009
FLTRU Road Glide Ultra 2011-2013, 2016
FLTRX Road Glide 2015-2016
FLTRX Road Glide Custom 2010-2013
FLTRXS Road Glide Special 2015-2016
FXCW Softail Rocker 2008-2009
FXCWC Softail Rocker C 2008-2011
FXD Dyna Super Glide 2007-2010
FXDB Dyna Street Bob 2007-2017
FXDBI Dyna Street Bob 2006
FXDBP Dyna Street Bob 2016
FXDBP Dyna Street Bob Custom 2013-2014
FXDC Dyna Super Glide Custom 2007-2014
FXDCI Dyna Super Glide Custom 2006
FXDF Dyna Fat Bob 2008-2017
FXDI35 35th Anniversary Dyna Super Glide 2006
FXDI Dyna Super Glide 2006
FXDL Dyna Low Rider 2007-2009, 2014-2017
FXDLI Dyna Low Rider 2006
FXDWG Dyna Wide Glide 2007-2008, 2010-2017
FXDWGI Dyna Wide Glide 2006
FXS Softail Blackline 2011-2013
FXSB Softail Breakout 2013-2017
FXST Softail Standard 2007
FXSTB Softail Night Train 2007-2009
FXSTC Softail Custom 2007-2010
FXSTD Softail Deuce 2007
Customer Reviews
Be the first to . How many stars would you give this product?
Questions & Answers
I see that it won't fit 03 88 inch twin cam fwd dyna super glide with 7500 miles on it

While this unit won't fit, S&S does make the The 585 Standard Chain Drive Camshaft Kit to fit your machine. Though, to fit it properly, you will need a set of S&S Valve Springs and adjustable pushrods for the 2003 FXD. Other than that, the 585 standard chain drive camshaft has the exhaust same valve lift, duration &etc. specs as the 585C. The only real difference is that the 585C is designed for machines with higher compression than stock. So long as you haven't bumped compression on your machine, the 585 standard, with the aforementioned parts, is all you'd need.

By: Staff