Vance & Hines Big Radius 2-into-1 Exhaust System
$
$

–

$
$

749.99

–

$

829.99
Free Shipping
Fitment Guaranteed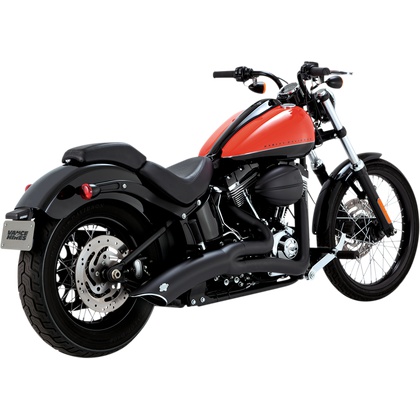 Product Description

Vance & Hines Big Radius 2-into-1 Exhaust System
Vance & Hines is going to change the way you look at 2-into-1 exhaust systems. Traditionally viewed as the kind of pipe merely designed for performance, Big Radius 2-Into-1 breaks the mold, delivering white-knuckle performance with the style that has won over the motorcycle aftermarket.
Incorporating blue-proof technology across the entire length of the pipe, Big Radius 2-Into-1 exhausts will keep its showroom finish whether at the drag strip or on the boulevard.
Radius Style, 2-into-1 Performance
Broad and usable torque increase
Full-coverage heat shields
Equipped with 18mm O2 sensor ports
Baffle is easily removable
Includes bungs to fit factory O2 sensors
Comes with easy-to-understand installation instructions
Made in the USA
---
| Spec | Details |
| --- | --- |
| Baffles Included | Yes, Removable |
| CARB Approved | Varies (make selection above) |
| Color | Varies (make selection above) |
| Configuration | 2 into 1 |
| Country Of Origin | USA |
| Engine Type | Varies (make selection above) |
| Finish | Varies (make selection above) |
| Heat Shields Included | Varies (make selection above) |
Vehicle Fitment
Fitment is guaranteed or your money back plus free return shipping. Don't waste time installing a product that doesn't fit. We worked hard ensuring that this product is an exact fit on the vehicles listed below.

Harley Davidson
FLS Softail Slim 2012-2017
FLSS Softail Slim S 2016-2017
FLSTCI Heritage Softail Classic 2001-2006
FLSTF Softail Fat Boy 1990-2017
FLSTFB Softail Fat Boy Lo 2010-2016
FLSTFBS Softail Fat Boy S 2016-2017
FLSTFI Softail Fat Boy 2001-2006
FLSTN Softail Deluxe 2005-2017
FLSTNI Softail Deluxe 2005-2006
FLSTSB Softail Cross Bones 2008-2011
FLSTSC Softail Springer Classic 2005-2007
FLSTSCI Softail Springer Classic 2005-2006
FXD Dyna Super Glide 2007-2010
FXDB Dyna Street Bob 2007-2017
FXDBC Dyna Street Bob Limited 2016
FXDBI Dyna Street Bob 2006
FXDC Dyna Super Glide Custom 2007-2014
FXDCI Dyna Super Glide Custom 2006
FXDF Dyna Fat Bob 2008-2017
FXDI35 35th Anniversary Dyna Super Glide 2006
FXDI Dyna Super Glide 2006
FXDL Dyna Low Rider 2007-2009, 2014-2017
FXDLI Dyna Low Rider 2006
FXDLS Dyna Low Rider S 2016-2017
FXDWG Dyna Wide Glide 2007-2008, 2010-2017
FXDWGI Dyna Wide Glide 2006
FXS Softail Blackline 2011-2013
FXST Softail 1986-1990
FXST Softail Standard 1999-2007
FXSTB Softail Night Train 1999-2009
FXSTBI Softail Night Train 2001-2006
FXSTC Softail Custom 1986-1999, 2007-2010
FXSTD Softail Deuce 2000-2007
FXSTDI Softail Deuce 2001-2006
FXSTI Softail Standard 2001-2006
FXSTS Springer Softail 1988-2006
FXSTSB Softail Bad Boy 1995-1997
FXSTSI Springer Softail 2001-2006

Yamaha
XV1900C Raider 2008-2016
XV1900C Raider SCL 2012-2014
XV1900CF Raider Bullet Cowl 2015
XV1900CS Raider S 2008-2015
Customer Reviews
Be the first to . How many stars would you give this product?
Questions & Answers
Will these pipes fit a 2015 Yamaha Raider S

Yes, absolutely! The Vance & Hines Big Radius exhaust will fit the Yamaha Raider S for the 2015 model year.

By: Staff

How much H.P. does this pipe provide over a two pipe system?

Without knowing exactly what bike it is that you have, its overall configuration or its state of tune - it's impossible to say what difference in power would present itself between the two types of exhausts. Furthermore, the two types of exhausts put their biggest gains in different places, and of course - those gains can only be fully realized with properly tuned fuel delivery.

If you're interested in maximizing high-RPM power output, the two-into-two design is your best bet. For more low and mid-range power, the two-into-one design is king. This is due to the fact that each exhaust gas pulse from the opposing cylinder has a scavenging effect on the other cylinder's primary header, thereby pulling exhaust gases along more efficiently when the other cylinder fires. This simply isn't possible in a true two-into-two exhaust system.

If you spend most of your time riding around town or cruising the highway, a two-into-one pipe is going to provide the biggest advantage for your needs. If you're interested in quarter mile times, then the two-into-two exhaust is your bag. But remember, in any case, you'll need to adjust fuel delivery to get the most possible benefit.

For fuel-injected bikes, we recommend a Vance & Hines FP3 Fuelpak. If your bike is carbureted, check out our selection of Dynojet Carburetor Jet kits. Both items come with everything you need to get your bike set up for the best possible throttle response and engine power output.

By: Staff

Can you debaffle it?

Yes, absolutely. All Harley-Davidson Big Radius two-into-one exhaust systems come with a removable baffle.

By: Staff

will this hit my saddle bags on my 2004 heritage harley,and also,will it interfere with checking my trans fluid?

So long as it's the stock Harley Heritage Softail's soft saddlebags you have on there, the exhaust won't come into contact with those saddlebags. As far as checking transmission fluid, again - it's not an issue. There won't be as much room to make the check, but there's plenty of clearance to do it without having to remove the exhaust system.

By: Staff

will the exhaust system clear my rear pegs on my 2004 Heritage?

On the 2004 Heritage Softail, the passenger peg on the right side is relocated with a provided bracket. It is lifted up out of the way of that exhaust pipe. Everything you need to fit the pipe to your bike is included in the kit.

By: Staff

Are. There interchangeable baffles from quite to louder

The baffles that come with Vance & Hines Big Radius exhausts are removable only, there are no quiet or performance-type baffles available for these particular pipes. Once you pull the baffles out, the exhaust will become significantly louder.

By: Staff

does this pipe have a deep sound ?

Oh yes, certainly more of a rumble to them than the stock pipes they replace.

By: Staff

can i alter the baffle to change sound ??

You can certainly remove the baffle if you want to get more bark out of the pipe. It's held secure with a screw.

By: Staff

Does the bike have to be tuned to run this exhaust or will it be fine without it.

Upon the installation of any full exhaust system, we always recommend that the bike be tuned to match. In this way, you can be assured the best possible engine power and throttle response. Most bikes, especially those that are carbureted, don't run the best when going from a completely stock exhaust system to that of an aftermarket design.

If your bike is carbureted, check out the Dynojet Carburetor Jet kits we have, or if fuel-injected, have a look at the Vance & Hines FP3 fuel tuning system. Both kits come with everything you need to get the most out of your new exhaust system.

By: Staff

Can I leave the passenger pegs on my 2016 dynamics low rider?

No, in order to put this Vance & Hines 2016 Dyna Low Rider exhaust, you must remove the right-side passenger footpeg in order to complete the installation. Due to the exhaust's design, there's no way to fit the right passenger footpeg as there just isn't any room.

By: Staff

Do I need to remove right pass peg on a 2006 low Rider and I have forward controls will it fit them

Passenger peg removal is only required on 1986-1999 Dyna models. Later models can utilize the passenger peg relocation bracket that is provided with this kit. This exhaust fits Dyna models equipped with mids or forward controls.

By: Staff