Samson Motorcycle Exhaust
About Samson Motorcycle Exhaust
Many exhaust systems may look the same, but Samson understands a quality cruiser exhaust needs to walk the line between good looks, great performance, and awesome sound. Kenny Price, "The Godfather of Pipes" and founder of Samson Exhaust, started fabricating custom pipes for his bikes at a young age. His pipe work got noticed first, by friends and then, around town for their performance and great looks. Before long, Kenny took it upon himself to found Samson Exhausts where his team still design innovative pipes found nowhere else in the market. From single pipe mufflers to full-length (and we do mean full length!) fishtail exhausts, you'll find it all in Samson's wide array of offerings.
With hundreds of styles for most every cruiser on the boulevard, Samson has been one of the world's leading manufacturers of cruiser exhaust systems, pipes, and mufflers for decades, offering an unparalleled selection of styles for Harley-Davidson, Indian and metric motorcycles that produce maximum power blended with sweet sound.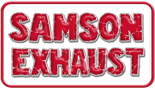 Quick Fact
All Samson exhaust, parts and components are 100% fabricated in the USA. In fact, they're built near the biggest biker rally location of them all – Sturgis, North Dakota.