Acerbis Supermoto EVO Front Fender
Universal Fit – Review specifications carefully.
Free Shipping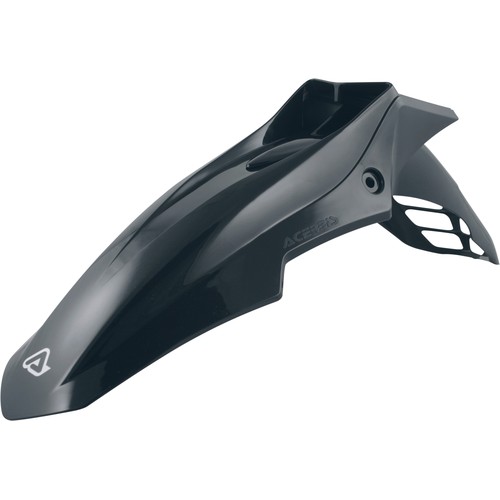 Product Description

Acerbis Supermoto EVO Front Fender
The Acerbis Supermoto Evo is a result of Acerbis' focus on supermoto. Taking advantage of the smaller diameter of the front wheel, a sophisticated venting system allows fresh air to flow over the radiators. The result is optimal bike performance, even in hot weather conditions.
Front fender is made up of two parts, which allows easy disassembly of the rear section without the need to remove the front section.
Perfect for use in hot and dry weather conditions.
Constructed of Polypropylene
Made in Italy
---
| Spec | Details |
| --- | --- |
| Color | Black |
| Country of Origin | Italy |
| Position | Front |
Customer Reviews
Be the first to . How many stars would you give this product?
Questions & Answers
How many inches is this long?

Acerbis Supermoto EVO front fenders measure about 23-3/4 inches long, front-to-back.

By: Staff

Honda XR650L

Yes, this will certainly fit the XR650L, but you'll need to make way for the wires that run under the bottom triple clamp. Some riders have installed the fender on the upper side of the lower triple clamp and others have used spacers between the front fender and the lower portion of the tripe clamp. It's really up to you how you'd like to do that, but the fender will certainly fit without having to cut it down.

By: Staff

With this for a 92 Suzuki 350 dr

About the only thing you'll have to do (other than drill holes for the mounting bolts) for the Acerbis Supermoto EVO front fender to fit the Suzuki DR350 is trim the rear portion of the fender a bit so as to clear the frame's downtube below the steering head. Since the space between the DR350 forks is about the same as most MXers, you won't need to trim any plastic in that area.

As always, be sure to do a mockup of the fender before drilling any holes or cutting in plastic so you can be sure of a proper fit.

By: Staff

Will this fit a 2009 Yamaha wr 250 x

Yes, this Acerbis Supermoto front fender will fit the Yamaha WR250X without issue. Just be sure to carefully position it and test steering from lock to lock so as to be sure there's enough clearance between the rear of the fender and the bike before drilling any holes.

By: Staff

will it fit a 2011 husaberg fe570?

You shouldn't have any problem fitting the supermoto fender to the 2011 Husaberg FE570. Just be sure to carefully mock it up before drilling any mounting holes to be sure there won't be a clearance issue between the frame's down tube and the aft portion of the fender. In the case you do run into a clearance issue there, a little trimming is all it takes.

By: Staff

Will this fit on a bmw r1150r?

Unless you're skilled in bracket fabrication, we don't recommend that you install this fender on your machine. This is due to the fact that Acerbis Supermoto front fenders are designed to attached to the bottom portion of the lower triple clamp. There are no brackets for attaching them to the mounts near the front axle. For these reasons, we do not recommend this fender for the R1150R unless you're very well versed in metal fabrication.

By: Staff

Can you get this In other colors like Honda red? Or yamahas blue color? Thanks!

The EVO fender is only produced in black. For other colors, check out the standard Acerbis Supermoto Front Fender as it's available in a range of OEM-matched colors.

By: Staff

Will this fit my 2003 drz 125

Acerbis' Supermoto EVO front fender is designed for full-size bikes, so you'll have to do quite a bit of work in order to get it to fit. Specifically, you'll need to trim the rear portion quite a bit so it clear the frame's downtube and also, the portion that fits between the forks will need to be cut down significantly in order to fit in there. If you're up for the challenge, and are handy with cutting plastic, you can certainly make it work.

By: Staff

Will it fit 2017 dr650

There really isn't much to the OEM front fender on that particular machine, so adding the Acerbis Supermoto fender shouldn't be too difficult to fit into position. We can't say for sure, of course - since we haven't seen one of those machines come through for this kind of installation. Likely, about the only thing you'll have to do is line up the fender and drill the mounting holes. But, before you do that, be sure to do a mockup and make sure there's enough clearance for the backside of the fender so it doesn't run into the DR650's frame. If the parts do touch, just trim the rear end of the Supermoto fender for clearance. Other than that, it shouldn't be much of an issue to put it in place.

By: Staff

Fit 2006 DRZ400s ??

Acerbis' Supermoto EVO Front Fender will fit the DR-Z400S with very little modifications. Just be sure to carefully line it up and check for clearance between the rear of the fender and the frame's downtube. Once you've done that, carefully make the holes to be drilled and you'll be all set!

By: Staff

Will this fit a 2001 xr400r?

With a little cutting and trimming, you can certainly fit the Acerbis Supermoto EVO Front Fender to a Honda XR400R!

By: Staff