Progressive 422 Series Adjustable RAP Shocks
Free Shipping
Fitment Guaranteed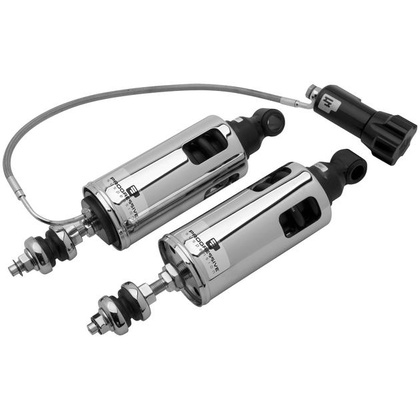 Product Description

Progressive 422 Series Adjustable RAP Shocks
Shocks hidden under the frame make common adjustments difficult on the Softail chassis. Not anymore! RAP (Remote Adjustable Preload) combines high performance shocks with a remote preload adjuster. Conveniently located behind the left passenger peg, the RAP system allows for easy tuning of the shocks to account for changing loads or the addition of a passenger.
Sold in pairs for machines originally equipped with two shocks
Chrome plated
2" of ride height adjustment
Preload adjustable
High pressure gas charged monotube for consistent damping performance
Heavy duty
---
| Spec | Details |
| --- | --- |
| Finish | Chrome |
| Quantity | Pair |
| Spring Rate | Heavy Duty |
Vehicle Fitment
Fitment is guaranteed or your money back plus free return shipping. Don't waste time installing a product that doesn't fit. We worked hard ensuring that this product is an exact fit on the vehicles listed below.

Harley Davidson
FLS Softail Slim 2013-2016
FLSS Softail Slim S 2016
FLST Heritage Softail 1989-1990, 2006
FLSTC Heritage Softail Classic 1989-2016
FLSTCI Heritage Softail Classic 2001-2006
FLSTF Softail Fat Boy 1990-2016
FLSTFB Softail Fat Boy Lo 2010-2016
FLSTFBS Softail Fat Boy S 2016
FLSTFI Softail Fat Boy 2001-2006
FLSTFSE2 CVO Fat Boy 2006
FLSTFSE CVO Fat Boy 2005
FLSTI Heritage Softail 2006
FLSTN Heritage Softail Nostalgia 1993
FLSTN Heritage Softail Special 1994-1996
FLSTN Softail Deluxe 2005-2016
FLSTNI Softail Deluxe 2005-2006
FLSTNSE CVO Softail Deluxe 2014-2015
FLSTS Heritage Springer Softail 1997-2003
FLSTSB Softail Cross Bones 2009-2011
FLSTSE2 CVO Softail Convertible 2011
FLSTSE CVO Softail Convertible 2010
FXCW Softail Rocker 2008-2009
FXCWC Softail Rocker C 2008-2011
FXS Softail Blackline 2011-2013
FXSB Softail Breakout 2013-2016
FXSBSE CVO Softail Breakout 2013-2014
FXST Softail 1989-1990
FXST Softail Standard 1999-2007
FXSTB Softail Night Train 1999-2009
FXSTBI Softail Night Train 2001-2006
FXSTC Softail Custom 1989-1999, 2007-2010
FXSTD Softail Deuce 2000-2007
FXSTDI Softail Deuce 2001-2006
FXSTDSE2 CVO Softail Deuce 2004
FXSTDSE CVO Softail Deuce 2003
FXSTI Softail Standard 2001-2006
FXSTS Springer Softail 1989-2006
FXSTSB Softail Bad Boy 1995-1997
FXSTSI Springer Softail 2001-2006
FXSTSSE2 CVO Softail Springer 2008
FXSTSSE3 CVO Softail Springer 2009
FXSTSSE CVO Softail Springer 2007
Customer Reviews
Be the first to . How many stars would you give this product?
Questions & Answers
Hello i accidentally ordered the heavy duty shocks instead of the standard style, i weight 185 and my wife about the same. should i have purchased the Standard or are the heavy Duty shocks okay?

It really depends on how much two-up riding it is that you do. Generally speaking, if you ride two-up and/or with a full load of luggage more than 50% of the time, then yes - the heavy-duty shocks would be ideal for your needs. Otherwise, your set up is going to be over-sprung. It'll certainly ride better than OEM, but as with all suspension matters, a properly sprung bike makes a huge difference.

By: Staff

do you have black?

Progressive's 422 series shocks are only available with a chrome finish.

By: Staff

does one or both shocks adjust? Pic only shows one cable or hose connected to one shock

How does that work connected to only one shock?

By: Toyz

The Remote Adjustable Preload (RAP) function is there to fine-tune ride height once you've got your baseline ride height properly set. With careful tuning, you can get the shocks set up so that, depending on whether or not you're riding with a passenger - you can simply turn the RAP's knob a few times to get the proper ride height. You can do this since the shock that doesn't have the remote adjuster attached can also be adjust for preload using the included preload adjustment tool. In the instance you're unable to get proper ride height with the RAP alone during initial setup, then you will need to use the preload wrench to get it in range.

For reference, it's actually not unusual to find modern suspension components with a preload adjustment on one side only. For those bikes, you often need to change out the springs in order to get the proper ride height. This goes for forks as well. While it's not as common on cruisers, over the last four or five years, it's become increasingly common on sportbikes and offroad bikes, both - MX and enduro machines. What's nice about the Progressive 422 shocks is that, since the non-remote adjustable side can also be adjusted for preload, you don't need to change out springs in order to get the right ride height.

By: Staff