Vance & Hines Straightshots HS Dual Slip-On Exhaust
Free Shipping
Fitment Guaranteed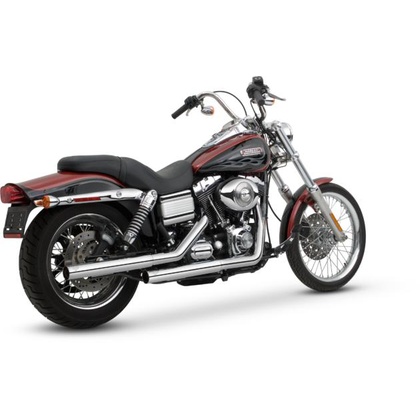 Product Description

Vance & Hines Straightshots HS Dual Slip-On Exhaust
Want to give your Harley superior performance and style without breaking the bank? The Straightshots HS Slip-ons offer the same great look and sound you've grown to love from Vance & Hines at an unbelievable value.
Drenched in Vance & Hines show quality chrome, massive 2-1/2" diameter plasma arc cut 220 degree full coverage muffler heat shields house The Straightshots HS Slip-ons and make them blue proof for long lasting style. Vance & Hines' race inspired performance and traditional hot rod sound set this system apart. Baffles, mounting hardware and easy-to-understand instructions are included for a hassle-free, perfect fit every time.
2-1/2" Round with drag pipe styling
Full coverage heat shields
Comes with removable baffles
All required mounting hardware and instructions included
Made in the USA
---
| Spec | Details |
| --- | --- |
| Baffles Included | Yes, Removable |
| Configuration | Dual |
| Country of Origin | USA |
| Finish | Chrome |
Vehicle Fitment
Fitment is guaranteed or your money back plus free return shipping. Don't waste time installing a product that doesn't fit. We worked hard ensuring that this product is an exact fit on the vehicles listed below.

Harley Davidson
FLS Softail Slim 2012-2016
FLST Heritage Softail 2006
FLSTC Heritage Softail Classic 2000-2016
FLSTCI Heritage Softail Classic 2001-2006
FLSTF Softail Fat Boy 2007-2017
FLSTFB Softail Fat Boy Lo 2010-2016
FLSTI Heritage Softail 2006
FLSTN Softail Deluxe 2007-2016
FLSTSB Softail Cross Bones 2008-2011
FLSTSC Softail Springer Classic 2007
FXCW Softail Rocker 2008-2009
FXCWC Softail Rocker C 2008-2011
FXD Dyna Super Glide 1995-2005, 2007-2010
FXDB Dyna Daytona 1992
FXDB Dyna Street Bob 2007-2016
FXDB Dyna Sturgis 1991
FXDBC Dyna Street Bob Limited 2016
FXDBI Dyna Street Bob 2006
FXDC Dyna Glide Custom 1992
FXDC Dyna Super Glide Custom 2005, 2007-2014
FXDCI Dyna Super Glide Custom 2005-2006
FXDI35 35th Anniversary Dyna Super Glide 2006
FXDI Dyna Super Glide 2004-2006
FXDL Dyna Low Rider 1993-2005, 2007-2009
FXDLI Dyna Low Rider 2004-2006
FXDS-CONV Dyna Convertible 1995-1998
FXDS-CONV Dyna Low Rider Convertible 1994
FXDS-CONV Dyna Super Glide Convertible 1999-2000
FXDWG Dyna Wide Glide 1993-2005, 2007-2008
FXDWGI Dyna Wide Glide 2004-2006
FXDX Dyna Super Glide Sport 1999-2005
FXDXI Dyna Super Glide Sport 2004-2005
FXDXT Dyna Super Glide T-Sport 2001-2003
FXST Softail Standard 2000-2007
FXSTB Softail Night Train 2000-2009
FXSTBI Softail Night Train 2001-2006
FXSTC Softail Custom 2007-2010
FXSTD Softail Deuce 2007
FXSTI Softail Standard 2001-2006
FXSTS Springer Softail 2000-2006
FXSTSI Springer Softail 2001-2006
XL50 50th Anniversary Sportster 2007
XL883 Sportster 883 2004-2008
XL883C Sportster 883 Custom 2004-2009
XL883L Sportster 883 Low 2005-2010
XL883L Sportster SuperLow 2011-2013
XL883N Sportster Iron 883 2009-2013
XL883R Sportster 883R 2004-2007
XL1200C Sportster 1200 Custom 2004-2013
XL1200L Sportster 1200 Low 2006-2011
XL1200N Sportster 1200 Nightster 2007-2012
XL1200R Sportster 1200 Roadster 2004-2008
XL1200V Sportster Seventy-Two 2012-2013
XL1200X Sportster Forty-Eight 2010-2013
Customer Reviews
Be the first to . How many stars would you give this product?
Questions & Answers
End Tips?

Can I put on End Caps on the Vance & Hines Straightshots HS Dual Slip on?

If so what are my chooses?

Thank you,

By: Rich

These particular slip-ons have non-removable end caps. They're actually formed as part of the muffler bodies, so there's nothing that can be done, easily at least, to change them out.

By: Staff

Do you have to recalibrate the computer for these pipes on 2016 Street Bob?

While it's not required, if you want to get the most out of this, or any other exhaust we sell - yes, you'd certainly want to recalibrate your Harley's ECU. To do this, we recommend the Street Bob Vance & Hines Fuelpak FP3. With that tool, all you need is an Android or iOS smartphone to download the free Vance & Hines FP3 app and set it up for your machine's exact configuration. Once you've done that, you're ready to go. Plus, in the future, if you were to add an air cleaner kit or change the exhaust you have on there, it would take only a few minutes of your time to re-configure the FP3 to work with those new parts.

By: Staff

do i need to reprogram computer to use these slip-ons on my 2007 sporty?

While it's not required, it certainly doesn't hurt to modify the fuel delivery on your machine if you want to get the best possible throttle response and engine performance out of your exhaust upgrade. For the most part, with slip-on mufflers at least, you'll probably be okay with reprogramming the ECU. If you live at higher altitude or want to get the best possible bang for your buck out of that exhaust, we highly recommend that you tune the bike to work with it.

By: Staff

Do these slip ons come with heat shields that replace the stock header heat shields or do you use the stock header heat shields and the slip ons have their own heat shields that will make the two the same OD?

There are no heat shields for the stock headers included in the kit. Only heat shields for the mufflers are in the box. The mufflers' heat shields are tapered so as to slide under the OEM header heat shields. You will notice, however, that the muffler heat shields are of a slightly wider diameter than stock, they're not of the same OD.

By: Staff