Cobra Speedster Short Swept Exhaust System
$
$

–

$
$

509.22

–

$

638.43
Free Shipping
Fitment Guaranteed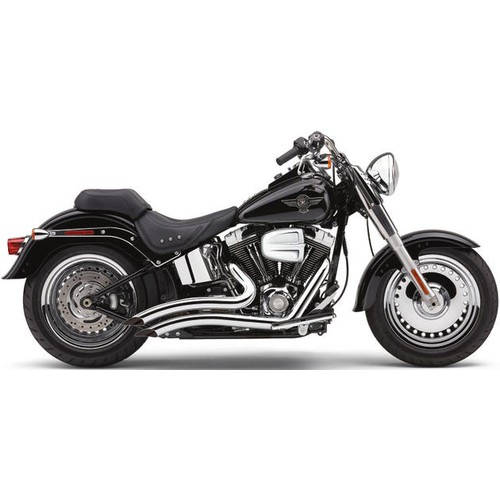 Product Description

Cobra Speedster Short Swept Exhaust System
The curves on the road are nothing compared to what Cobra is seeing in some of the latest cruisers ... and exactly why not just any pipe design will do. Enter the Speedster Swept. A real work of metallurgical art, the sweeping lines of these pipes are truly breathtaking, but that's only the beginning of what's packed into them. Like Cobra's flagship Speedsters, the Swepts also include Cobra's PowerPort, which gives you 2:1 power while maintaining the great 2:2 look.
The Swepts are then given full-length, triple-layer chrome 2.5-inch heat shields covering 1.75-inch head pipes. And of course they have Cobra's Limited Lifetime Warranty (black finish excluded), To say Cobra outdid themselves on these beauties is a real understatement.
Easy to understand instructions and all required mounting hardware included with each kit
Made in the USA
---
| Spec | Details |
| --- | --- |
| Color | Varies (make selection above) |
| Configuration | 2 into 2 |
| Country of Origin | USA |
| Exhaust Diameter | 1.75 in. |
| Finish | Varies (make selection above) |
| Heat Shield Included | Yes |
| Material | Steel |
Vehicle Fitment
Fitment is guaranteed or your money back plus free return shipping. Don't waste time installing a product that doesn't fit. We worked hard ensuring that this product is an exact fit on the vehicles listed below.

Harley Davidson
FLD Dyna Switchback 2012-2016
FLHR Road King 2010-2016
FLHRC Road King Classic 2010-2013
FLHTC Electra Glide Classic 2010-2013
FLHTCU Ultra Classic Electra Glide 2010-2016
FLHTK Electra Glide Ultra Limited 2010-2016
FLHX Street Glide 2010-2016
FLHXS Street Glide Special 2014-2016
FLS Softail Slim 2012-2014
FLST Heritage Softail 1986-1990, 2006
FLSTC Heritage Softail Classic 1987-2014
FLSTCI Heritage Softail Classic 2001-2006
FLSTF Softail Fat Boy 1990-2014
FLSTFB Softail Fat Boy Lo 2010-2014
FLSTFI Softail Fat Boy 2001-2006
FLSTI Heritage Softail 2006
FLSTN Heritage Softail Nostalgia 1993
FLSTN Heritage Softail Special 1994-1996
FLSTN Softail Deluxe 2005-2014
FLSTNI Softail Deluxe 2005-2006
FLSTS Heritage Springer Softail 1997-2003
FLSTSB Softail Cross Bones 2008-2011
FLSTSC Softail Springer Classic 2005-2007
FLSTSCI Softail Springer Classic 2005-2006
FLSTSI Heritage Springer Softail 2001-2003
FLTRU Road Glide Ultra 2011-2013
FLTRX Road Glide Custom 2010-2013
FXD Dyna Super Glide 2007-2010
FXDB Dyna Street Bob 2007-2017
FXDBI Dyna Street Bob 2006
FXDC Dyna Super Glide Custom 2007-2014
FXDCI Dyna Super Glide Custom 2006
FXDF Dyna Fat Bob 2008-2017
FXDI35 35th Anniversary Dyna Super Glide 2006
FXDI Dyna Super Glide 2006
FXDL Dyna Low Rider 2007-2009
FXDLI Dyna Low Rider 2006
FXDWG Dyna Wide Glide 2007-2008, 2010-2017
FXDWGI Dyna Wide Glide 2006
FXS Softail Blackline 2011-2013
FXSB Softail Breakout 2013-2016
FXST Softail 1986-1990
FXST Softail Standard 1999-2007
FXSTB Softail Night Train 1999-2009
FXSTBI Softail Night Train 2001-2006
FXSTC Softail Custom 1986-1999, 2007-2010
FXSTD Softail Deuce 2000-2007
FXSTDI Softail Deuce 2001-2006
FXSTI Softail Standard 2001-2006
FXSTS Springer Softail 1988-2006
FXSTSB Softail Bad Boy 1995-1997
FXSTSI Springer Softail 2001-2006
Customer Reviews
Be the first to . How many stars would you give this product?
Questions & Answers
Do these require different jets?

While you can probably get away with installing the exhaust by itself, Cobra recommends that you adjust fueling with one of their jet kits. This way, you'll get the best possible throttle response and engine performance. Basically, any time you change the way air gets into or out of, the motor, you'll want to adjust fueling appropriately to maximize any performance gains available from the new setup.

By: Staff

I have forward controls, will the fit be ok?

Cobra exhausts are designed to fit bikes in the stock configuration, this includes the foot controls that come on the bike from the factory. Most of the time, it isn't an issue - but whenever you're in doubt, just send us a note with your year, make and model - and we'll be happy to help you understand whether or not any exhaust we sell with go with your aftermarket foot controls.

By: Staff

Are the baffles removable?

Yes, Cobra Speedster Short Swept exhaust systems come with removable baffles.

By: Staff

Will these fit on a 2016 fxdwg without removing the passenger foot pegs?

No, there's no need to remove the passenger footpegs in order to install this exhaust on the 2016 Dyna Wide Glide.

By: Staff

Will I need to relocate my passenger pegs? 2014 Fat Boy

In the case of the 2014 Harley-Davidson Fat Boy, there's no need to relocate the passenger foot pegs in order to install this exhaust. Nor are you required to purchase any additional hardware in order to do the same.

By: Staff

I really like the style of these..I wanna put them on a 2013 dyna fld...any issues with that??

Yes, the exhaust system you're asking about will bolt straight onto the 2013 Dyna Switchback without issue. The only additional thing you will want to do is adjust fueling to suit. In this way, you can be assured the best possible throttle response and engine power output. We recommend the Vance & Hines Fuelpak FP3 Autotuner to go along with the exhaust. Between the combination of the exhaust and the FP3, you can expect excellent performance gains.

By: Staff

Does this system have O2 bungs?

If your bike came from the factory with oxygen sensors, then yes - this exhaust will also come with O2 sensor ports on it. You simply need to unscrew the sensors from the stock exhaust and put them on this system when you're putting it on your bike.

By: Staff