Yoshimura R-77 Race Series Full Exhaust System
$
$

–

$
$

557.95

–

$

1034.10
Free Shipping
Fitment Guaranteed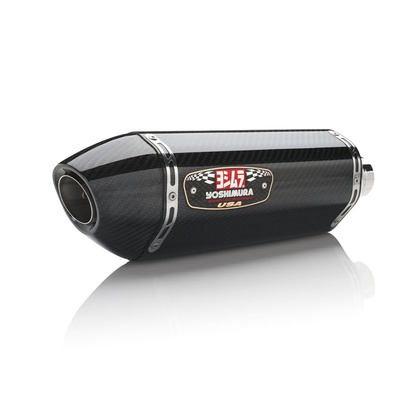 Product Description

Yoshimura R-77 Race Series Full Exhaust System
If you're looking for that competitive edge, look no further than Yoshimura's Race Series exhausts. These exhaust components are designed with nothing but power in mind. Each Race Series system is developed in accordance with noise compliance regulations imposed by most race sanctioning bodies worldwide.
Yoshimura created the R-77 full exhaust system to match the radical design of the modern motorcycle perfectly while at the same time removing heaps of weight, adding power and giving your bike a distinctive deep exhaust tone.
The R-77 muffler consists of a trapezoidal-shaped sleeve, maximizing muffler volume while offering a sharp silhouette to flow with the body. The innovative end cap is reminiscent of the Yoshimura R-55 exhaust system, featuring sharp edges for an attractive, eye catching appeal.
Full systems include an R-77 muffler, header and mid-pipe, along with all the necessary hardware and clear instruction for simple installation.
Stainless steel headers and mid-pipe
Trapezoidal shape R-77 muffler
Maximized muffler volume
Innovative end-cap shrouds the terminus of the muffler for an unmistakable look
Removable low-volume exhaust insert
---
| Spec | Details |
| --- | --- |
| Country of Origin | USA |
| Header Construction | 304-L Stainless Steel |
| Muffler End Cap | Carbon Fiber |
| Muffler Sleeve | Varies (make selection above) |
Vehicle Fitment
Fitment is guaranteed or your money back plus free return shipping. Don't waste time installing a product that doesn't fit. We worked hard ensuring that this product is an exact fit on the vehicles listed below.

BMW

Honda
CB650F 2014
CB650F ABS 2014
CBR250R 2011-2013
CBR250R ABS 2011-2013
CBR650F 2014-2015
CBR650F ABS 2014-2015
CBR1000RR 2008-2016
CBR1000RR ABS 2009-2010, 2012-2016
CBR1000RR SP 2014-2016

Kawasaki
ZX1400A Ninja ZX-14 2006-2007
ZX1400C Ninja ZX-14 2008-2011
ZX1400E Ninja ZX-14R 2012-2014

Suzuki
AN400 Burgman 400 2007-2009
AN400A Burgman 400 ABS 2007-2009, 2011-2012
AN650 Burgman 650 2006-2009, 2011-2012
AN650A Burgman 650 Executive 2006-2009, 2011-2012
GSX-R600 2008-2009, 2011-2015
GSX-R750 2008-2009, 2011-2015
GSX-R1000 2007-2008, 2012-2015

Yamaha
Customer Reviews
Be the first to . How many stars would you give this product?
Questions & Answers
I have a 2015 GSX-R1000 with the Bazzaz Z-AFM on it. Will the O2 sensor from that kit (threads measuring M18 by 1.5) fit into this system?

Yes, it will fit. All Yoshimura R-77 Race Series full systems are designed to fit the OEM oxygen sensor. In the case of machines equipped with a M18 x 1.5mm from the factory, Yoshimura includes an adapter to fit the smaller M12 x 1.25mm O2 sensor.

By: Staff

Does this fit a 2016 yamaha fz07? I know it fits a 2015.

Yes, the Yoshimura R-77 exhaust system will fit the 2016 Yamaha FZ-07!

By: Staff

Will this require an ecu flash and or fuel controller to work on fz09?

While it's not required, if you want to get the best possible engine performance and throttle response out of your FZ-09, you'll want to adjust fueling accordingly. Basically, any time you change the way air gets into the motor or how exhaust gases get out of the combustion chamber, you should adjust fueling to suit if you expect to get the best possible power output for your investment. Still, you can try running the bike without adjusting fuel to see if performance is satisfactory.

Should you decide that the bike could be running better and want to get a fuel management system to go with the exhaust, we recommend any of Bazzaz's fuel tuning systems to fit the FZ-09.

By: Staff

Will the 2016 FZ 07 have to have the ECU flashed when this exhaust is installed?

While it's not required, if you want to get the best possible throttle response and engine power output upon the installation of any new full Yoshimura FZ07 exhaust system, we certainly do recommend that the bike's fuel delivery be modified to suite the change

in exhaust flow. The good news is that the bike is equipped with an oxygen sensor in the exhaust, which feeds data to the ECU, so it will compensate, somewhat for the new R-77 Yoshimura Yamaha FZ07 exhaust system. Whether or not it'll be enough is hard to say, but signs

that the ECU can't keep up with the aftermarket exhaust are things like stumbling at a steady throttle or when you make small changes in throttle position.

In the instance you do notice that the bike doesn't respond to throttle input the way you'd like after putting the exhaust on, we recommend the Bazzaz Z-Fi fuel controller for the FZ-07. It comes equipped with a fuel map for use with a slip-on muffler,

but it'll certainly be better than the unmodified ECU. Still, you'll need to take a trip to the dyno in order to have the FZ07 Bazzaz unit tuned to get the most out of the exhaust.

By: Staff