Progressive 422 Series Adjustable Shocks
Free Shipping
Fitment Guaranteed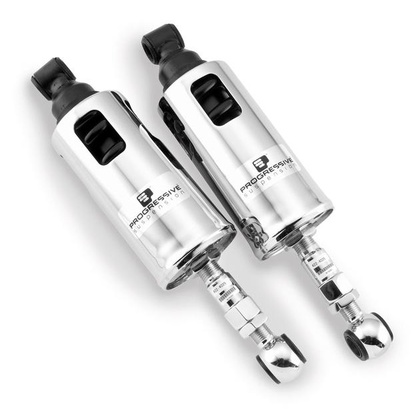 Product Description

Progressive 422 Series Adjustable Shocks
This suspension system for the venerable Softail style chassis is exclusively available as an adjustable ride height version. Progressive Suspension was the first to introduce aftermarket shocks for the most popular frame design ever produced and they continue to refine their work. Two inches of ride height adjustment as well as adjustable for spring preload to accommodate varying loads and rider weights, all wrapped in a chrome shroud and now available in a heavy duty version for two-up or heavily loaded bikes!
Sold in pairs for machines originally equipped with two shocks
Chrome plated
2" of ride height adjustment
Preload adjustable
High pressure gas charged monotube for consistent damping performance
---
| Spec | Details |
| --- | --- |
| Finish | Chrome |
| Length | Varies (make selection above) |
| Quantity | Pair |
| Spring Rate | Varies (make selection above) |
Vehicle Fitment
Fitment is guaranteed or your money back plus free return shipping. Don't waste time installing a product that doesn't fit. We worked hard ensuring that this product is an exact fit on the vehicles listed below.

Harley Davidson
FLS Softail Slim 2013-2016
FLSS Softail Slim S 2016
FLST Heritage Softail 1989-1990, 2006
FLSTC Heritage Softail Classic 1989-2016
FLSTCI Heritage Softail Classic 2001-2006
FLSTF Softail Fat Boy 1990-2016
FLSTFB Softail Fat Boy Lo 2010-2016
FLSTFBS Softail Fat Boy S 2016
FLSTFI Softail Fat Boy 2001-2006
FLSTFSE2 CVO Fat Boy 2006
FLSTFSE CVO Fat Boy 2005
FLSTI Heritage Softail 2006
FLSTN Heritage Softail Nostalgia 1993
FLSTN Heritage Softail Special 1994-1996
FLSTN Softail Deluxe 2005-2016
FLSTNI Softail Deluxe 2005-2006
FLSTNSE CVO Softail Deluxe 2014-2015
FLSTS Heritage Springer Softail 1997-2003
FLSTSB Softail Cross Bones 2009-2011
FLSTSE2 CVO Softail Convertible 2011
FLSTSE CVO Softail Convertible 2010
FXCW Softail Rocker 2008-2009
FXCWC Softail Rocker C 2008-2011
FXS Softail Blackline 2011-2013
FXSB Softail Breakout 2013-2016
FXSBSE CVO Softail Breakout 2013-2014
FXST Softail 1989-1990
FXST Softail Standard 1999-2007
FXSTB Softail Night Train 1999-2009
FXSTBI Softail Night Train 2001-2006
FXSTC Softail Custom 1989-1999, 2007-2010
FXSTD Softail Deuce 2000-2007
FXSTDI Softail Deuce 2001-2006
FXSTDSE2 CVO Softail Deuce 2004
FXSTDSE CVO Softail Deuce 2003
FXSTI Softail Standard 2001-2006
FXSTS Springer Softail 1989-2006
FXSTSB Softail Bad Boy 1995-1997
FXSTSI Springer Softail 2001-2006
FXSTSSE2 CVO Softail Springer 2008
FXSTSSE3 CVO Softail Springer 2009
FXSTSSE CVO Softail Springer 2007
Customer Reviews
Be the first to . How many stars would you give this product?
Questions & Answers
Does this shock adjust the same number of turns as the original?

These shocks will use the factory Harley Davidson preload spanner wrench OEM part # 94455-89 or the provided Progressive Suspension tool with these shocks. Before installing the Progressive Suspension adjustable ride height shock, spin the non-flanged nut all the way onto the stud mount, followed by a bushing-cup, bushing, and sleeve. Then install these shocks as you would a stock unit as indicated in the OEM service manual. With the non-flanged nut spun all the way onto the stud, the stock ride height is achieved. Once you have installed the other bushing, bushing-cup, and flanged nut, you can now install the safety E-clip. This E-clip is snapped into the groove near the end of the stud mount where the threads stop. This is to serve as a reference point ONLY - when the flanged-nut reaches it you have lowered your ride height the maximum 2 inches.

By: Staff

With the bike lowered the two inches how much does it affect the ride

If you were to just lower the rear on its own, steering would be slowed and the bike would tend to run wide on longer corners. That, and the handlebars would make it feel like the bike wanted to "fall" into the turn, so you'd have to work a little harder to keep it going the direction you want. Depending on your tastes, this may or may not bother you.

To keep the bike handling same, you'll want to lower the front the same amount. This can be done by installing a Progressive Fork Lowering Kit up front. In doing so, any changes to the rear are mitigated in lowering the front the same amount, thereby keeping steering geometry the same. Your bike will handle just as it did before. Actually, it'll be noticeably better since all suspension components have been upgraded.

One thing to keep in mind is spring rate. Choosing the right spring rate will make a big difference in how your bike responds to a Progressive suspension upgrade. With Progressive's suspension components, heavy-duty springs are best suited for solo riders over 220lbs. If you ride two-up and/or with a full load of luggage at least 50% of the time, heavy-duty shocks are also recommended.

By: Staff