K&S Technologies
About K&S Technologies
From OEM style replacement turn signals and marker lights to gasket kits, K&S has everything you need to update your current ride, restore a vintage barn find, or just give your favorite pet project a little extra love.
With over 400 distinct styles available for thousands applications, K&S offers DOT-approved OEM style replacement lights for street and dirt bikes from Honda, Kawasaki, Suzuki, Yamaha, as well as Harley-Davidsons. Options include chrome, black, or carbon print body styles and clear lenses with amber bulbs, or even amber lenses with clear bulbs. Your bike, your style - it's your choice!
Feeling leaky? K&S offers gaskets and seals to service water pump, fuel petcocks, radiator caps, and brake calipers for the most popular, motorcycles, ATVs and MX bikes.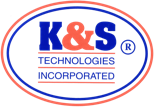 Quick Fact
Since 1976, K&S Technologies has produced quality aftermarket parts for street and dirt bikes, as well as ATVs and UTVs. Our giant selection of K&S components is frequently referenced by OEM part number, making it easy to find exactly what you need the first time around.