All Balls Bearings & Seals
About All Balls Bearings & Seals
All Balls Racing manufacturers a complete line of replacement parts for high-wear critical components on your machine. Significantly cheaper than OEM, each kit includes high-quality bearings, bushings, seals and tie-rods that fit in place of OEM parts without trouble. You could conceivably replace every chassis bearing with parts from All Balls Racing and save stacks of cash in the process.
Replacing worn-out parts? Upgrading to next-level performance? On or off-road, ATV or UTV, dirt bike or street machine, All Balls Racing has the industry's most comprehensive line of bearing and seal kits to keep you rolling smooth, free, and easy, on the road or on the track.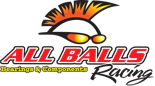 Quick Fact
Vintage motorcycle riders and racers will love All Balls' range of bearing, bushing, and seal kits for a variety of classic bikes dating back to 1971, all fabricated using modern materials to deliver reliable performance every time you start your machine.