About Lindby Highway Bars
First you spend a lot of money for your bike. Then you buy a ton parts and accessories to bling it out just so. Finally, you pay an insurance company for regular protection from harm. So why stop there? Don't tempt fate by leaving your baby exposed; protect yourself and your investment with a Lindby Custom highway bar.
Whether you opt for the original Linbar or one of the other designs from Lindby Custom, a highway bar can protect your cruiser from expensive damage by keeping the paint, tank, or engine components from touching the ground in the event of an accidental drop. And it adds a ton of comfort on long rides by allowing you to move your feet and adjust your riding position, improving ergonomics.
Made of high-tensile steel tubing and precision TIG hand-weld assembled, the 1-1/4" Linbar and its siblings -- the TWINBAR with its flip-down footpegs; the clean, simplistic Unibar; the Multibar with full rubber footgrips; and the beefy, 1-1/2 in. Magnumbar – are all available either triple chrome plated or powder coated in black for most bikes. Easily installed with simple hand tools, all Lindby highway bars come with detailed instructions and all necessary hardware for American or metric cruiser applications, from Harley-Davidson all the way across the board to Yamaha.
Lindby Custom is more than just highway bars: adjustable clamp-on footpegs in various styles and finishes provide extra mobility; snap-on vinyl weather guards provide protection from the elements and add extra storage thanks to hook-and-loop-fastened pockets; and, for certain models, bolt-on "highway bars" provide alternate passenger foot placement and protection for the rear end of your cruiser, such as the swingarm, tail lights, and rear fender.
Lindby is one of the industry leaders when it comes to high-quality highway bars, but let's be clear: Lindby says its bars are "cosmetic" because in certain crashes, no highway bar is guaranteed not to buckle or break. But with normal wear and tear, a minor drop doesn't have to means thousands of dollars' worth of damage to your motorcycle.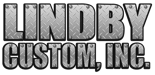 Quick Fact
Bikes that have aftermarket forward controls are most likely not going to be compatible with anything in the Lindby catalog. With rare exception, all of Lindby's highway bars are designed to work with machines that have the stock foot controls.