Yoshimura Exhaust
About Yoshimura Exhaust
Adapting technology learned on the track to its consumer products is what makes the Yoshimura name synonymous with quality and performance. Having worked in conjunction with the best factory teams, Yoshimura's products all lend themselves to increased performance in an attractive, durable design. The result is an exhaust that gives you an unparalleled competitive advantage. Company founder "Pops" Yoshimura is a legend of motorcyle racing, and PartsGiant.com has all the Yoshimura products you need to wring every ounce of Pops' fabled competitive spirit out of your motorcycle.
Yoshimura Street Series exhausts are street legal slip-ons that deliver performance without tampering with your vehicle's emissions compliance ratings. From the legendary tri-ovals to the refined carbon fiber R-77 mufflers and the R-55 angular masterpieces, Yoshimura's Street Series exhausts offer street-legal options for most everything on two wheels.
The Signature Series parts are tested, documented, and marked as required by federal and state regulations for compliance with road-going applications. While enhancing throttle response and engine performance, every exhaust meets EPA noise requirements.
Enduro Series exhausts from Yoshimura come equipped with a USFS-approves spark arrestor and emit noise levels that even the most ardent park ranger would find acceptable.
Finally, Race Series exhausts from Yoshimura are designed for anyone looking to obtain the maximum amount of power output from their wheels of speed. Yoshimura designed their Race Series kits to meet the noise standards of racing organizations around the world.
And it's not just pipes that Yoshimura builds – we now have a tremendous variety of CNC-machined components that not only enhance the looks of your machine, but also improve its durability for the extreme rigors or racing.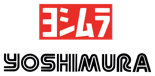 Quick Fact
All Yoshimura components are fabricated in the USA by Yoshimura's highly-competent staff of engineers, welders and machine operators. Their dedication to quality has manifested itself in countless wins and overall championships in domestic road racing and offroad classes for years both, in the amateur and especially, in the professional classes.