Motion Pro
About Motion Pro
Ever use the wrong tool for the job? It's hardly easy, never pretty, and rarely ends well. Motion Pro motorcycle-specific tools make difficult or time-consuming motorcycle repair jobs significantly easier. Motion Pro has a large selection of versatile and durable tools ideal for engine tuning, fuel, suspension, drive train, brakes, wheels and tires, and more.
In addition, Motion Pro also manufactures some of the finest powersports cables in the industry. Thanks to their superior design, Motion Pro cables deliver a smoother pull over stock, which helps reduce rider fatigue. Designed, developed, and tested by top riders and mechanics, they are durable enough to withstand the harshest conditions on the track, off-road -- or on the boulevard.
Motion Pro's lineup of V-Twin cables go far beyond stock, with a wide variety of armor or Teflon coatings, black vinyl with black housings, etc. For most models, cables are available with a longitudinally wound housing that provides smooth, compression-free clutch actuation. If you're an MXer, T3 Slidelight cable series offers anodized billet aluminum fittings and an inline cable lube system for the smoothest pull at the lever you can find.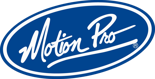 Quick Fact
Since 1984, Motion Pro has led the way in motorcycle and ATV maintenance tools. It is through their own team's experience wrenching on bikes that they've developed a myriad of tools that make life easier for the do-it-yourselfer.