S&S Cycle
About S&S Cycle
When George B. Smith couldn't find the parts to make his Harley-Davidson go faster, he made his own. Today, S&S Cycle is the world's premier manufacturer of high-performance V-Twin motorcycle engines.
Whether it's a ground-up custom build, a barn-find rehab project, or simply a stock upgrade, S&S has what you need to make your bike move faster. Want to supercharge your crankcase or bolster your drivetrain? Look no further than precision S&S components and big-bore kits. Another way to up your game is via one of S&S's performance header, air cleaner, and exhaust packages. Need a complete do-over? Just need to upgrade for your Evo, Sportster, Twin Cam, or vintage Harley project? S&S offers a full line of replacement parts and accessories.
No matter if you ride a modern or vintage Harley or even a Victory motorcycle, the Smith & Smith marquee delivers legendary, pavement-pounding performance with the name you trust and the quality you expect.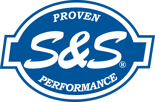 Quick Fact
Each step in the S&S 4-Step Performance Program is precision engineered to be easily installed without special machining or even removing the engine from your bike. Starting with intake and exhaust systems to improve engine respiration, cam and pushrod upgrades firm up your guts. A 97" or 106" big-bore kit brings the muscle, followed by CNC-ported heads and fuel system upgrades to complete the process. You could see up to a 40 horsepower improvement!