About Pivot Works
Pivot Works bearings and seal kits are just that – complete kits with all the parts you need to get the job done in one package. Backed by a manufacturer's lifetime replacement program, every part is built to standards that meet or exceed OEM specifications. In fact, Pivot Works scours the globe for reliable, high-quality suppliers to create each and every one of their parts. So in-depth is the Pivot Works line that every piece they make is labeled with their own part number.
Easy, simple, complete, it's the Pivot Works way. For motorcycles, wheel bearing kits are packaged in left and right pairs to service one whole axle at a time. Fork seal kits include everything you need for a leak-free front end and linkage kits have the required seals, needle bearings, bushings and washers to bring your bike or ATV up to factory-fresh performance.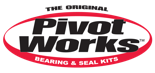 Quick Fact
We've found that Pivots Works parts to be of outstanding quality and reliability, which makes their lifetime replacement program almost entirely unnecessary. No less, in the event something does happen to your parts, taking advantage of Pivot Works' lifetime replacement program is straight forward. Simply contact the manufacturer to let them know what the issue happens to be. You'll be provided with a return authorization number along with instructions for returning the part and voila, just send them your goods. All you need is a copy of your receipt (which we emailed to you open purchase), a box and shipping label! They'll have a look at your parts and get you sorted out in no time.