Cometic EST Top End Kit with MLS Head Gaskets
Free Shipping
Fitment Guaranteed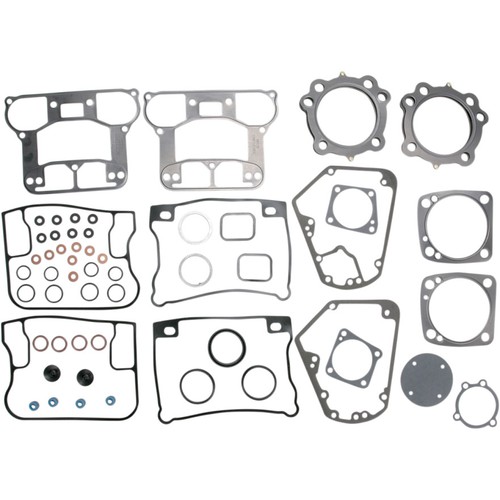 Product Description

Cometic EST Top End Kit with MLS Head Gaskets
Cometic Gaskets are built to offer the latest in gasket technology. Materials, manufacturing processes and gaskets are designed to match the high level of performance of modern engines. When purchasing a Cometic gasket kit, you can rest assured that every component will be the best solution for your application. Cometic EST Top End gasket kits include every gasket, seal, washer, and O-Ring from the base gasket up to the rocker boxes needed for a top end rebuild.
---
| Spec | Details |
| --- | --- |
| Bore | Varies (make selection above) |
| Country Of Origin | USA |
| Displacement | Varies (make selection above) |
| Engine Type | Varies (make selection above) |
| Material | Multi-Layered Steel |
| OEM Reference | Varies (make selection above) |
| Size Over Standard | Varies (make selection above) |
| Thickness | Varies (make selection above) |
Vehicle Fitment
Fitment is guaranteed or your money back plus free return shipping. Don't waste time installing a product that doesn't fit. We worked hard ensuring that this product is an exact fit on the vehicles listed below.

Harley Davidson
CVO FXR2 1999
CVO FXR3 1999
CVO FXR4 2000
FLD Dyna Switchback 2012-2013
FLH Electra Glide 1984-1985
FLHR Electra Glide Road King 1994
FLHR Road King 1995-2013
FLHRC Road King Classic 2007-2013
FLHRCI Road King Classic 1998-2006
FLHRI Road King 1996-2006
FLHRS Road King Custom 2004-2007
FLHRSI Road King Custom 2004-2006
FLHS Electra Glide Sport 1984-1993
FLHT Electra Glide 1986-1987
FLHT Electra Glide Standard 1995-2009
FLHTC Electra Glide Classic 1984-2005, 2007-2013
FLHTC Liberty Electra Glide Classic Liberty 1986
FLHTCI Electra Glide Classic 1996-2006
FLHTCU Ultra Classic Electra Glide 1989-2013
FLHTCUI Ultra Classic Electra Glide 1995-2006
FLHTI Electra Glide Standard 2003-2006
FLHTK Electra Glide Ultra Limited 2010-2013
FLHX Electra Glide Special 1984-1985
FLHX Street Glide 2006-2013
FLHXI Street Glide 2006
FLS Softail Slim 2012-2014
FLST Heritage Softail 1986-1990, 2006
FLSTC Heritage Softail Classic 1988-2013
FLSTCI Heritage Softail Classic 2001-2006
FLSTF Softail Fat Boy 1990-2013
FLSTFB Softail Fat Boy Lo 2010-2013
FLSTFI Softail Fat Boy 2001-2006
FLSTI Heritage Softail 2006
FLSTN Heritage Softail Nostalgia 1993
FLSTN Heritage Softail Special 1994-1996
FLSTN Softail Deluxe 2005-2013
FLSTNI Softail Deluxe 2005-2006
FLSTS Heritage Springer Softail 1997-2003
FLSTSB Softail Cross Bones 2008-2011
FLSTSC Softail Springer Classic 2005-2007
FLSTSCI Softail Springer Classic 2005-2006
FLSTSI Heritage Springer Softail 2001-2003
FLTC Tour Glide Classic 1984-1991
FLTCU Ultra Classic Tour Glide 1989-1995
FLTCUI Ultra Classic Tour Glide 1996
FLTR Road Glide 1998-2002, 2007-2009
FLTRI Road Glide 1998-2006
FLTRU Road Glide Ultra 2011-2013
FLTRX Road Glide Custom 2010-2013
FXCW Softail Rocker 2008-2009
FXCWC Softail Rocker C 2008-2011
FXD Dyna Super Glide 1995-2005, 2007-2010
FXDB Dyna Daytona 1992
FXDB Dyna Street Bob 2007-2013
FXDB Dyna Sturgis 1991
FXDBI Dyna Street Bob 2006
FXDC Dyna Glide Custom 1992
FXDC Dyna Super Glide Custom 2005, 2007-2013
FXDCI Dyna Super Glide Custom 2005-2006
FXDF Dyna Fat Bob 2008-2013
FXDI35 35th Anniversary Dyna Super Glide 2006
FXDI Dyna Super Glide 2004-2006
FXDL Dyna Low Rider 1993-2005, 2007-2009
FXDLI Dyna Low Rider 2004-2006
FXDS-CONV Dyna Convertible 1995-1998
FXDS-CONV Dyna Low Rider Convertible 1994
FXDS-CONV Dyna Super Glide Convertible 1999-2000
FXDWG Dyna Wide Glide 1993-2005, 2007-2008, 2010-2013
FXDWGI Dyna Wide Glide 2004-2006
FXDX Dyna Super Glide Sport 1999-2005
FXDXI Dyna Super Glide Sport 2004-2005
FXDXT Dyna Super Glide T-Sport 2001-2003
FXE Super Glide 1984
FXEF Super Glide Fat Bob 1985
FXLR Low Rider Custom 1987-1994
FXR Super Glide 1986-1994
FXRC Low Glide 1985
FXRC Low Rider Chrome 1987
FXRD Grand Touring Edition 1986
FXRDG Disc Glide 1984
FXRS Low Glide 1984-1992
FXRS-CONV Low Rider Convertible 1990-1993
FXRS-SP Low Rider Sport Edition 1987-1993
FXRT Sport Glide 1984-1992
FXS Softail Blackline 2011-2013
FXSB Low Rider 1984-1985
FXST Softail 1984-1990
FXST Softail Standard 1999-2007
FXSTB Softail Night Train 1999-2009
FXSTBI Softail Night Train 2001-2006
FXSTC Softail Custom 1986-1999, 2007-2010
FXSTD Softail Deuce 2000-2007
FXSTDI Softail Deuce 2001-2006
FXSTI Softail Standard 2001-2006
FXSTS Springer Softail 1988-2006
FXSTSB Softail Bad Boy 1995-1997
FXSTSI Springer Softail 2001-2006
FXWG Wide Glide 1984-1986
XL1200C Sportster 1200 Custom 1996-2006
XL1200L Sportster 1200 Low 2006
XL1200R Sportster 1200 Roadster 2004-2006
XL1200S Sportster 1200 Sport 1996-2003
XLH1200 Sportster 1200 1988-2003
Customer Reviews
Cometic Top End Kit
By Teri P. on June 8, 2020
Cometic Top End Kit
By Stephen P. on November 12, 2020
Gaskets & seals were fine. Do wish the orings matched the factory color coded, just to be confident I'm installing the correct oring, not just a similar print that's the same size.
Cometic upper cylinder gasket
By henry m. on November 16, 2020
First time I've used this brand of gasket kit, which I will say came highly recommended by fellow riders. I just installed the kit and did the warm up and cool down three times and let her set over night and not one leak no where. I will definitely use thier brand again on further builds. Ever thing fit perfect.
Questions & Answers
I HAVE A STOCK 2006 FATBOY 96" WILL THIS GASKET FIT

If you were to choose the 2006 Harley Davidson FLSTF Softail Fat Boy top end gasket kit from our fit guide, you'd receive the correct components to fit your bike. These gaskets are designed to work with the stock engine on any machine you choose from our fitment menu!

By: Staff

Will this work on 02 t.c big bore

These particular gasket kits are only for machines with the stock engine configuration. What you need is a Cometic EST Big Bore Top End Kit with MLS Head Gaskets. Once you select your machine from our fit guide, you'll be presented with various head gasket thicknesses and also, cylinder bores. Just be sure to choose the correct specs for your needs and you'll be all set. Mind you, not all bore diameters are available for each gasket thickness, so please keep that in mind when shopping for your machine.

By: Staff

will this gasket set fit a 2013 103" flhtx

Just be sure to select your exact model 2013 Harley Davidson FLHX Street Glide and you would have no problem with the stock 103" engine.

By: Staff