Mikuni HSR Smoothbore Easy Carburetor Kit
$
$

–

$
$

289.80

–

$

330.24
Free Shipping
Fitment Guaranteed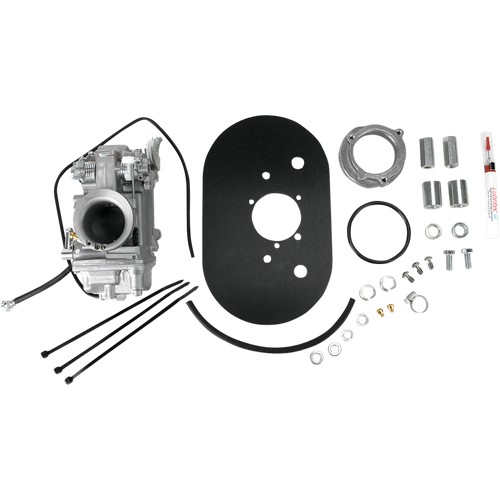 Product Description

Mikuni HSR Smoothbore Easy Carburetor Kit
Kits include the HSR smoothbore carb in a natural finish
Easier, faster installation using stock CV throttle cables
Excellent throttle response, more power, improved acceleration and better gas mileage
HSR smoothbore carbs offer excellent throttle response and control
Well made for years of dependable service
Comes with installation instructions and all required hardware
---
| Spec | Details |
| --- | --- |
| Bore | Varies (make selection above) |
| Choke Type | Cable |
| Country Of Origin | Japan |
| Engine Type | Varies (make selection above) |
| Finish | Varies (make selection above) |
| Height | 176mm |
| Intake Bell O.D. | 65mm |
| Main Jet | Varies (make selection above) |
| Manifold Type | Spigot |
| Manifold to Manifold | 90mm |
| Needle | Varies (make selection above) |
| Needle Jet | Y-6 (723) |
| Needle Valve | Varies (make selection above) |
| Pilot Jet | 25 (VM28/486) |
| Spigot Mounting O.D. | Varies (make selection above) |
| Throttle Valve | 3.0 (TM42/08) |
| Width | 100mm |
Vehicle Fitment
Fitment is guaranteed or your money back plus free return shipping. Don't waste time installing a product that doesn't fit. We worked hard ensuring that this product is an exact fit on the vehicles listed below.
Buell
M2 Cyclone 1997-2000
S1 Lightning 1996-1998
S2 Thunderbolt 1995-1996
S3 Thunderbolt 1997-2001
S3T Thunderbolt 1997-1998, 2000-2002
X1 Lightning 1999-2002
XB9R Firebolt 2003-2006
XB9S Lightning 2003-2004
XB12R Firebolt 2004-2006
XB12S Lightning 2004-2006
XB12Scg Lightning Low 2005-2006
XB12X Ulysses 2006

Harley Davidson
CVO FXR2 1999
CVO FXR3 1999
CVO FXR4 2000
FLHR Electra Glide Road King 1994
FLHR Road King 1995-2006
FLHRS Road King Custom 2004-2006
FLHS Electra Glide Sport 1990-1993
FLHT Electra Glide Standard 1995-2006
FLHTC Electra Glide Classic 1990-2005
FLHTCU Ultra Classic Electra Glide 1990-2006
FLHX Street Glide 2006
FLST Heritage Softail 1986-1990, 2006
FLSTC Heritage Softail Classic 1987-2006
FLSTF Softail Fat Boy 1990-2006
FLSTN Heritage Softail Nostalgia 1993
FLSTN Heritage Softail Special 1994-1996
FLSTN Softail Deluxe 2005-2006
FLSTS Heritage Springer Softail 1997-2003
FLSTSC Softail Springer Classic 2005-2006
FLTC Tour Glide Classic 1990-1991
FLTCU Ultra Classic Tour Glide 1990-1995
FLTR Road Glide 1998-2004
FXD Dyna Super Glide 1995-2005
FXDB Dyna Daytona 1992
FXDC Dyna Glide Custom 1992
FXDC Dyna Super Glide Custom 2005
FXDL Dyna Low Rider 1993-2005
FXDS-CONV Dyna Convertible 1995-1998
FXDS-CONV Dyna Low Rider Convertible 1994
FXDS-CONV Dyna Super Glide Convertible 1999-2000
FXDWG Dyna Wide Glide 1993-2005
FXDX Dyna Super Glide Sport 1999-2005
FXDXT Dyna Super Glide T-Sport 2001-2003
FXLR Low Rider Custom 1990-1994
FXR Super Glide 1990-1994
FXRS Low Glide 1990-1992
FXRS-CONV Low Rider Convertible 1990-1993
FXRS-SP Low Rider Sport Edition 1990-1993
FXRT Sport Glide 1990-1992
FXST Softail 1990
FXST Softail Standard 1999-2006
FXSTB Softail Night Train 1999-2006
FXSTC Softail Custom 1990-1999
FXSTD Softail Deuce 2000-2006
FXSTS Springer Softail 1990-2006
FXSTSB Softail Bad Boy 1995-1997
XL883 Sportster 883 2004-2006
XL883C Sportster 883 Custom 1998-2006
XL883L Sportster 883 Low 2005-2006
XL883R Sportster 883R 2002-2006
XL1200C Sportster 1200 Custom 1996-2006
XL1200L Sportster 1200 Low 2006
XL1200R Sportster 1200 Roadster 2004-2006
XL1200S Sportster 1200 Sport 1996-2003
XLH883 Sportster 883 1994-2003
XLH883DLX Sportster 883 Deluxe 1994-1995
XLH883HUG Sportster 883 Hugger 1994-2003
XLH1200 Sportster 1200 1994-2003
Customer Reviews
Great price and service
By Sara H. on June 5, 2020
Great product, fit perfect.
Great move on my part
By Joe M. on August 3, 2020
Sick of messing around with my cruddy old carb. This thing with a little tuning really opened my hog up! Only complaint is the long idle cable, other than that highly recommend!
PartsGiant & HSR 42 - a Great Combo!
Put the HSR 42, 42-11 Easy Kit onto my 2000 Buell M2. Easy installation, quality product.
Jetting out of the box was near spot-on. Crisp throttle response and a lot of fun to ride.
Feels like more power. Good product. These are the guys to buy from!
Cranking
By Andrew B. on September 17, 2020
Love it. Night and day difference. Install not too bad I have to say.
Best carb for your older H-D
By Douglas D. on November 28, 2020
This is a terrific carb for your old H-D. With the tuning kit, you can dial the carb in to meet your specific needs, whether that's higher MPG for touring, or higher HP. Really great carb. Lifesaver!
Mikuni hsr 45
By Leslee W. on June 9, 2021
Highly recommended, did zero tuning on this carb and slapped it on my bike right out of the box and it's running amazing.
Questions & Answers
Have a question? Please and customers who own this product.