S&S Die-Cast Rocker Box Cover Kit
$
$

–

$
$

910.95

–

$

963.95
Add to Cart to See Price
What is this? We've priced this item below what the manufacturer allows for public display, so you'll have to add it to your cart to view our final price.
Don't worry, if you decide not to buy this item, you can easily remove it from your cart.
Free Shipping
Fitment Guaranteed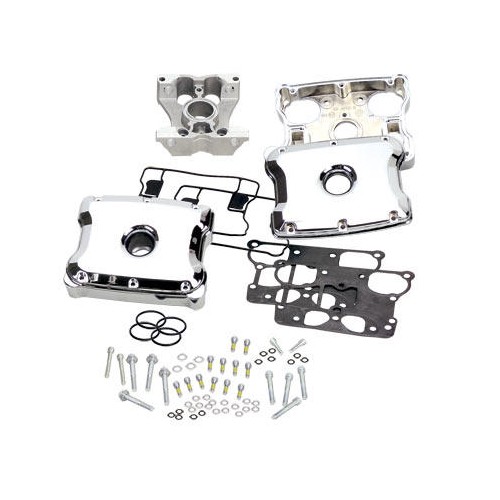 Product Description

S&S Die-Cast Rocker Box Cover Kit
Produced using the die-casting manufacturing process and then machined with computer controlled equipment. S&S die cast rocker covers include Viton O-ring style cover seals for leak-free operation. The proven two-piece design makes installation simple.
Features and benefits:
Special rocker arm supports are included
S&S rocker covers are finished with show-quality chrome
Installation on stock and most comparable sized engines can be performed without removing the engine from the frame
Clearance to permit valve lifts up to .640" using S&S valve spring packages and stock rocker arms or S&S roller rocker arms
S&S rocker covers accept valve springs up to 1.660" O.D. without modification
Exclusive one way valve built into the rocker cover gasket to control oil carry over
Kit contents:
Front and rear covers
All necessary gaskets and O-rings
Mounting hardware
Notes:
If using valve spring packages with taller than stock installed height, some minor clearance may be required.
Cylinder heads must be set up correctly for high lift cams, and it remains the builder's responsibility to confirm all clearances.
In most instances, only minor clearance is required to use S&S rocker covers with valve springs larger than 1.660" O.D.
---
| Spec | Details |
| --- | --- |
| Bore | Varies (make selection above) |
| Country Of Origin | USA |
| Engine Type | Varies (make selection above) |
| Finish | Chrome |
| Material | Die-Cast Aluminum |
Vehicle Fitment
Fitment is guaranteed or your money back plus free return shipping. Don't waste time installing a product that doesn't fit. We worked hard ensuring that this product is an exact fit on the vehicles listed below.

Harley Davidson
CVO FXR2 1999
CVO FXR3 1999
FLD Dyna Switchback 2012-2016
FLH Electra Glide 1984-1985
FLHR Electra Glide Road King 1994
FLHR Road King 1995-2016
FLHRC Road King Classic 2007-2013
FLHRCI Road King Classic 1998-2006
FLHRI Road King 1996-2006
FLHRS Road King Custom 2004-2007
FLHRSI Road King Custom 2004-2006
FLHS Electra Glide Sport 1984-1993
FLHT Electra Glide 1986-1987
FLHT Electra Glide Standard 1995-2009
FLHTC Electra Glide Classic 1984-2005, 2007-2013
FLHTC Liberty Electra Glide Classic Liberty 1986
FLHTCI Electra Glide Classic 1996-2006
FLHTCU Ultra Classic Electra Glide 1989-2016
FLHTCUI Ultra Classic Electra Glide 1995-2006
FLHTCUL Electra Glide Ultra Classic Low 2015-2016
FLHTCUTG Tri Glide Ultra Classic 2009-2016
FLHTI Electra Glide Standard 2003-2006
FLHTK Electra Glide Ultra Limited 2010-2016
FLHTKL Electra Glide Ultra Limited Low 2015-2016
FLHX Electra Glide Special 1984-1985
FLHX Street Glide 2006-2016
FLHXI Street Glide 2006
FLHXS Street Glide Special 2014-2016
FLHXXX Street Glide Trike 2010-2011
FLRT Freewheeler 2015-2016
FLS Softail Slim 2012-2017
FLSS Softail Slim S 2016-2017
FLST Heritage Softail 1986-1990, 2006
FLSTC Heritage Softail Classic 1988-2017
FLSTCI Heritage Softail Classic 2001-2006
FLSTF Softail Fat Boy 1990-2017
FLSTFB Softail Fat Boy Lo 2010-2016
FLSTFBS Softail Fat Boy S 2016-2017
FLSTFI Softail Fat Boy 2001-2006
FLSTI Heritage Softail 2006
FLSTN Heritage Softail Nostalgia 1993
FLSTN Heritage Softail Special 1994-1996
FLSTN Softail Deluxe 2005-2017
FLSTNI Softail Deluxe 2005-2006
FLSTS Heritage Springer Softail 1997-2003
FLSTSB Softail Cross Bones 2008-2011
FLSTSC Softail Springer Classic 2005-2007
FLSTSCI Softail Springer Classic 2005-2006
FLSTSI Heritage Springer Softail 2001-2003
FLTC Tour Glide Classic 1984-1991
FLTCU Ultra Classic Tour Glide 1989-1995
FLTCUI Ultra Classic Tour Glide 1996
FLTR Road Glide 1998-2004, 2007-2009
FLTRI Road Glide 1998-2006
FLTRU Road Glide Ultra 2011-2013, 2016
FLTRX Road Glide 2015-2016
FLTRX Road Glide Custom 2010-2013
FLTRXS Road Glide Special 2015-2016
FXCW Softail Rocker 2008-2009
FXCWC Softail Rocker C 2008-2011
FXD Dyna Super Glide 1995-2005, 2007-2010
FXDB Dyna Daytona 1992
FXDB Dyna Street Bob 2007-2017
FXDB Dyna Sturgis 1991
FXDBC Dyna Street Bob Limited 2016
FXDBI Dyna Street Bob 2006
FXDBP Dyna Street Bob 2016
FXDC Dyna Glide Custom 1992
FXDC Dyna Super Glide Custom 2005, 2007-2014
FXDCI Dyna Super Glide Custom 2005-2006
FXDF Dyna Fat Bob 2008-2017
FXDI35 35th Anniversary Dyna Super Glide 2006
FXDI Dyna Super Glide 2004-2006
FXDL Dyna Low Rider 1993-2005, 2007-2009, 2014-2017
FXDLI Dyna Low Rider 2004-2006
FXDLS Dyna Low Rider S 2016-2017
FXDS-CONV Dyna Convertible 1995-1998
FXDS-CONV Dyna Low Rider Convertible 1994
FXDS-CONV Dyna Super Glide Convertible 1999-2000
FXDWG Dyna Wide Glide 1993-2005, 2007-2008, 2010-2017
FXDWGI Dyna Wide Glide 2004-2006
FXDX Dyna Super Glide Sport 2000-2005
FXDXI Dyna Super Glide Sport 2004-2005
FXDXT Dyna Super Glide T-Sport 2001-2003
FXE Super Glide 1984
FXEF Super Glide Fat Bob 1985
FXLR Low Rider Custom 1987-1994
FXR Super Glide 1986-1994
FXRC Low Glide 1985
FXRC Low Rider Chrome 1987
FXRD Grand Touring Edition 1986
FXRDG Disc Glide 1984
FXRS Low Glide 1984-1992
FXRS-CONV Low Rider Convertible 1990-1993
FXRS-SP Low Rider Sport Edition 1987-1993
FXRT Sport Glide 1984-1992
FXS Softail Blackline 2011-2013
FXSB Low Rider 1984-1985
FXSB Softail Breakout 2013-2017
FXST Softail 1984-1990
FXST Softail Standard 1999-2007
FXSTB Softail Night Train 1999-2009
FXSTBI Softail Night Train 2001-2006
FXSTC Softail Custom 1986-1999, 2007-2010
FXSTD Softail Deuce 2000-2007
FXSTDI Softail Deuce 2001-2006
FXSTI Softail Standard 2001-2006
FXSTS Springer Softail 1988-2006
FXSTSB Softail Bad Boy 1995-1997
FXSTSI Springer Softail 2001-2006
FXWG Wide Glide 1984-1986
Sportster XLX 1986
XL883C Sportster 883 Custom 1999-2003
XL883R Sportster 883R 2002-2003
XL1200C Sportster 1200 Custom 1996-2003
XL1200S Sportster 1200 Sport 1996-2003
XLH883 Sportster 883 1986-2003
XLH883DLX Sportster 883 Deluxe 1988-1995
XLH883HUG Sportster 883 Hugger 1988-2003
XLH1100 Sportster 1100 1986-1987
XLH1200 Sportster 1200 1988-2003
Customer Reviews
Be the first to . How many stars would you give this product?
Questions & Answers
Have a question? Please and customers who own this product.