Jardine Motorcycle Exhaust
About Jardine Motorcycle Exhaust
If you're looking for performance, style, and sound from an aftermarket exhaust, look no further than Jardine. PartsGiant.com has all the Jardine products you need to take your motorcyle, ATV, or side-by-side to the next level.
Since 1972 Jardine has been producing quality exhaust systems. The company has come a long way since the days of in-shop R&D followed by dyno runs and track testing; designing with computer programs like CAD and Vector Tracing, and manufacturing with automated presses, benders, and other technology, Jardine exhausts are high-tech without ever forgetting their roots.
Now owned by SuperTrapp Inc., Jardine is synonymous with quality, style, and precision. No matter if you own a Harley or a Honda, a dirt bike or dirt bike, ATV or UTV, the team at PartsGiant.com can help you choose a Jardine exhaust that's just right for you and your ride.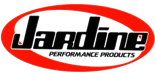 Quick Fact
In addition to manufacturing top-notch exhaust systems for metric and American cruisers, sportbikes, dirtbikes, ATVs, and adventure bikes, Jardine manufactures a full line of hard parts and chrome accessories including sissy bars, passenger backrests, luggage racks, highway and crash bars, foot controls, pegs, and oil filter relocation kits.